Through Good Report and Evil, Lord
Through good report and evil, Lord,
Still guided by Thy faithful Word,
Our staff, our buckler and our sword,
We follow Thee.
In silence of the lonely night,
In the full glow of day's clear light,
Through life's strange windings, dark or bright,
We follow Thee.
Strengthened by Thee we forward go,
'Mid smile or scoff of friend or foe,
Through pain or ease, through joy or woe,
We follow Thee.
With enemies on every side,
We lean on Thee, the Crucified;
Forsaking all on earth beside,
We follow Thee.
O Master, point Thou out the way,
Nor suffer Thou our steps to stray;
Then in the path that leads to day
We follow Thee.
Thou hast passed on before our face;
Thy footsteps on the way we trace;
O keep us, aid us by Thy grace;
We follow Thee.
Whom have we in the heaven above,
Whom on this earth, save Thee, to love?
Still in Thy light we onward move;
We follow Thee.
Horatius Bonar
John 21:22 Jesus saith unto him,...follow thou me.
Luke 9:23 And he said to them all, If any man will come after me, let him deny himself, and take up his cross daily, and follow me.
2 Corinthians 4:7-10 But we have this treasure in earthen vessels, that the excellency of the power may be of God, and not of us. We are troubled on every side, yet not distressed; we are perplexed, but not in despair; Persecuted, but not forsaken; cast down, but not destroyed; Always bearing about in the body the dying of the Lord Jesus, that the life also of Jesus might be made manifest in our body.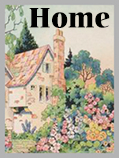 background and graphics by Mary Stephens
vintage graphic: unknown source
posted 2021, updated 2022; CA