Since Yesterday
Along the golden streets
A stranger walks tonight
With wonder in his heart --
Faith blossomed into sight.
He walks and stops and stares,
And walks and stares again.
Vistas of loveliness
Beyond the dreams of men.
He who once was weak,
And often shackled to a bed,
Now climbs eternal hills
With light and easy tread.
He has escaped at last
The cruel clutch of pain;
His lips shall never taste
Her bitter cup again.
O never call him dead,
This buoyant one and free,
Whose daily portion is
Delight and ecstasy!
Now bows in speechless joy
Before the feet of Him
Whom, seeing not, he loved
While yet his sight was dim.
Along the golden streets
No stranger walks today,
But one who, long homesick,
Is home at last, to stay!
Martha Snell Nicholson
Philippians 1:23-24 For I am in a strait betwixt two, having a desire to depart, and to be with Christ; which is far better: Nevertheless to abide in the flesh is more needful for you.
2 Corinthians 5:6-8 Therefore we are always confident, knowing that, whilst we are at home in the body, we are absent from the Lord: (For we walk by faith, not by sight:) We are confident, I say, and willing rather to be absent from the body, and to be present with the Lord.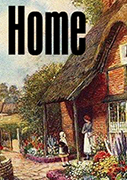 background and graphics by Mary Stephens
vintage graphic: unknown source