Face To Face
I had a friend whose face I had not seen,
Although I knew her heart, for we had been
Exchanging letters for so many years.
She told me all her joys and hopes and fears,
And I told mine, and so we felt that we
Were just as close an any friends could be.
And then one day my friend came through the door!
And I have learned that there was something more
I had not known about her - how her face
lights up, a certain dignity and grace,
Her quick responsiveness, her tender smile,
Though tears were shining in her eyes the while,
Her sensitiveness - this I understand
Since I have felt her touch upon my hand.
I find that I had never dreamed nor guessed
How much of soul and spirit is expressed.
By this strange envelope of flesh we wear,
So will it be when I am standing there
Before the throne of Him I love so much,
It may be I shall never feel His touch,
Lest I should swoon before His very feet;
But through my blinding tears my eyes shall meet
My SAVIOUR's eyes - deep wells of tenderness
Which court my heart and all my soul possess.
And I shall hear His voice, as of a bell;
And listening, its every tone will tell
The glory of His love; and I shall see
Those scars which He will bear eternally.
And written there upon His lovely face,
In plainest print, the story of His grace
Which was so dear within His written Word,
But now, the living Word Himself, the Lord!
O ye who wait with longing hearts, shall not the Bride,
When she beholds her Bridegroom's face, be satisfied?
by Martha Snell Nicholson
1 Peter 1:8 Whom having not seen, ye love; in whom, though now ye see him not, yet believing, ye rejoice with joy unspeakable and full of glory: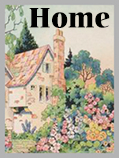 background and graphics by Mary Stephens
vintage graphic: unknown source
Painting "Summer Evening" by Childe Hassam
posted HMC 2022; CA