God's Voice
God calls to us from earthquake crash
And from the dewy dawn.
The voice of every breeze is His,
And when the day is done,
And sunset glories fade away,
And moon and stars ride high
In silver light, He mightily speaks
From out the spangled sky.
He speaks thus to my eyes and ears;
And yet my spirit longs
For words more intimate and dear
Than all the night sky's songs.
I thank God that there is a Word
Delivered long ago;
A word most definite and sure
Which I may read and know.
His saving grace, His keeping power,
His plan for me, His will,
His glory and His majesty . . .
My heart is hushed and still.
With wonder and with thankfulness:
The Lord of earth and sky
Has leaned down from His heavenly throne
To speak to such as I!
Martha Snell Nicholson
Romans 10:17 So then faith cometh by hearing, and hearing by the word of God.
1 Peter 1:25 But the word of the Lord endureth for ever. And this is the word which by the gospel is preached unto you.
Ephesians 6:17 And take the helmet of salvation, and the sword of the Spirit, which is the word of God: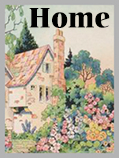 background and graphics by Mary Stephens
vintage graphic: unknown source
posted HMC 2022; CA