He Became Sin for Us
O the mystery of His mercy!
Unguessed depths of matchless grace.
Christ became that which He hated,
While God turned away His face.
Turned in wrath from His Beloved,
Hanging there upon the tree;
Strangely changed, and strangely bearing
All the sins of you and me.
Angels dared not look upon Him,
But averted stricken eyes;
Seeing not the Lord of glory,
But a bleeding Sacrifice.
Through the circling, endless ages
Such a sight had never been;
He, the spotless LAMB of Heaven,
Christ the Lord, becoming sin!
Martha Snell Nicholson
John 1:29 The next day John seeth Jesus coming unto him, and saith, Behold the Lamb of God, which taketh away the sin of the world.
2 Corinthians 5:20-21 Now then we are ambassadors for Christ, as though God did beseech you by us: we pray you in Christ's stead, be ye reconciled to God. For he hath made him to be sin for us, who knew no sin; that we might be made the righteousness of God in him.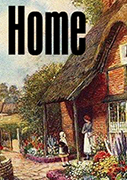 background and graphics by Mary Stephens
vintage graphic: unknown source
posted HMC 2022; CA