He Is My Light
He is the light in my dark sky,
My Bright and Morning Star;
The softly gleaming lamps of home
Which beckon from afar.
He is the lantern at me feet
To guide me on my way;
The moving pillar of bright fire
Which turns my night to day.
He is the beacon on the shore
Which warns me from the shoal;
The living, glowing blaze which warms
The chilled hearth of my soul.
Why should my heart know any fear
Of earthly, harkened things?
He is my Sun of Righteousness,
With tender, healing wings!
Martha Snell Nicholson
Malachi 4:2 But unto you that fear my name shall the Sun of righteousness arise with healing in his wings...
Psalm 119:105 Thy word is a lamp unto my feet, and a light unto my path.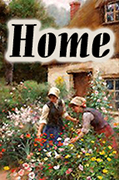 background and graphics by Mary Stephens
vintage graphic: unknown source
Posted April 2022; CA