In A Garden
God walks in my garden
In the early dawn,
But when I rise to greet
Him He is always gone,
Though I can trace His footprints
In beds of violet,
And in a lily's perfume
His presence lingers yet.
Hush, my soul, be patient
For yet a little space --
Some day you will see Him,
Will meet Him face to face;
Some day, earth forgotten,
You will fare abroad,
And in heaven's gardens
You will walk with God.
Martha Snell Nicholson
Hebrews 10:37 For yet a little while, and he that shall
come will come, and will not tarry.
Revelation 3:4 Thou hast a few names even
in Sardis which have not defiled their garments;
and they shall walk with me in white: for they are worthy.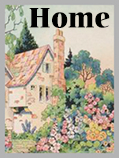 background and graphics by Mary Stephens
vintage graphic: unknown source
posted HMC 2022; CA