When Skies Are Brass
When skies are brass and, though we pray,
No answer comes; and when our day
Is filled with pain and grief and care,
Sometimes we wonder, "Is God there?
And does He hear us - does He know
The pangs we suffer? And if so -
Because He is omnipotent,
And we so weak, our small strength spent -
Why not reach down His mighty hand
To help?" Could we but understand
His ways with us - could we but know
What God is doing for us now!
What is God doing for us now?
O child of His, why should we know?
He is the Potter, we the dust,
Shaped by His hand. Can we not trust?
Enough that He, the Perfect One,
Will finish what He has begun.
The Master Artist's own design,
Worked out in lives like yours and mine.
The Shepherd knoweth what is best
For that small lamb upon His breast;
And tenderly the FATHER feeds
And nourishes the child He leads.
O suffering ones, whose skies are brass,
Know that all grief and pain will pass;
All tears be dried. We may be sure
This life is but the overture.
Some day our voices we shall raise
In swelling symphonies of praise . . .
We could not bear it yet to know
What God is doing for us now!
- Martha Snell Nicholson -
Philippians 1:6 Being confident of this very thing, that he which hath begun a good work in you will perform it until the day of Jesus Christ:
2 Corinthians 4:16-18 For which cause we faint not; but though our outward man perish, yet the inward man is renewed day by day. For our light affliction, which is but for a moment, worketh for us a far more exceeding and eternal weight of glory; While we look not at the things which are seen, but at the things which are not seen: for the things which are seen are temporal; but the things which are not seen are eternal.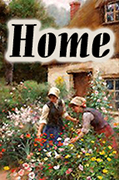 background and graphics by Mary Stephens
vintage graphic: unknown source
posted HMC 2022; CA