Wonderful Story
Wonderful story of infinite grace!
Story of One crucified in my place,
Hanging forsaken between earth and sky,
Shamed and tormented and left there to die,
His kingly head bowed with the weight of my sin.
(Foul was I, Lord, without and within.)
Angels still carol the story through space,
Wonderful story of infinite grace!
Wonderful story of infinite love,
Wanting me there in heaven above;
Seeing me, blood-washed, as spotless as He,
Building a home for a sinner like me;
Oh, how it eases the pain I must bear,
Only to dream of that home waiting there,
Its windows aglow with the light from His face!
Wonderful story of love and of grace!
- Martha Snell Nicholson
Ephesians 2:7 That in the ages to come he might shew the exceeding riches of his grace in his kindness toward us through Christ Jesus.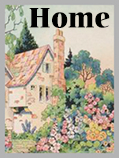 background and graphics by Mary Stephens
vintage graphic: unknown source