Thanksgiving Meditation
by Martha Snell Nicholson
Since man apart from God is but an abnormal creature, our greatest joys, our deepest satisfactions, come in our relationship to Him. So I thank Him this Thanksgiving season for sins forgiven, for a great High Priest touched with a feeling of my infirmities, for the privilege of being a tool in His mighty hand, for His guidance, for His ear that hears my prayers, for His arm on which to lean, for His precious Word in which He speaks to us explicitly, and for the blessed, blessed hope of His soon coming!
I thank Him, more than all else, for utter safety. In the past I have known what it was to be afraid, but now I know that I am entirely and perfectly secure. I feel that I have come into a safe harbor. Nothing, absolutely nothing, not my own deeds nor those of others, not the works of devils, not circumstances, not so-called fate -- nothing can separate me from the love of Christ. Pain, sorrow and bereavement can come, shattered nerves and body can be my lot, death can even put my body in the grave; but whatever comes, it passes first through His tender hands, and so I can love it because it comes from Him!
Nothing can keep me out of heaven. I am as safe now as though I were already there. Just these few hard years to live, these few burdens to bear, and then to be forever with Him, our daily portion glory beyond infinite glory! Thankful? My cheeks are wet with happy tears. Why He gives all this to a poor creature like me I do not know -- but I know that I shall need all eternity in which to thank Him for it!
______________
Romans 8:35-39 Who shall separate us from the love of Christ? shall tribulation, or distress, or persecution, or famine, or nakedness, or peril, or sword? As it is written, For thy sake we are killed all the day long; we are accounted as sheep for the slaughter. Nay, in all these things we are more than conquerors through him that loved us. For I am persuaded, that neither death, nor life, nor angels, nor principalities, nor powers, nor things present, nor things to come, Nor height, nor depth, nor any other creature, shall be able to separate us from the love of God, which is in Christ Jesus our Lord.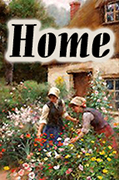 background and graphics by Mary Stephens
vintage graphic: unknown source
posted HMC 2022; CA