The Heavenly Guest
If you open the door and let Christ in
He will come as a courteous guest;
He will take the space that you give Him
And will leave you all the rest;
If you crowd Him out of your largest room
And give Him a corner small,
If you scarcely remember that He is there
And speak of Him not at all.
Ah, then He may grieve when He sees your mind
By the cares of the world possessed,
When your feet have strayed and you soul is faint
And your heart by grief opprest;
But He cannot comfort and lift and guide
And help as He longs to do –
Where He sits apart in your House of Life –
For you have not asked Him to.
Oh, make Him the Master of all you have,
The Lord of your heart and soul,
Yield all yourself for His dwelling place
And let Him take the whole;
He will do with you, He will work for you,
He will reign in your life alone,
And you'll find the blessing that you have missed
And the joys you have never known.
- Annie Johnson Flint -
Revelation 3:19-20 As many as I love, I rebuke and chasten: be zealous therefore, and repent. Behold, I stand at the door, and knock: if any man hear my voice, and open the door, I will come in to him, and will sup with him, and he with me.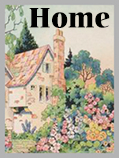 background and graphics by Mary Stephens
vintage graphic: unknown source
CA