Did You Meme That? -
A Good Life Ambition?
By Mary E. Stephens
January 21, 2018
"My main ambition in life is to be on the devil's most wanted list."
Attributed to Leonard Ravenhill.
Ambition - noun - "a strong desire to do or to achieve something, typically requiring determination and hard work...desire and determination to achieve success." [Source]
Main - adjective - "1. chief in size or importance." [Source]
Should our chief goal in life, the thing which we work towards the most, be to get on "the devil's most wanted list" (if such a thing even exists)? According to this quote it is apparently a worthy aim.
But, what saith the scriptures?
Philippians 3:13-14 Brethren, I count not myself to have apprehended: but this one thing I do, forgetting those things which are behind, and reaching forth unto those things which are before, I press toward the mark for the prize of the high calling of God in Christ Jesus.
Notice that this is the one thing Paul does. It is, then, his "main ambition in life." It has nothing whatsoever to do with what the devil thinks of him and everything to do with Jesus Christ.
Our goals in life should not be based upon anything so sorry as what Satan thinks of us. Instead of focusing on Jesus Christ, this thinking focuses on the devil and making him mad. What a lamentable aim that is. And, in thinking about it, I can see how that would please the devil rather than angering him because if we are basing our main ambitions and goals in life on getting his attention, we are not basing them on the glorious ambition of glorifying God and lifting up the Lord Jesus Christ.
When Jesus sent His disciples out to do works under His authority they came back rejoicing, but in something which He didn't approve.
Luke 10:17-20 And the seventy returned again with joy, saying, Lord, even the devils are subject unto us through thy name. And he said unto them, I beheld Satan as lightning fall from heaven. Behold, I give unto you power to tread on serpents and scorpions, and over all the power of the enemy: and nothing shall by any means hurt you. Notwithstanding in this rejoice not, that the spirits are subject unto you; but rather rejoice, because your names are written in heaven.
Notice that they were joyful and the apparent reason was that the devils were subject unto them through Jesus' name. This tendency of humans is not so surprising because the devil, being the prince of the power of the air, has typically kept mankind in bondage in many ways and exercises great power over people.
Ephesians 2:2 Wherein in time past ye walked according to the course of this world, according to the prince of the power of the air, the spirit that now worketh in the children of disobedience:
Hebrews 2:14-15 Forasmuch then as the children are partakers of flesh and blood, he also himself likewise took part of the same; that through death he might destroy him that had the power of death, that is, the devil; And deliver them who through fear of death were all their lifetime subject to bondage.
So, it is not uncommon for Christians to get a big rush out of the fact that we now have power over Satan and his devils through Christ Jesus.
However, consider the answer Jesus gave His disciples in Luke 10. First, He tells them that He saw Satan fall from heaven. This is likely referring to the time before the creation of the earth, or shortly afterwards, when Satan was cast out of heaven for his sin of pride and rebellion against God (see Isaiah 14). In any case, Christ goes on to say that He gives them His power over the enemy - Notwithstanding. This means "in spite of this," and then He goes on to say, "...in this rejoice not, that the spirits are subject unto you; but rather rejoice, because your names are written in heaven."
Especially notice that He specifically commanded them not to rejoice in this power they had, even though it was through His name.
Now, what do you suppose Jesus Christ would think of making one's main ambition in life to "get on the devil's most wanted list"? He told His disciples while He was on this earth not to rejoice in the fact that He had given them power over the devils, but to rejoice that their names were written in heaven. I think that part of the reason for this is because this sense of their own importance and power are a direct route to walking in pride.
The fascination with the power over devils is one reason that certain groups make a big show out of "casting out devils" and various stunts intended to display their alleged power over Satan. It is very enticing stuff because it makes people feel very big and important, and even if they give lip service to Jesus Christ, they generally develop a sense of their own greatness when once they start down that path. It is also a temptation to become preoccupied with Satan and his works rather than keeping focused on the Lord Jesus Christ.
Many of them, though, are not really working in the power or Spirit of God. If they were they would be more interested in different things. It can easily become a source of pride to "prove" that we have God's power and that He is working through us by making a big display of it. (Perhaps the most extreme example of this is the groups that handle deadly snakes to "prove" they have God's power.) If we are really walking in the Spirit of God, we will be focused on following Christ's steps and rejoicing that our names are written in heaven as He told the disciples in Luke 10.
In John 15 Jesus clearly says that the Comforter will testify of Him. The Spirit's job is not to make a show of power over the devils, but to testify of Christ. John 15:26 But when the Comforter is come, whom I will send unto you from the Father, even the Spirit of truth, which proceedeth from the Father, he shall testify of me:
Colossians 2:14-15 Blotting out the handwriting of ordinances that was against us, which was contrary to us, and took it out of the way, nailing it to his cross; And having spoiled principalities and powers, he made a shew of them openly, triumphing over them in it.
It is Jesus who triumphed over the principalities and powers and made a show of them openly. The Holy Spirit testifies of these things. The mind of Christ is not to rejoice in overpowering the devil and making him hate us more. It is to rejoice that we now have salvation through His name (Acts 4:12) and that we can take unto us the whole armor of God (Eph. 6) and stand in His strength. All of this is because our names are written in heaven, and that blessing was purchased for us under the new testament (Heb. 9:15) in the death, burial, and resurrection of the Lord Jesus Christ.
Oh, why waste one's life trying to get on Satan's "most wanted list" when we can live every day and hour in the glory and joy of knowing complete salvation and assurance of heaven in the person of Jesus Christ, the friend of sinners, the Savior, the good Shepherd who gave His life for the sheep, and the author and finisher of our faith! Truly, it is a very low ambition indeed compared with what we have to rejoice over!
If Mr. Ravenhill actually said this it lowers him in my estimation because from a biblical standpoint this should not be anyone's main ambition in life at all. We should be striving to follow Christ's steps as we read in 1 Peter 2:21, For even hereunto were ye called: because Christ also suffered for us, leaving us an example, that ye should follow his steps:
Of course, we will feel the attack of Satan on our lives from time to time, and in some situations this will be more fierce when we are pressing the battle into his territory in some way, but to attract his attentions should never be a motivating force or ambition in our lives. It seems to me to be unworthy of the Lord Jesus Christ and what He has given us and told us.
We all say foolish things at times, I know, but I sincerely hope that no one will be posting my foolish sayings with approval after I am dead and gone. I am sure that Mr. Ravenhill would not be glad to know that this unbiblical saying of his was being posted on social media by today's Christians.
Psalm 19:14 Let the words of my mouth, and the meditation of my heart, be acceptable in thy sight, O LORD, my strength, and my redeemer.
When we post anything online as something we agree with and approve, it is as if we were saying it ourselves, and it is certainly the meditation of our hearts, at least for that moment. Let's strive to make these things that are acceptable in the sight of God, not just things that sound clever and powerful but are not faithful to the word of God.
Philippians 1:21 For to me to live is Christ, and to die is gain.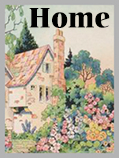 background and graphics by Mary Stephens
vintage graphic: unknown source
CA; updated 2021