Don't Let Your Story Die
by Mary E. Stephens
April 2022

Don't let your story die.
- unknown -
I don't remember where I found this quote, but it is a thought of profound importance. I think that one of the reasons some people's lives become so empty and barren before they physically die is because they let their story die. They give up in their minds or their hearts and they stop trying. This is sad. It is also a very poor use of the one precious life we have been given by God.
For the Christian this is doubled because it is not only a waste of life, it is a waste of the spiritual life that God has given us as well. We never come to a point in our lives where we are allowed to quit being a Christian and just live out the rest of our days. I have known people who have quit on life before their time was up. I have known Christians who at some point sat down and turned all their ministries over to other people and mostly or entirely stopped trying.
There was one in particular whom I watched in a very personal way. She handed off one ministry after another to members of her family, and as she sat down and stopped trying her health deteriorated more and more quickly until she was quite handicapped before she died. She did continue to pray and read the Bible - perhaps till the end, but other things that had given her a motivation to study and grow and teach others fell by the wayside.
Prayer is an important ministry that we can often do when we are very handicapped in other ways. I never want to minimize that. It is a necessary ministry no matter where we are in life because we are commanded to do it . If it is the only thing we can do, we should do it with our might to the Lord knowing that it is a good thing to do. Ephesians 6:8 Knowing that whatsoever good thing any man doeth, the same shall he receive of the Lord, whether he be bond or free.
I'm reminded of a poem by Martha Snell Nicholson. Mrs. Nicholson was bed ridden and racked with pain for many years of her life. She wrote this poem to remind people like herself that there is still a ministry for all, even though who are bound by limitations of any type.
Handicapped?
How handicapped, how bound are we
When Christ was bound on Calvary?
He could not move a hand nor foot,
And He was wracked with anguish, but
He gave Himself to earnest prayer
For those whose weight of sins He bare.
"Father, forgive, they know not what they do."
O child of God, say not,
"I am too handicapped, too bound,
Too busy, and I have not found
A service I can do for Him."
O Shame! Let us, with eyes grown dim,
Look back to Calvary.
Bound helpless there,
The suffering Saviour gave himself to prayer!
But, most of the time there are other things we can do as well, even if they are simple or seem so infinitely small compared to our "used to do" list.
Even Christians who lose their memory sometimes will still have an instinct to do spiritual things. I knew a family whose mother/grandmother had Alzheimer's. She was pretty lost in her own world when I knew them. But, one day she said to someone, "I'm a bad girl, I don't do that any more." - motioning to a Bible. The lady answered her, "I'm sure God understands." The grandma still knew that she should be doing something with that and had a longing inside her that told her it was the right thing to do. How much sadder is it when someone who has all their faculties, or a goodly portion of them, gives up and quits - lets their story die?
As long as we can, we need to keep our story alive. This is especially true because our story is the story of Christ in many ways. We are the only Bible that some people will ever read, and when we close the book of our life early and let our story die, we may deprive someone of the gospel message they need to hear. I believe that God will send someone else if we fail in our job because He will not allow one person who will believe to miss their opportunity, but we may miss the blessing of being that someone who leads a soul to Christ or waters the seed that will grow. And later, we may suffer loss at the judgment seat of Christ.
1 Peter 1:3-5 Blessed be the God and Father of our Lord Jesus Christ, which according to his abundant mercy hath begotten us again unto a lively hope by the resurrection of Jesus Christ from the dead, To an inheritance incorruptible, and undefiled, and that fadeth not away, reserved in heaven for you, Who are kept by the power of God through faith unto salvation ready to be revealed in the last time.
We have a lively hope because we have a living Saviour. Our inheritance is incorruptible and undefiled and it cannot fade. It is reserved for us in heaven. We are kept by the unlimited, unfailing, unsearchable power of God. There is no reason to let our story die, even when it feels like it is over - because our feelings lie to us on a regular basis.
Isaiah 40:28-31 Hast thou not known? hast thou not heard, that the everlasting God, the LORD, the Creator of the ends of the earth, fainteth not, neither is weary? there is no searching of his understanding. He giveth power to the faint; and to them that have no might he increaseth strength. Even the youths shall faint and be weary, and the young men shall utterly fall: But they that wait upon the LORD shall renew their strength; they shall mount up with wings as eagles; they shall run, and not be weary; and they shall walk, and not faint.
Do you believe that? Then trust in the Lord that your story is safe in His hands, no matter how dark and unbearable it seems to be today.
1 Peter 2:4-5 To whom coming, as unto a living stone, disallowed indeed of men, but chosen of God, and precious, Ye also, as lively stones, are built up a spiritual house, an holy priesthood, to offer up spiritual sacrifices, acceptable to God by Jesus Christ.
I think Peter liked the word lively. Lively is a word of action, not just existence. We are alive and able to serve God because Jesus Christ is living. There are no dead stones in God's spiritual house. We all have the ministry of priesthood - which includes prayer as well as reconciliation (2 Cor. 5:20). We can all offer up spiritual sacrifices, even if it's "only" the sacrifice of praise, Hebrews 13:15 By him therefore let us offer the sacrifice of praise to God continually, that is, the fruit of our lips giving thanks to his name. Or perhaps the sacrifice of communication with others, Hebrews 13:16 But to do good and to communicate forget not: for with such sacrifices God is well pleased.
We need to not only live life in the lively hope that God has given us, but we need to remember that at some point the book of our present life will close and we will open a new one in Heaven, so to speak. Sometimes this takes us completely by surprise and we have no choice in the matter. Many, however, must come to this point through old age and illness. It is hard to keep the present life story alive when the body, and even the mind, is falling apart, but we should keep this as our aim in life. We need to find things to do that we can keep doing for the Lord as long as possible.
I'm greatly burdened sometimes to see that mothers are encouraged to make bearing children, housekeeping, and raising of children to be their main "ministry" in life and that they often struggle not to become spiritually barren when those "ministries" are no longer available. Some women cling to them with no thought of looking around for something else to do for the Lord, and so they become miserable and depressed when they can't find enough to keep themselves busy any more in this manner. We can't allow this to happen to us.
This is one way that the devil can devour our lives - by convincing us that we are no longer useful because we can't do that thing we always did before, and so we are tempted to let our story die. It may be that we are no longer able to play music or to sing, it may be that we are no longer able to cook and keep house, it may be that we are no longer able to physically lift someone else's load with them. Whatever the case, just because we can't do what we used to do, does not mean that there is no way for us to serve the Lord in some way now. As long as we are on this earth we serve some purpose in God's plan.

Both of my grandmothers were missionaries and because of that they had many ideas of ways to serve the Lord when they no longer had the responsibilities of house keeping and child care. They both had been doing other things before they even came to that point and so it was not a big transition for them. In the church we need to value women's abilities to minister outside of their home responsibilities. We need to encourage seeking out means of ministry that have value which are not exclusively bound to the role of wife and mother, but rather to our identity as Christians. While the home related ministries are very important, they may not always be there.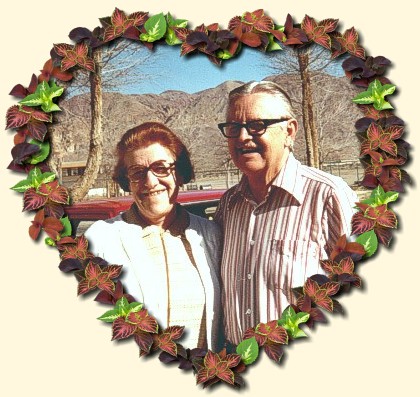 Another way that women sometimes lose their will to live is when they lose their husbands. My Gramma Hoover outlived her husband by close to 20 years. It was a difficult transition for her. One of the ministries that she did after that was to take over some of my Grampa's responsibilities in the print shop of the mission where he worked. In doing this work she also ministered to the lives of those she worked with as well as providing a needed service for the missionaries and mission. She also entertained many guests in her house during the summer months because she lived within walking distance of a Bible conference and many Christians came and went from there from spring through fall. Had her identity and living been completely wrapped up in her role as a wife, mother, and grandmother, she and many others would not have had the opportunity to enjoy her ministrations in these other roles. It was not easy for her to be a widow, but had she let her story end when my grandfather's story ended, besides missing out on these other ministry opportunities, she would not have been the great blessing in my own life that she became.

Gramma Hoover pressed forward and onward to the end of her life. When all the other things failed, she continued to do small things for my uncle and aunt, with whom she was staying, and she read her Bible and I know she prayed. Even when the first two were deprived from her due to illness, she continued to pray. After surgery she was faced with the prospect of more in the future or a simple shutting down of her body. She chose to ask my uncle to stop asking prayer for her healing. She had seen "The End" in sight and beyond that the glory of heaven and meeting her Saviour face to face. She was ready to close the book and it was God's time for her to do so. She died peacefully in her chair in the nursing home where she was recovering from her surgery. She only let her story die when she saw that it was God's time to do so.
Paul wrote this to Timothy: For I am now ready to be offered, and the time of my departure is at hand. I have fought a good fight, I have finished my course, I have kept the faith: Henceforth there is laid up for me a crown of righteousness, which the Lord, the righteous judge, shall give me at that day: and not to me only, but unto all them also that love his appearing. 2 Timothy 4:6-8
Dear ones for Christ's sake, how are you living your story? Are you letting the burdens and trials of this life keep you still and unfruitful? Are you letting your story die before God's time? Or are you looking beyond "The End" and seeing the eternal profit of living now - today - to the glory of God? Jeremiah 29:11 For I know the thoughts that I think toward you, saith the LORD, thoughts of peace, and not of evil, to give you an expected end. God gives His people expected ends, but He wants us to live today like we have that expectation, like we have a living Savior who gives us the ability to live, not only for now but forever.
Whether our challenges are loss of health, loved ones, peace, or whatever else, let's keep our story going till we die physically. Let's not quit on ourselves, on life, and especially not on God. The only time to close the book of our lives is when we reach "The End" on God's timing. Until then, we can be lively in God's work because the Lord Jesus is alive.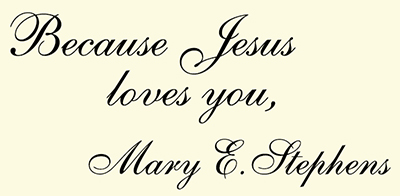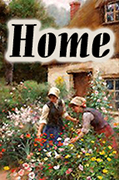 background and graphics by Mary Stephens
vintage graphic: unknown source
CA