Are You Grieving? It's OK to Make Holiday Changes
By Mary E. Stephens
Dec. 2021
Romans 12:15 Rejoice with them that do rejoice, and weep with them that weep.
1 Thessalonians 4:13 But I would not have you to be ignorant, brethren, concerning
them which are asleep, that ye sorrow not, even as others which have no hope.

So many people have lost loved ones over the past two years. The numbers are so high that it sometimes seems impossible. I was talking with a sweet older lady in our church assembly and she was remarking about this, and since she is in her 80s I know it isn't just my imagination.
Holidays, birthdays, and special family events can be especially hard when you have a fresh grief. Well, honestly, they can be hard even when the grief isn't all that fresh any more.
Thanksgiving is my family's biggest holiday of the year. Last year (2020) was our first one without my mom with us. It was hard, but this year was harder. Last year we changed things up quite a bit. My husband had to work most of Thanksgiving week, including the day itself. Some family was in town the week before and so we decided to celebrate then instead. Since we were having dinner on another day, we decided to get take out from a nice restaurant. It was Brazilian, so it was not at all like our traditional Thanksgiving meal. I think we had a homemade dessert or two. I chose not to move the table away from the window so that the table would seem full with five of us. It was a hard, but it went well.
This year was different.
There were only three of us here - my dad, my husband, and myself. The men seemed to want a more traditional meal again this year, so we did that. I found it a lot more difficult to deal with doing things more like the old way. Both men kindly made things for the meal, but it was my responsibility to make decisions and cook certain things. It felt very strange since, to my memory, it was the first time I ever did this holiday meal without another lady's help - my mother or sister or sister-in-law, etc. I think I really would have preferred to do a non-traditional meal again.
You see, last year the memory of how much my mom was suffering at the end of her life was still very fresh. I still was thinking of her dementia, the falls, the many struggles she was having, the sadness she felt at being "stuck" at the memory care facility and not knowing why. I was so thankful that she was safe with Jesus that I wasn't so focused on her being gone, I think. This year I missed my mom the way she used to be - the happy memories of the past, the family being together and her being in charge of preparations (except maybe that one year she had bronchitis, and later when she let us younger women do more of the work). I missed her much more as she was when I was younger.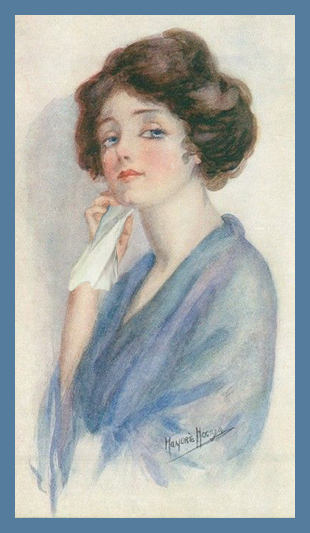 Why am I telling you this?
Because I want to let you know that it's OK to change things up a bit to get through the tough times with grief. If you have a fresh grief, or if you are dealing with a more difficult holiday season for some reason, it's OK to do things differently for a year or two (or longer) till you can handle the memories better. It will never go completely away. I know that. But, if you need to, if you want to, if it will help - change things, do them differently.
For a holiday, for a birthday, for some usually marked occasion - make a different meal. Make a new tradition - maybe even in honor of that loved one - but not a sad, heart-wrenching thing. Try a new hobby or craft or art form. Maybe celebrate with different relatives or friends than you usually do. You could even volunteer somewhere on the day - a soup kitchen, mission, meals on wheels, etc. You could spend it with and on people less blessed than yourselves.
Make sure your husband or those of your household are on the same page with you.
If you have kids, you should talk with them about it. Let them know that these changes may not be permanent, unless you all happen to like them. Make sure they understand and know why, and keep mentioning it to the younger ones so they know what to expect. And, if those of your own household don't want to do things differently you may need to come to a compromise. Agree to a less difficult tradition if they will agree to let go the one that hurts you most. Find another thing to do that will be interesting or exciting for the children or satisfy the adults so that they don't feel like they've lost too much.
Of course, it's fine to keep things the same if that's what you need and want to do. I just want you to know that it's OK to do things differently if that will help. There are no rules about getting through grief during the various holidays, on birthdays or anniversaries, or any other time for that matter. Some people may try to make you feel like you're obligated to do things the same as usual for this reason or that reason, but, dear friend, it is your choice. Don't be bullied or shamed into doing something unwise or unhelpful to appease or meet the expectations of others. It doesn't matter how closely they are related or how dear a friend it is. If you know it isn't going to be good for you or your family to do things the same as always, you don't have to do it that way.
Sure, you may go back to those things another year. Let the questioning people know that - kindly if you can. But you also are free to make changes as you see fit in the Lord.
I'm not suggesting sitting around crying and lamenting on those special days or holidays. I'm just saying that you can switch things up, visit different relatives or friends than usual where the memories aren't so hard, listen to different music, have a different meal, go do something different, have a different birthday cake, etc. Whatever you need to do to make it less difficult. And, if you usually sing a hymn or all tell a favorite memory or something you're thankful for and you just know you can't do that this time, please know that that is completely OK. The Lord knows your heart and He understands when some situations are beyond our strength. Just make sure you do praise Him or speak your thanks at some other time.
And, on those days that are so close to the heart - wedding anniversaries, birthdays, and such - try to think of a way to honor that person that will give you a measure of peace. It will be painful enough without adding stress you don't want to deal with. Ignoring it probably isn't a good idea because that can result in an outbreak of heavy grief later, or even physical symptoms from the emotions you are burying. Try to think of something that would have pleased that loved one. My family once had a neighbor who said she watered their irises on a particular day in memory of her mother who loved flowers. It can be anything like that - a picnic in a park, a walk with the dog, a trip to the library, an excursion to visit a beloved friend or place.
If you want to visit their grave, that's OK, but just know they aren't there. If the person was a child of God through faith in Jesus Christ, you are actually closer to them when you pray than by standing next to their grave. If that frees you from doing a painful and unpleasant thing you didn't want to do that someone else told you you have to do, then good. You don't have to visit graves to honor your loved one's memory. They are not that dead body and you don't have to stand in a specific place to thank God for their life and to show that you loved or still love them. In fact, if you want to stand in a special place that honors their memory, you're probably better off in a place where you have good memories of them alive and well.
My grandfather often mentioned that it was really superstitious how some people feel the need to visit graves and leave flowers and other gifts there. He saw it as a close kin of ancestor worship as it is practiced by the heathen. We read in Luke 9:60, Jesus said unto him, Let the dead bury their dead: but go thou and preach the kingdom of God. I realize this may be taken slightly out of context, but I also would note that there isn't any evidence that Christians in the N.T. church spent much time visiting the graves of those who died in the Lord after they had buried them.
If you want to go see a grave, that's OK, but feel free not to if you don't want to or don't feel good about it. I know there are people who will pressure you that you need it for "closure." I'm not sure where "closure" came from. It is legitimate in some things, but the truth is that there have been many reasons over the course of church history when Christians couldn't visit the graves of their loved ones, and sometime didn't even get to properly bury them. God didn't forsake them and let them wallow in a comfortless grief because they didn't get "closure." Just keep that in mind, and let it free you from people's expectations if you need to. (Truth - sometimes people visit graves because they didn't have a good relationship with the person in life and they are assuaging their guilt. You don't have to participate.)
Even though we don't celebrate the Christmas holiday ourselves, I know it can be so very difficult for those who do. I also know that there are other days - the holidays of the heart - that are especially hard as well. Often these others may be even worse as other people don't always remember them and may not realize that we are dealing with them. Whatever you do or don't do, remember that our God is "the Father of mercies, and the God of all comfort..." And remember to extend God's comfort to others as He gives you opportunity and ability. 2 Corinthians 1:3-4 Blessed be God, even the Father of our Lord Jesus Christ, the Father of mercies, and the God of all comfort; Who comforteth us in all our tribulation, that we may be able to comfort them which are in any trouble, by the comfort wherewith we ourselves are comforted of God. His comfort isn't meant to be our own personal possession. It's meant to be shared.