Strength In Trials
by Mary E. Stephens
April 18, 2020

Well, here we are in the midst of the COVID 19 crisis. Regardless of your opinion on the subject, it's impossible to deny that there is a crisis in many countries because of it. I've seen so many things - good, bad, and indifferent - written and posted about it. People encouraging others in many ways. Churches stepping up and doing things new and strange to them, but which obviously needed to be done because...well, here we are, and God is forcing us to do them. People lamenting the loneliness, the stress, the cabin fever (as we call it in some parts). People trying hard to follow guidelines, people half-heartedly obeying the rules, and people cavalierly doing as they jolly well please. People sick and some dying. Questions, questions, questions. Very few answers that seem to be absolutely unquestionable truth. So much to say. So much to complain about. Some with much to do. Some with nothing to do. All can pray, if we will. And we can read God's word.
So many things I could write about. But something is pressing upon my mind that at first might seem unrelated.
My mother went to be with the Lord on March 5th. She had battled dementia for some years. Last year, late in the year, she began to go much more rapidly into the mists of memory loss. In December she had a fall and hit her head very hard. After that point she declined much more quickly. In January my dad had a mini stroke and, after myself and my husband cared for my mom for three days and two nights while my dad was in the hospital, we realized how bad off she actually was. We insisted on getting them some in-home care, but only a few weeks later on February 3 my mom had some sort of crisis and was taken to the hospital.
Although she complained of heart related symptoms, nothing showed up on the tests they did at the hospital. Because she was so weak, however, they kept her there and recommended having her moved to a rehab facility where she could gain strength. This was done, but during this time it became quite apparent that my dad could no longer care for her at the level that she needed. I don't have the health for that type of thing either, and full time in-home care would've been very expensive. So, in a rapid succession of God-ordered events, we found a memory care facility and got her moved in with the help of my brother and his wife who were staying nearby at the time. I could write at some length about all the many ways the Lord lead and helped us through those trying times.
After a terrible fall at the rehab place, I was hoping that she would be safer at the memory care facility, but this was impossible as she was a fall risk and a memory patient who couldn't remember what she needed to do to be safe - and the use of restraints is closely governed by law. What she needed was not legal without a lot of hoops to jump through. Eventually, though, she had a massive heart attack (the symptoms were remarkably mild and unclear) and was not able to recover from that. She went to heaven from the ICU just a few weeks after being moved to the care facility.
One of the things that stands out in my mind is how incredibly strong she was. With numerous emergency room visits, being "trapped" in a rehab facility and my dad staying with her in the one small room, being moved to a strange place and only seeing my dad for a few hours each day and occasional visits from my husband and me and from other friends, and in the final hours that we spent with her, she was so strong. She seldom gave way for very long to useless emotions. She only occasionally became angry and really frustrated. She tried to remain cheerful, often in the worst circumstances. She tried to see the humor in things and to make jokes. She was friendly to people who were caring for her and responded with friendship and even affection to those who were kind to her. She wasn't perfect, but she was an inspiration.
And she never forgot how to pray. Even when her mind was slipping badly and she was very confused about what was going on. At one point I heard her praying out loud for the Lord to help her know "what we're allowed to have." I thought at the time that if I'm ever in her place I hope my instinct will be to pray like that. Would to God we all responded that way even now!
I can still see her the night she fell at the rehab facility and cut her head badly. My husband and I were on our way to visit and my dad stepped out to the lobby to see if we had arrived. While he was gone she apparently tried to "straighten" up the room for her anticipated "company." (She did love "company" in those last months.) Somehow she fell and also a dish and a drinking glass with her, breaking all over the floor. She cut her head quite badly and it bled a lot. When we eventually arrived she was sitting on the floor waiting for the EMTs to come and take her to ER. A care giver at the facility (a very loving and kind black lady who was almost weeping over what had happened) was holding an ice pack to her head. Her hair was matted with blood and there was a partially cleaned up place on the floor where she had obviously bled profusely. She was crying and very unhappy. And yet she was trying to be strong. The "guest administrator" (an Asian with an obviously deep respect for the elderly) was trying to make her as comfortable as possible and she was just so thankful to everyone who was helping her. She expressed her thankfulness to people over and over in various ways that evening.
ER was not pleasant for her that night. They did a lot of scans and various things and they didn't want to move her more than necessary till they were sure there were no broken bones. But, she struggled through it with a grace and kindness that was inspiring. Even in the midst of her confusion about what was going on sometimes, and suffering the indignity of a bed pan, she still tried to smile. In fact, when my dad first went in to see her she was smiling again after all the unpleasantness that had already gone on, and he said to her, "I'm glad to see you have your smile back." She replied, "Yeah, I found it on the floor in here when we came in." She even was trying to make her little jokes still!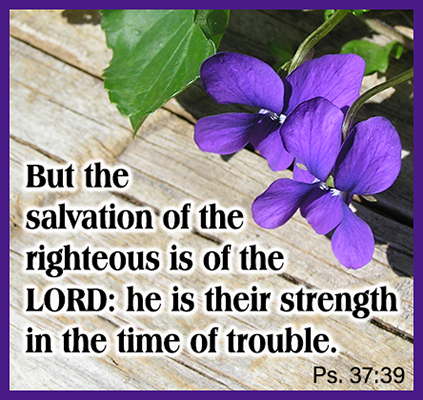 The other thing she always liked to do was read God's word or hear my dad read it. She was able to read it sometimes, and others times she struggled. Whether it was the dementia interfering with her reading abilities or her vision problems, we don't know, but at times she couldn't read properly. Still she would try if given the chance. And the very last morning of her life a young friend of mine who works at the hospital where Mom died went in and read the Bible to her before she passed over to Jesus. I have been told the hearing is the last thing to go and I hope that was her last memory on this earth before she woke up in heaven. I hope when my time comes to go that my last memory will be of God's word. Would to God that we would remember His word more often even now!
In January, when I was taking care of her at our house one day, I sat down and played some hymns on the piano for her. Although she wasn't sitting very close to me, I could hear her singing along part of the time. Weeks later, not long before the end of her life, my dad decided to sing hymns with her one evening in the memory care home. To his surprise and great blessing, she sang along on most of them, and even sang on key more than she usually did. He wished later that he had started singing with her sooner, but that was the last really sweet memory that he had with her, and it is still a treasure. God grant that we would remember to sing His praises, even in a "strange land" and in strange times when nothing is normal to us any more.
My mom was a strong woman for as long as I knew her. She's been through a lot of things. She was born and raised as a missionary's kid in East Africa. She was a military wife for two years during Vietnam. She was the wife of a dean at a Bible college one school year and a camp director's wife for a summer. She was a missionary's wife. As an adult she fled a country where a Marxist coup was happening, and as a child was evacuated from an area where there was a uprising where white people were being targeted. She had a baby in a hospital in Africa. She became a pastor's wife with all the trials, blessings, people struggles, financial limitations, building and housing difficulties, janitorial work, fair and unfair responsibilities, teaching responsibilities, attacks, friendships, joys, sorrows, births, deaths, and so forth that go with that. She became a homeschooling mom before homeschooling was even legal and when resources were still quite limited. She had two more children later in life and raised her "second family" while in the midst of her middle age years. She moved almost all the way across the country six times. She helped my dad run his piano tuning business in a time and place where there was not enough work. She helped care for her in-laws for some years towards the end of their lives, while managing a household with two grown and two mostly grown children. She prayed fervently for the spouses of her children and looked hopefully for them to have good homes where Christ was honored, and she taught us towards this end. She moved to a new and different culture (the South) later in life while also helping my dad run an online business. She suffered depression for a couple periods of her life during times of deep difficulty. She saw various of her children through difficult times in their lives. She had extra people living in her home at various times over the years, twice did the guests stay for a year. She showed hospitality thousands of times, and often enough it was difficult and a sacrifice for one reason or another. She helped my dad through a serious illness when they were in their sixties. Helping him recover while running the business took an extreme amount of effort and perseverance on her part, and attention to many details. She had two hip replacements and a knee replacement during her retirement years. In between those, she made a long and difficult-for-her trip to visit her son and his family on another continent. Then she fought the battle with dementia and vision impairment. She met the undignified trials of old age - often with humor and a friendly smile to those who helped her. She was strong. So strong.
But, the thing I know is that her strength didn't come from herself. Yes, she came from strong parents; a strong family, in fact. But, in all things she ever would give the glory to God for her strength (as would her parents and family). And I saw her draw upon His strength often enough to know that it was real. I saw my mother go through many trials and hard times. I saw her deeply hurt at times. I saw her grieve as I have never seen grief before or since. I saw her strive to meet the challenges of her dementia. And I heard her pray - often - at many different times and for many different reasons. I was there when she led a ladies Bible study teaching women to pray. I heard her read the scriptures, and even more often saw her read the scriptures. She helped me through some very hard times with both her prayers and the word of God. And, I heard her sing God's praise, very often, throughout my life. She sang to us at bedtime, she sang with us at family prayer time, in church meetings, in home Bible studies. And she hummed hymns while at her daily chores and tasks perhaps even more frequently than she sang. But, in the last weeks of her life her prayers took on a new meaning for me, as sometimes they were the only times when she seemed coherent and knew exactly what to say. And talking about the Lord and His truths was often the only time she could talk sensibly and speak things that ministered grace to the hearers. Her enjoyment of God's word, and those times of singing are precious memories that are of more value than gold or riches.
The thing is this, she went through so much in her life, and at all those times, whether she did it well or not, she strove to turn her heart and mind toward God and to follow His leading and His ways. She wasn't always as faithful as she would have liked to be. None of us are. But she kept on, even in the worst time - even through the worst times. She didn't come out unscathed. She bore the scars, as all of us do. But her habit had been to pray and read God's word and to sing His praise from her earliest years. These are things her parents taught her. More than that, they are things she chose to continue throughout her life, even when it wasn't always easy.
Friend, we can do this too. Not because we're great or able or strong. Not because we had a good upbringing or were "in church every time the doors were open." Not because we're as good or better than some other person. Rather, it is because we have access to the same Father through the same Lord Jesus Christ. The same God who sustained my mother through all those hard things is able to sustain us too. His power and strength isn't just for some people. It isn't just for people who had the right kind of home, or the most advantages. It is for all His children. He will be the same for us as He was for my mother - if we will let Him.
Psalm 115:12-13 The LORD hath been mindful of us: he will bless us; he will bless the house of Israel; he will bless the house of Aaron. He will bless them that fear the LORD, both small and great.
Romans 10:12 For there is no difference between the Jew and the Greek: for the same Lord over all is rich unto all that call upon him.
My mother was special to me, but she didn't consider herself special, and she always discouraged us from thinking more highly of ourselves than we should. She showed by her life and her care for all the people God brought to her to minister to that she didn't think some people were more worthy of His help or blessings than others. She wanted all Christians to know God's strength in their lives. But she also knew that not everyone will accept God's strength because some choose not to. The Lord is rich to all that call upon Him, but those who refuse to call can't expect to receive.
How does this relate back to the difficulties we are dealing with now?
Our present trials are not about us. They are tools that God is putting into our life toolboxes so that we can help someone else. They are meant to exercise us in spirit so that we will strengthen our muscles of faith for future exertion. Nothing is wasted with God. Things that happened in the past were preparing her for the hardships that would come later. These were the Lord's way of making her ready to meet the last trials with grace and strength as only He can give it. They taught her to draw upon Him in every time of need instinctively - not as a form or a ritual or to prove anything, but because He was her only constant and unfailing source of strength.
Like her, we have to choose to let Him teach us through these things. We have to choose to turn to Him constantly in prayer in every situation. We have to choose to go always to His word seeking those things that make us wise as only He can make us wise. We have to choose to open our mouths in praise and to sing the songs of Zion in strange circumstances.
Colossians 1:9-11 For this cause we also, since the day we heard it, do not cease to pray for you, and to desire that ye might be filled with the knowledge of his will in all wisdom and spiritual understanding; That ye might walk worthy of the Lord unto all pleasing, being fruitful in every good work, and increasing in the knowledge of God; Strengthened with all might, according to his glorious power, unto all patience and longsuffering with joyfulness;
Are you struggling with the confusion of this present distress? Are you resenting the limitations of being stuck in the comparative comfort of your own home? Or perhaps some other place where you'd rather not be? Are you fearful? Are you lonely? Are you wishing you could do more? Are you wishing maybe there was a little less to do in your case? Are you overwhelmed?
Life is full of unforeseen complications and challenges. We spend a lot of time guessing what will happen or won't happen and what will happen if this or that does happen, don't we? In the end it comes down to this: Trust in the LORD with all thine heart; and lean not unto thine own understanding. Proverbs 3:5 And as it turns out, we only need to trust Him for today. Matthew 6:34 Take therefore no thought for the morrow: for the morrow shall take thought for the things of itself. Sufficient unto the day is the evil thereof.
Pray. Talk to the Lord. Tell Him everything that's on your heart and mind. Ask Him for direction and help in every extremity and in every "unimportant" situation, in every time and place where you don't know what to do. Let prayer be your lifeline, a communication that you keep open always. And as you pray, listen. Read God's word. Absorb it. Saturate your heart and mind with it. Live it, even when it's hard or you don't feel like it. And sing. Offer the sacrifice of praise in song (Heb. 13:15). This is the way of strength. This is the way of enduring.
Not everyone ends their journey with dementia the way my mother did. I realize that. Hers was a little different than some people's because it was likely caused by seizures from a concussion in her 40s, and not a specific disease. As it is, though, the limitations and the failures of her mind, rather than keeping us from seeing her faith, only seemed to emphasize how a life lived in faith carried her through one of the hardest times of her life. Most of all, we saw that her strength was Christ in her, the hope of glory (Col. 1:27).
Pressed
Pressed out of measure and pressed to all length.
Pressed so intensely it seems beyond strength;
Pressed in the body and pressed in the soul,
Pressed in the mind till the dark surges roll;
Pressed by foes, and pressured by friends;
Pressure on pressure, till life nearly ends;
Pressed into loving the staff and the rod,
Pressed into knowing no helper but God;
Pressed into liberty where nothing clings,
Pressed into faith for impossible things;
Pressed into living a life for the Lord,
Pressed into living a Christ-life outpoured.
Annie Johnson Flint
God grant that we so live our lives now that others may see, even through our limitations, that our strength comes not from ourselves but from the Lord Jesus Christ.
Psalm 28:7-9 The LORD is my strength and my shield; my heart trusted in him, and I am helped: therefore my heart greatly rejoiceth; and with my song will I praise him. The LORD is their strength, and he is the saving strength of his anointed. Save thy people, and bless thine inheritance: feed them also, and lift them up for ever.