L. M. Montgomery - Delightful or Dangerous?

By Mary E. Stephens
updated Feb. 2021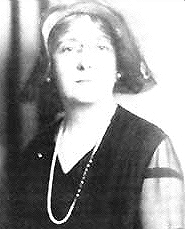 Lucy Maud Montgomery is perhaps best known for her classic Anne of Green Gables series. While these stories have generally been accepted as sweet and decent reading for children (girls in particular) there are some serious questions that arise about this author's life and the things that she presents in her stories.
Many people who were not familiar with the books before, were exposed to the Anne of Green Gables story as it gained renewed popularity in the U.S.A. and Canada through the mini-series on T.V. in the 1980s. More recently Anne with An E on Netflix has gotten its share of attention, partly because of its heavy-handed highjacking of an old classic to turn it into a propaganda vehicle for political correctness, especially the LGBT agenda. (This was a departure from Montgomery's own writings and should not be held against her personally.) The books themselves have also been embraced by the homeschool community in general which generated a lot of interest. Also, in the 1990s Road to Avonlea, a program which aired on the Disney Channel, was loosely based on a number of Montgomery's novels, including Chronicles of Avonlea and The Story Girl books; and Emily of New Moon was aired in Canada and based on her books by the same name.
Having been given my grandmother's set of the Anne books as a girl, I grew up with them and they were among my favorite childhood stories. However, as I grew older and came upon some further knowledge of the author, I realized that there were problems. It does not make me happy to have to address this, but all things must be examined by the scripture, even our favorite sources of "entertainment."
Colossians 3:16 Let the word of Christ dwell in you richly in all wisdom; teaching and admonishing one another in psalms and hymns and spiritual songs, singing with grace in your hearts to the Lord. 17 And whatsoever ye do in word or deed, do all in the name of the Lord Jesus, giving thanks to God and the Father by him.
It was in the late 1980s that my mom and I began to collect some of the other books by L. M. Montgomery. These were books that my grandma and my mom had never read. Some of the things in them bothered me as I knew that they were very contrary to scripture. Because of this I eventually began to examine and reconsider the Anne books as well, and the Lord brought some disturbing things to my attention.

The Taste of Worldly Wisdom
To begin with, some of Montgomery's heroines tend to be strong-willed, independent, women who do not need a man too much. This is so prevalent today in our society of "liberated women" that it may not seem so very awful in Montgomery's books. In fact, many see her heroines as role models of lovely womanhood. But, I feel that in some ways it is books like hers that made feminism more palatable for the average girl back then. While in many ways the Anne books portray womanhood and motherhood with many sweet characteristics, there is still a flavor of the early liberation movement present, and in some of the books it becomes quite strong. Some of her other the series (other than the Anne books) push this even further. The main problem I see is that there is too often a feeling that women are trapped in expectations that don't make them happy and the male hero is only grudgingly accepted. I remember thinking that in some of those other series it felt like the "happy ending" came too late. We will see more about why she would have given this impression, but suffice to say that it does not fit well with the biblical role of women.
1 Peter 3:3 Whose adorning let it not be that outward adorning of plaiting the hair, and of wearing of gold, or of putting on of apparel; 4 But let it be the hidden man of the heart, in that which is not corruptible, even the ornament of a meek and quiet spirit, which is in the sight of God of great price. 5 For after this manner in the old time the holy women also, who trusted in God, adorned themselves, being in subjection unto their own husbands: 6 Even as Sara obeyed Abraham, calling him lord: whose daughters ye are, as long as ye do well, and are not afraid with any amazement.
Humanism - "an outlook or system of thought attaching prime importance to human rather than divine or supernatural matters. Humanist beliefs stress the potential value and goodness of human beings, emphasize common human needs, and seek solely rational ways of solving human problems." [Source]
Aside from that, however, the overarching and continuous philosophy of Montgomery's books is that of Humanism. "If you try hard enough you can improve yourself and those around you by your own efforts," is a prevailing message in the Anne books. Human efforts and human solutions to problems are presented repeatedly, despite the fact that Lucy Maud's husband was a Presbyterian minister. Problems are dealt with through earnest endeavor, retreating into an imaginary world, and finding the good in oneself and others. Human effort is presented as the means to being a good person. But, God's word clearly teaches that we cannot make ourselves truly good by our own efforts.
Isaiah 64:6 But we are all as an unclean thing, and all our righteousnesses are as filthy rags; and we all do fade as a leaf; and our iniquities, like the wind, have taken us away.

Occult and Other Oddities
But, other unacceptable things show up in her stories, particularly some of the shorter series. We find, for example, prophetic dreams, visions, "something" speaking through a person's lips, automatic writing, and ESP (extra-sensory-perception). [Note: I apologize that I cannot give exact examples for some of the books, because I discarded mine years ago.]
In Rilla of Ingleside, the last book in the Anne series, the school teacher boarding with the "Blythe" family has several prophetic dreams about World War I. Walter, one of the Blythe's sons, also has several prophetic "visions" about "the Piper" regarding the war (chapter 3, p. 19; chapter 22, and in Rainbow Valley from the same series) and has "odd visitations of prophecy."(chapter 4, p. 33) The howling of a family dog is portrayed as being in response to the death of a family member who is thousands of miles away in France at the time (chapter 22, p. 187).
In two of the Emily of New Moon books there are an ESP incidents; and in the third book there is an out-of-body experience. In the first book during a sick spell Emily "finds" the years-old corpse of a friend's mother through revelation. In the second book she "finds" a lost boy through automatic drawing while she is asleep. In the third book, through an out-of-body incident, she "rescues" a friend from boarding a train that is destined to crash. The friend actually "sees" her, though she is physically on a couch many miles away. [In case you are wondering, these are all satanic manifestations - things that occur in real life with the assistance of devils.] It is of note that the world did not miss the point in those books because the Disney series by the same name contains various ghostly and other-worldly manifestations and occurances.
In the Pat of Silver Bush stories there are Irish superstitions dished out through a house servant.
Witch stories and ghost stories show up in Montgomery's writings as well as other inappropriate or questionable things.
Several examples:
In Rilla of Ingleside Walter Blythe is afraid to go to war and feels cowardly, declaring, "I -- I should have been a girl." (chpt. 5, p. 46) This is an unacceptable suggestion for young minds. It also casts the poetic and artistic male personality in a "less-than-manly" light which, although common in those days (and still to this day), is inappropriate and cruel.
Later, in the same book, we find the description of the school teacher as she announces the end of the war to those present, "All at once the sun broke through the thick clouds and poured through the crimson maple tree outside the window. Its reflected glow enveloped her in a weird, immaterial flame. She looked like a priestess performing some mystic, splendid rite." (chpt. 32, p. 266) This is fairly rich in symbolism that tends more toward paganism or witchcraft (or Wicca) than anything else.
In The Story Girl, the kids take gifts to a woman believed to be a witch in an effort to get their pet cat healed of some ailment or recovered from being lost. When their cat is restored the appearance is given that placating the "witch" might have really worked. No clarification as to their wrong thinking is offered, as I recall.
In Chronicles of Avonlea a boy plays the violin to a dying, wicked old woman and thus supposedly ministers to her soul in a way that his preacher uncle could not do with words. This implies a false means of peace with God that excludes the preaching of the Gospel of Jesus Christ and faith in Him. That idea is directly contrary to what the Bible says about the preaching of the gospel in 1 Corinthians 1:21, For after that in the wisdom of God the world by wisdom knew not God, it pleased God by the foolishness of preaching to save them that believe. In fact, it would be correct to say that it is essentially anti-christ to imply salvation without the word of God. 1 Peter 1:23 Being born again, not of corruptible seed, but of incorruptible, by the word of God, which liveth and abideth for ever.
In one of the Emily of New Moon books, Emily is chased by what is said to be an imagined ghost or something of that sort which seemed real to her. It is not completely clear what was actually happening. Again, the power of suggestion in this is a problem.
These kinds of story lines given in a a context that does not clearly distinguish between good and evil hardly come from a pure and godly mind.
Matthew 12:34-35 O generation of vipers, how can ye, being evil, speak good things? for out of the abundance of the heart the mouth speaketh. A good man out of the good treasure of the heart bringeth forth good things: and an evil man out of the evil treasure bringeth forth evil things.
Montgomery's diligence in putting things in her stories regarding witches, ghosts and spiritualist type things shows that she had a spiritually sick heart and mind. The ESP, automatic writing, and out-of-body experiences in the Emily books are portrayed as good things and not discredited in the story line as some false thing or a lie. This indicates it is likely that Montgomery actually believed in these "gifts" of Satan. (Spiritualism was popular in her day and quite a few people dabbled in it.)
We also find that L. M. Montgomery wrote ghost stories and the like. From a school girl in Minnesota we find a review of one of these books:
Among the Shadows; L. M. Montgomery; Review by Laura; B____ Elementary School; __________, Minnesota
"Nineteen horror stories from the 'darker side' of the author of the Anne of Green Gables series, L. M. Montgomery. Have you ever wondered if ghosts are just toys of a writer's imagination? Ever wanted to know just how far a thief will go to stay clear of the cops? Wondering how a room could haunt someone's soul? These stories are about that and much more. Some of the stories are about brutal murders, while others cover the subjects of embezzlers, spirits, drunkards, and thievery. This book is a must to read if you like stories by R. L. Stine and Christopher Pike, but these stories are more realistic.... I have to admit that not all of the tales are horrifying or even good, but just keep on reading because the farther into the book you read the better the stories get. I recommend this book for teenagers, but no younger." (1)
This is hardly a good recommendation for the esteemed Montgomery.
Ecclesiastes 10:1 Dead flies cause the ointment of the apothecary to send forth a stinking savour: so doth a little folly him that is in reputation for wisdom and honour.
But, Lucy's tales show more than a little folly in light of God's word.
Deuteronomy 18:10-12 There shall not be found among you any one...that useth divination, or an observer of times, or an enchanter, or a witch, Or a charmer, or a consulter with familiar spirits, or a wizard, or a necromancer. For all that do these things are an abomination unto the LORD: and because of these abominations the LORD thy God doth drive them out from before thee.
You may be sure that stories that glorify these things would not be acceptable in the sight of the Lord either, even if they are "just" fiction. Although we are no longer under the school master of the Law (Galatians 3:24-25), we are still not permitted to fool around with Satan's devices. Ephesians 5:11 And have no fellowship with the unfruitful works of darkness, but rather reprove them.

Personal Life - Where It All Went Wrong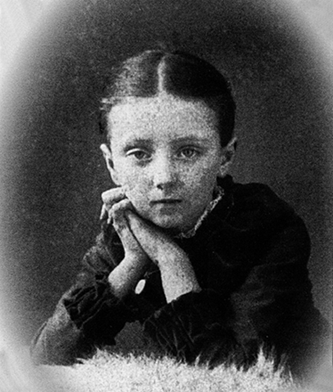 Proverbs 4:23 Keep thy heart with all diligence; for out of it are the issues of life.
Born: 1874; Died: 1942
Lucy Maud Montgomery did not have a particularly happy start to life. Her mother died of tuberculosis when she was less than two years old and she was given into the care of her maternal grandparents by her less-than-stellar father. When she was seven years old her father essentially abandoned her when he moved to the North West Territory (now Saskatchewan) of Canada. She apparently did not see a lot of her father after this point. Though she apparently did spend some time with him and his second wife, it was not a happy time. Some believe she learned table-tilting during a stay with them, which could have been the start a lifelong dabbling in things occult and demonic.
Her grandparents were what we would probably think of as strict disciplinarians, and likely strict Presbyterians as well, but from her perspective they lacked compassion and kindness to offset their more severe traits. Lucy is said to have had a lonely and fairly unhappy childhood with them. There is no doubt that this affected her. "Anne Shirley's" early life experiences were likely partially autobiographical in terms of the lonely, hard working child who peopled her world with imaginary friends in order to survive the hardships. Though there were bright spots for her, things were generally unpleasant.
After finishing her basic schooling, Montgomery taught for awhile and began to write for profit. She eventually was able to attend college and one year of university. She was resentful that her family would not help her further her education. Her grandfather was strongly against it, but it is unclear whether she approached any of her more well-to-do extended family for help.
Lucy Maud had quite a number of male admirers and was undoubtedly a flirt. Considering her sad childhood, it would hardly be surprising that she would look for attention and approval from the opposite sex as she grew old enough for such pursuits. Her relationships appear to have been rather shallow and/or rocky, and eventually she is said to have given up on the idea of love, but still to believe marriage to be "necessary" for women, despite her own dislike of being bound to a man.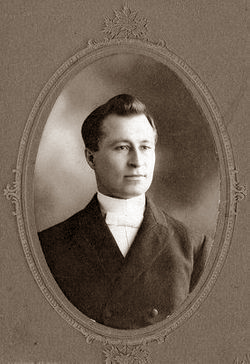 When Ewan Macdonald (right), a Scottish Presbyterian minister, came to Cavendish where she was living with and caring for her grandmother, they eventually became engaged. There was a wait of some years before they were married. During that time he went to Glasgow for further education and then took a position on Prince Edward Island, but at some distance from Cavendish. Later he moved to Ontario to minister to two churches. Montgomery was writing avidly all the while, and began the Anne books during this time, which were received with great eagerness by the publisher and the public. She apparently did not wish to marry as long as her grandmother still needed her help, but when her grandmother died suddenly in 1911 things moved rapidly toward the wedding.
Montgomery's and Macdonald's marriage was not a wise decision for several reasons. In the first place, they both had suffered from significant depression at times which would later add complications as they were unable to support each other emotionally and mentally as they each truly needed. Furthermore, Lucy's faith was in a state of crisis that was not in keeping with marriage to a minister. Ewan was considered a "good catch" in some regards, but it is unlikely that real love was part of their relationship. If it had been, she could not have written about her wedding day and marriage,
"...sitting there by my husband's side...I felt a sudden horrible inrush of rebellion and despair. I wanted to be free! I felt like a prisoner - a hopeless prisoner. Something in me - something wild and free and untamed - something that Ewan had not tamed - could never tame - something that did not acknowledge him as master - rose up in one frantic protest against the fetters that bound me. At that moment if I could have torn the wedding ring from my finger and so freed myself I would have done it! But it was too late - and the realization that it was too late fell over me like a black cloud of wretchedness. I sat at that gay bridal feast, in my white veil and orange blossoms, beside the man that I had married - and I was as unhappy as I had ever been in my life." (2)
What a horrible way to start one's married life! There have been plenty of women who married imprudently and wished they hadn't, but this is wholesale rebellion, a tragic and dreadful mistake from the very first day. And, the worst of it is that she apparently never recovered from this resentment at the "bonds" of marriage. She doesn't seem to have made peace with her life and the choice she had made. Though she stayed with her husband and nursed him through his mental illness, the underlying discontent that she felt in her own life is evident in her journal and her writing, especially in the Pat and Emily books where she seems to find it difficult to bring the stories to a "happy" conclusion. Indeed, the fact that her own discontent with life makes its way into her stories is one of their flaws. Because she never found resolution and contentment in Jesus Christ, she was unable to pass on any true hope to her readers. And, may I just say that human love and marriage do not satisfy the most basic longing in the human experience? Only a relationship with God can do that, and that can only happen through Jesus Christ. (John 14:6 Jesus saith unto him, I am the way, the truth, and the life: no man cometh unto the Father, but by me.)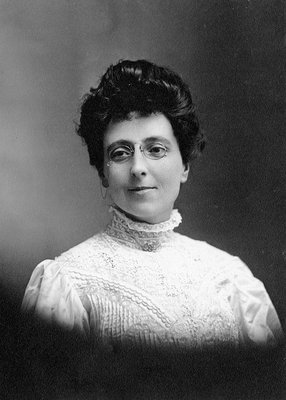 It is also curious and sad that even though her husband was a minister, there is a minimal amount of real Christianity in her books and no clear gospel message. In fact, she is less forthcoming with biblical viewpoints than even some other nominal Christian writers. A very sad state for a minister's wife.
She wrote eleven of her books at his first pastorate in Leaskdale, Ontario. According to her perspective, Ewan had little to no appreciation for her writing, viewing women as more utilitarian than intellectual. (3) This would not be surprising in the era in which they lived and it is sad that he was unable or unwilling to support her writing, if that is even an honest perspective. Sadly, based upon the way that she started her marriage, it is very unlikely that her opinion of him was unbiased.
Added to that, Lucy was not a noted author when Ewan engaged himself to her, but her fame far exceed his by the time they married. While some men could deal with this, it could have been uncomfortable for him, and due to the expectations put upon men at that time, we can only wonder if he would have married her if he had not been honor bound. Based on long-term outcomes I suspect a lack of healthy communication before they married. If he was truly born again, and it is possible he was not, then he was unequally yoked with an unbeliever, so the marriage was built on shaky foundation from the start (2 Cor. 6:14).
Although by some standards she "had it all" - a career, motherhood, a husband, a home, and an acceptable residence - Montgomery's marriage to Macdonald was troubled and quickly became unhappy. This isn't exactly surprising for two people who sadly suffered from bouts of depression. A still-born son, a horrible war, the influenza epidemic, law suits, denominational upheaval, and an errant son did not help. Lucy's own unhappiness in her marriage would have added much to the strain as well.
Worst of all, however, her husband suffered from severe mental illness, even insanity - something Montgomery felt compelled to hide from his church and the world at large. It has been called "religious melancholia" and its first appearance is described thus:
"Ewan drifted into manifestations of deep clinical depression. He believed himself damned to eternal punishment, not for any particular sin, but within the context of the Calvinistic theological doctrine of predestination, which held that certain unlucky people were predestined to an afterlife in Hell..." (4)
Due to the strictness of Scottish Presbyterianism, it may have been what was once known as "religious scrupulosity" (now simply "scrupulosity"), or something akin to that. He was later said to have worried that he had committed the unpardonable sin. Whether he was suffering from some severe mental illness or being tormented by devils, it could not have been easy to live with, especially combined with her own depression and the apparent lack of any real relationship with the Lord - the only One who could have truly helped her. Indeed, her fascination with the demonic could not have helped and may have contributed to the torment they endured.
The stress of dealing with his illness fell heavily on her. During Ewan's first serious bout with insanity Lucy Maud began to use sleeping pills in order to rest at night. This eventually developed into more or less of an addiction for her during times of stress.
As to the character of the woman herself, we have seen that she had a rebellious attitude toward marriage. She was resentful of the role of women in her day. This is not surprising during the time period in which she lived, as it covered World War I and part of World War II - quite a few years in which early feminist activism was prominent and women's roles were being redefined. There was a good deal of upheaval in society and thinking during that time as well. Discontent and dissatisfaction are contagious. The role of housewife and mother apparently were not what could be called "satisfying" to many, including her.
Her husband was not paid well as a Presbyterian minister and so her writing money was used to add some conveniences to life. Her much larger income could have been a point of contention between them as some men feel ashamed of such things even now. According to one book,
"If her novels contain hidden rebellion, her journals pulse with open resistance, resentment, and depression at the structures of daily life that caught her ambition in cobwebs. She felt trapped in her marriage, confined by motherhood, and bound by the need to present a smiling face of domestic happiness in accord with her romantic novels she was producing."(5)
This is a curious contradiction to how the Anne books are presented by some Christians. It is also interesting that some of her heroines were so slow to marry the obvious man of choice in her story lines when we consider all of this. One wonders how she might have really written had it not been necessary to maintain the respectable housewife and minister's wife image that was expected of her.
Ultimately, her problem was not one of unrealistic expectations or lack of personal freedom. Her problem, as with all sinners, was a lack of salvation and relationship with God through Jesus Christ. Her discontent was not the essential problem, it was the fruit of her spiritually lost condition. True freedom from sin and self only come through Jesus. John 8:36 If the Son therefore shall make you free, ye shall be free indeed.
This timeframe was also an era when spiritualism and the occult arts were being "investigated" with fascination by many people. In the Emily books she seemed quite fascinated by these Satanic manifestations. It would be interesting to know to what extent this was before or after her dear friend and cousin, Frederica Campbell died. Others have been drawn into these darker arts when faced with the death of a close loved one. Her lack of real faith would have left her groping for answers in a very lonely time. Including these psychic things in some of her books in a positive light shows that it was acceptable to the writer, and probably something she really believed to be "good." Interestingly, the Emily books, where we see the most open use of these things, were and are not her most popular books.
In her later years Lucy Maud suffered from severe bouts of depression. Life was hard and she struggled a good deal. The rebellious attitude she had nursed for years undoubtedly contributed to this. She also exhibited a tendency to manipulate her two sons and dictate their lives for them as they grew older, something that must have led to unpleasant relationships with those who could have been a great help to her.
When Montgomery died in 1947 a note was found by her bed that read, in part, "I have lost my mind by spells and I do not dare think what I may do in those spells. May God forgive me and I hope everyone else will forgive me even if they cannot understand. My position is too awful to endure and nobody realizes it. What an end to a life in which I tried always to do my best." She was declared to have died of natural causes, however, her granddaughter has said that her grandmother may have taken her own life due to depression. Suicide was still considered a terribly wicked deed in those days by some and it would have horrified the public and ruined sales for her books. I would not be surprised if her cause of death was "edited" to protect her readers and preserve her reputation.
The source of her last terrible depression was likely the overwhelming number of tragic things that happened to her in the last few years of her life. The number of things is too numerous to mention, but by this point her husband was completely insane or senile, one son was on his way to war while the other had basically ruined his prospects in life, and she was no longer able to write even in her journal. Her dabbling into the dark arts of spiritualism and the occult could not have been good for her spiritually, mentally, or emotionally. I do not know how much she read about or was involved with this, but the devil has been the great devourer of souls since the Garden of Eden and certainly her life was marked with misery and bitter despair. (1 Peter 5:8)
As a fellow sufferer of occasional depression, I have to say that it appears to me that she did end her own life. This was a tragic end to a life that was so full of sadness and mistakes, and it is a sober warning to the powerlessness of Humanism to bring peace and salvation. If she truly thought at the end of her life that "trying always to do [her] best" was what made her a good person, we have no reason to believe that she was ever born again. Doing our best is never the way to eternal life or pleasing God; nor to true joy in this life, for that matter. It is horrible that all that misery and suffering never brought her to a knowledge of the only source of real and lasting comfort in this life and the next.
Titus 3:4-7 But after that the kindness and love of God our Saviour toward man appeared, Not by works of righteousness which we have done, but according to his mercy he saved us, by the washing of regeneration, and renewing of the Holy Ghost; Which he shed on us abundantly through Jesus Christ our Saviour; That being justified by his grace, we should be made heirs according to the hope of eternal life.
Ephesians 2:8-9 For by grace are ye saved through faith; and that not of yourselves: it is the gift of God: Not of works, lest any man should boast.
L. M. Montgomery had a real talent for writing in many respects. She certainly could make words do marvelous things. Sadly, her skill made her books useful tools for her father the devil since she included things in some of them that are clearly occult and evil. Books that teach children empathy for people different from themselves are not always a bad thing, but when they introduce truly dangerous things then we need to re-evaluate their usefulness. These books do present evil things to children's minds in a positive and endearing context and ought to be avoided. Many of them make suggestions that are contrary to Scripture in promoting Humanist thinking and casting devilish activities as good. By and large, the subtlety of the serpent is in them.
Isaiah 5:20 Woe unto them that call evil good, and good evil; that put darkness for light, and light for darkness; that put bitter for sweet, and sweet for bitter!





1. Original source of citation has been removed.
2. Source for part of the quote. Source for other part of the quote. Original quote from The L.M. Montgomery Reader; Volune 2: A Critical Heritage by Benjamin Lefebvre; p. 132- 133
3. Ibid., Benjamin Lefebvre.
4. Writing A Life: L.M. Montgomery by Mary Rubio and Elizabeth Waterston, p. 70. See PDF file.
5. Ibid. p. 13
Information on her "Personal Life" was primarily found at: https://en.wikipedia.org/wiki/Lucy_Maud_Montgomery
And at: http://mentalfloss.com/article/60282/14-facts-about-anne-green-gables-author-lm-montgomery
And at: http://www.lmmrc.ca/documents/WritingALife.pdf