From Mom's Collection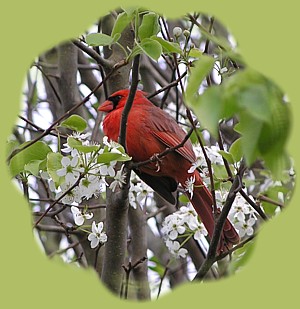 April
April stood on tiptoe in the highest apple tree --
A most audacious little Redbird kept her company --
And, as she scrubbed the grimy sky, he chattered in her ear,
"O, spring, spring, spring has come,
Such news! What news! Such cheer! What cheer!"
He sang so loud and joyously, I couldn't help but hear.

April spread her carpeting of emerald everywhere -
With scatter rugs of crocus flowers to brighten here and there.
The Redbird walked beside her then with hops of ecstasy
That all his world from winter's winds and chilling snows was free,
And gentle grass stood up between his toes so comfortably.

April set a brimming bowl of jonquils in the sun,
Some violets in shady spots, at last her work was done.
The Redbird watched her cross the hills and sang with all his might,
Admiring, praising, thanking her, 'til she was out of sight,
And then he coaxed me from my work to share in his delight.
Naomi Loomis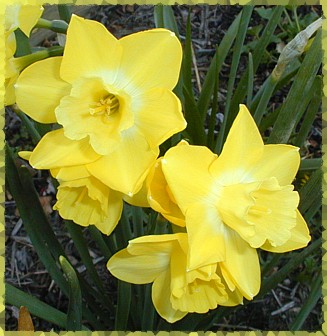 Graphics and photos by Mary Stephens
CA; updated 2019