Harden Not Your Heart
There is a time, I know not when,
A place, I know not where,
Which marks the destiny of men
To heaven or despair.
There is a line by us not seen
Which crosses every path,
The hidden boundary between
God's patience and His wrath.
To cross that limit is to die,
To die, as if by stealth.
It may not pale the beaming eye,
Nor quench the glowing health.
The conscience may be still at ease,
The spirits light and gay;
That which is pleasing still may please,
And care be thrust away.
But on that forehead God hath set
Indelibly a mark,
By man unseen, for man as yet
Is blind and in the dark.
And still the doomed man's path below
May bloom like Eden bloomed.
He did not, does not, will not know,
Nor feel that he is doomed.
He feels, he sees that all is well,
His every fear is calmed.
He lives, he dies, he wakes in hell,
Not only doomed, but damned.
Oh, where is that mysterious bourn,
By which each path is crossed,
Beyond which God himself hath sworn
That he who goes is lost?
How long may men go on in sin?
How long will God forbear?
Where does hope end, and where begin
The confines of despair?
One answer from those skies is sent,
"Ye who from God depart,
While it is called today, repent,
And harden not your heart."
Author unknown
Romans 1:28 And even as they did not like to retain God in their knowledge, God gave them over to a reprobate mind, to do those things which are not convenient;
Hebrews 4:6-10 Seeing therefore it remaineth that some must enter therein, and they to whom it was first preached entered not in because of unbelief: Again, he limiteth a certain day, saying in David, To day, after so long a time; as it is said, To day if ye will hear his voice, harden not your hearts. For if Jesus [Joshua] had given them rest, then would he not afterward have spoken of another day. There remaineth therefore a rest to the people of God. For he that is entered into his rest, he also hath ceased from his own works, as God did from his.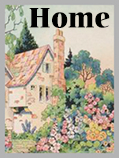 background and graphics by Mary Stephens
vintage graphic: unknown source
Pub. 2020; CA