The Heart's Center

Think well of Christ, beloved saint,
That worthy, precious One,
Who fills the Father's heart, as there
He sits upon the throne.
Deem moments wasted, when the mind
Is fixed on aught beside;
He claims thy heart--with nothing less
Will He be satisfied.
Speak well of Christ, beloved saint,
Nor shun the promised cross;
Be loyal to thy risen Lord,
Though shame be thine, and loss;
Speak well of Him--for sure thou canst--
Thy best, unchanging Friend,
Who loved thee, loves thee, nor will cease
To love thee to the end.
Make much of Christ, beloved saint,
For none can equal Him;
Whate'er thou hast of peace or joy,
All from His fullness stream;
Thou can'ts not make too much of Him,
(Thou may'st of creature things,)
'Tis only boasting in the Lord
Sweet satisfaction brings.
Act well for Christ, beloved saint,
He claims it at thy hands;
Thy willing service He, by love--
The strongest plea--demands.
Not servile labor offer thou:
Love asks--let love reply,
And constant as the Master calls,
Respond, "Here, Lord, am I."
And rest in Christ, beloved saint,
From all misgivings free;
His precious blood has spoken peace--
Has spoken peace to thee;
Then rest in Him, confiding, rest,
Assured that all is well;
He'll shortly come, and then with Him
Thou evermore shalt dwell.
Albert Midlane
Colossians 1:12-18 Giving thanks unto the Father, which hath made us meet to be partakers of the inheritance of the saints in light: Who hath delivered us from the power of darkness, and hath translated us into the kingdom of his dear Son: In whom we have redemption through his blood, even the forgiveness of sins: Who is the image of the invisible God, the firstborn of every creature: For by him were all things created, that are in heaven, and that are in earth, visible and invisible, whether they be thrones, or dominions, or principalities, or powers: all things were created by him, and for him: And he is before all things, and by him all things consist. And he is the head of the body, the church: who is the beginning, the firstborn from the dead; that in all things he might have the preeminence.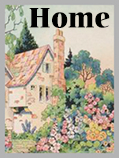 background and graphics by Mary Stephens
vintage graphic: unknown; published April 2020; CA