The Reflecting Tree
Somewhere on the side of a woodland hill
Where last year's trillium bloomed;
There stands a lonely little tree,
That lives in a constant gloom.
The taller trees stand o'er its head,
For they long since passed it by;
And it vainly stretches its spindly trunk
As it reaches for the sky.
Yet now and again, in a glorious shaft,
And a heaven-reflecting glow,
The sun will enlighten its soft green leaves
In the shadows where it grows;
And the radiance fair from the little tree,
In the forest's darkened halls,
Illumines the trembling plants below,
Where they crouch in the musty pall.
So we, who grow in some lowly place,
O'er shadowed and hid from sight,
May reflect the splendor of Jesus Christ,
And fill some gloom with light;
As once and again God fills our lives
With the glory of His Son,
Some struggling soul may see that light
And to our Lord be won;
Some weary saints may too be cheered
And passing on their way,
Rejoice that God through us has shed
Fresh brightness for the day.
by Mary E. Stephens
© 2016
2 Corinthians 4:6-7 For God, who commanded the light to shine out of darkness, hath shined in our hearts, to give the light of the knowledge of the glory of God in the face of Jesus Christ. But we have this treasure in earthen vessels, that the excellency of the power may be of God, and not of us.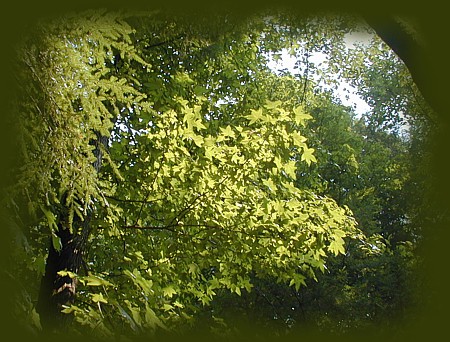 photos and graphics by Mary Stephens
CA, updated 2019