Ask
John 16:23-24 And in that day ye shall ask me nothing. Verily, verily, I say unto you, Whatsoever ye shall ask the Father in my name, he will give it you. Hitherto have ye asked nothing in my name: ask, and ye shall receive, that your joy may be full.
Whether we like it or not, asking is the rule of the Kingdom.
If you may have everything by asking in His Name, and nothing
without asking, I beg you to see how absolutely vital prayer is.

Charles Spurgeon
Our Lord never referred to unanswered prayer. He taught that prayers are always answered: "Everyone who asks receives." And He implied that prayers are answered rightly because of the heavenly Father's wisdom: "Your Father knows the things you have need of before you ask Him."

Oswald Chambers
James 4:2-3 Ye lust, and have not: ye kill, and desire to have, and cannot obtain: ye fight and war, yet ye have not, because ye ask not. Ye ask, and receive not, because ye ask amiss, that ye may consume it upon your lusts.
If God sees that my spiritual life will be furthered
by giving the things for which I ask, then He will
give them, but that is not the end of prayer. The
end of prayer is that I come to know God Himself.

Oswald Chambers
James 1:5-6 If any of you lack wisdom, let him ask of God, that giveth to all men liberally, and upbraideth not; and it shall be given him. But let him ask in faith, nothing wavering. For he that wavereth is like a wave of the sea driven with the wind and tossed.
Lord, is it not Thy word, if any man lack wisdom, let him ask of God? Thou givest liberally, and upbraidest not. Thou hast said, if any be willing to do Thy will, he shall know. I am willing to do, let me know Thy will. - John Wesley
Father, I know that all my life
Is portioned out for me,
And the changes that are sure to come
I do not fear to see;
But I ask Thee for a present mind
Intent on pleasing Thee.
I ask Thee for a thoughtful love,
Through constant watching wise,
To meet the glad with joyful smiles,
And to wipe the weeping eyes;
And a heart at leisure from itself,
To soothe and sympathize.
- Anna L. Waring -
1 John 3:22 And whatsoever we ask, we receive of him, because we keep his commandments, and do those things that are pleasing in his sight.
There is no other place where the heart should be so free as before the mercy seat. There, you can talk out your very soul, for that is the best prayer that you can present. Do not ask for what some tell you that you should ask for, but for that which you feel the need of, that which the Holy Spirit has made you to hunger and to thirst for, you ask for that. - Charles Spurgeon



In Time of Need
Not by my need alone I ask this token
That Thou, O Lord, dost hear and heed my cry;
But by Thy promise that cannot be broken,
That all my need in Christ Thou wilt supply;
Not by my love for Thee, so oft disproved,
Not by my gifts to Thee, so poor and small,
But by Thy love that gave Thy best-beloved,
And with that one great Gift included all.
Not by my faith I plead, for that can falter,
Aye, and has faltered in the days gone by;
But by Thy faithfulness that cannot alter,
And by Thine ordered covenants on high,
Set safe and sure above Time's brief duration,
Beyond all change, eternally the same;
By these I dare my fervent supplication,
By Thy great mercies and Thy holy name.
Annie Johnson Flint

1 John 5:14-15 And this is the confidence that we have in him, that, if we ask any thing according to his will, he heareth us: And if we know that he hear us, whatsoever we ask, we know that we have the petitions that we desired of him.
My friend, what of God's great blessings, wisdom, and provisions are you
missing out on today because you have no bothered to ask...
because you have not asked in faith?
Ask.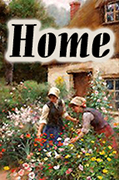 background, photographs,
and graphics by Mary Stephens
vintage graphic: unknown source