Delight
Part 1
Psalm 1:1-2 Blessed is the man that walketh not in the counsel of the ungodly, nor standeth in the way of sinners, nor sitteth in the seat of the scornful. But his delight is in the law of the LORD; and in his law doth he meditate day and night.
Psalm 16:2-3 O my soul, thou hast said unto the LORD, Thou art my Lord: my goodness extendeth not to thee; But to the saints that are in the earth, and to the excellent, in whom is all my delight.
Psalm 37:4-5 Delight thyself also in the LORD; and he shall give thee the desires of thine heart. Commit thy way unto the LORD; trust also in him; and he shall bring it to pass.
Thou lovely source of true delight,
Whom I unseen adore;
Unveil Thy beauties to my sight,
That I may love Thee more.
Thy glory o'er creation shines;
But in Thy sacred Word,
I read in fairer, brighter lines,
My bleeding, dying Lord.
'Tis here, whene'er my comforts droop,
And sins and sorrows rise,
Thy love with cheerful beams of hope,
My fainting heart supplies.
Anne Steele
Psalm 37:10-11 For yet a little while, and the wicked shall not be: yea, thou shalt diligently consider his place, and it shall not be. But the meek shall inherit the earth; and shall delight themselves in the abundance of peace.
Psalm 40:7-8 Then said I, Lo, I come: in the volume of the book it is written of me, I delight to do thy will, O my God: yea, thy law is within my heart.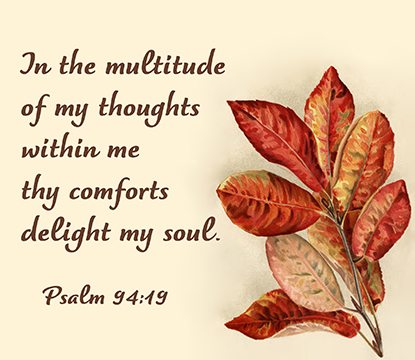 Psalm 94:18-19 When I said, My foot slippeth; thy mercy, O LORD, held me up. In the multitude of my thoughts within me thy comforts delight my soul.
Psalm 119:15-16 I will meditate in thy precepts, and have respect unto thy ways. I will delight myself in thy statutes: I will not forget thy word.
O how I love Thy holy law!
'Tis daily my delight;
And thence my meditations draw
Divine advice by night...
How doth Thy Word my heart engage!
How well employ my tongue!
And in my tiresome pilgrimage,
Yields me a heav'nly song.
Isaac Watts
Psalm 119:24 Thy testimonies also are my delight and my counsellers.
Psalm 119:92 Unless thy law had been my delights, I should then have perished in mine affliction.

If you do not understand a book by a departed writer you are unable to ask him his meaning, but the Spirit, who inspired Holy Scripture, lives forever, and He delights to open the Word to those who seek His instruction.
Charles Spurgeon

Proverbs 29:17 Correct thy son, and he shall give thee rest; yea, he shall give delight unto thy soul.
There are few things that can delight a parent's heart more than seeing their children walk in the ways of the Lord - following His leading, obeying His word.
3 John 4 I have no greater joy than to hear that my children walk in truth.
Song of Solomon 7:6 How fair and how pleasant art thou, O love, for delights!
A comfortable and happy marriage can add much happiness to life, but it is in the obedient Christian marriage, where our spirits meet in the Spirit of God, that we find a level of delight and peace that is not available outside of Christ.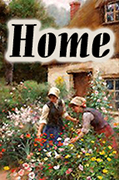 background and graphics by Mary Stephens
vintage graphics: unknown source
Sept. 2023; CA