Delight
Part 2
Psalm 68:30 Rebuke the company of spearmen, the multitude of the bulls, with the calves of the people, till every one submit himself with pieces of silver: scatter thou the people that delight in war.
Psalm 109:16-17 Because that he remembered not to shew mercy, but persecuted the poor and needy man, that he might even slay the broken in heart. As he loved cursing, so let it come unto him: as he delighted not in blessing, so let it be far from him.
Proverbs 1:22 How long, ye simple ones, will ye love simplicity? and the scorners delight in their scorning, and fools hate knowledge?
Proverbs 18:2 A fool hath no delight in understanding,
but that his heart may discover itself.
Proverbs 19:10 Delight is not seemly for a fool; much less for a servant to have rule over princes.
Isaiah 66:4 I also will choose their delusions, and will bring their fears upon them; because when I called, none did answer; when I spake, they did not hear: but they did evil before mine eyes, and chose that in which I delighted not.
Jeremiah 6:10 To whom shall I speak, and give warning, that they may hear? behold, their ear is uncircumcised, and they cannot hearken: behold, the word of the LORD is unto them a reproach; they have no delight in it.
In evil long I took delight,
Unawed by shame or fear,
Till a new object struck my sight,
And stopped my wild career.
I saw One hanging on a tree,
In agony and blood,
Who fixed His languid eyes on me,
As near His cross I stood.
Sure, never to my latest breath,
Can I forget that look;
It seemed to charge me with His death,
Though not a word He spoke.
John Newton
Proverbs 8:12-14 I wisdom dwell with prudence, and find out knowledge of witty inventions. The fear of the LORD is to hate evil: pride, and arrogancy, and the evil way, and the froward mouth, do I hate. Counsel is mine, and sound wisdom: I am understanding; I have strength...22-30 The LORD possessed me in the beginning of his way, before his works of old. I was set up from everlasting, from the beginning, or ever the earth was. When there were no depths, I was brought forth; when there were no fountains abounding with water. Before the mountains were settled, before the hills was I brought forth: While as yet he had not made the earth, nor the fields, nor the highest part of the dust of the world. When he prepared the heavens, I was there: when he set a compass upon the face of the depth: When he established the clouds above: when he strengthened the fountains of the deep: When he gave to the sea his decree, that the waters should not pass his commandment: when he appointed the foundations of the earth: Then I was by him, as one brought up with him: and I was daily his delight, rejoicing always before him;
Proverbs 11:1 A false balance is abomination to the LORD: but a just weight is his delight.
Proverbs 11:20 They that are of a froward heart are abomination to the LORD: but such as are upright in their way are his delight.
Proverbs 12:22 Lying lips are abomination to the LORD: but they that deal truly are his delight.
Holy is He in all his works,
And truth is His delight;
But sinners and their wicked ways
Shall perish from His sight.
John Needham
Proverbs 15:8 The sacrifice of the wicked is an abomination to the LORD: but the prayer of the upright is his delight.
How happy it is to believe, with a steadfast assurance, that our petitions are heard even while we are making them; and how delightful to meet with a proof of it in the effectual and actual grant of them. - William Cowper

Isaiah 1:11 To what purpose is the multitude of your sacrifices unto me? saith the LORD: I am full of the burnt offerings of rams, and the fat of fed beasts; and I delight not in the blood of bullocks, or of lambs, or of he goats.
Jeremiah 9:24 But let him that glorieth glory in this,
that he understandeth and knoweth me,
that I am the LORD which exercise
lovingkindness, judgment, and righteousness,
in the earth: for in these things I delight,
saith the LORD.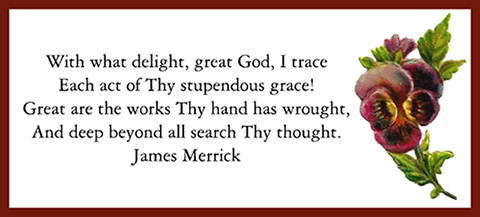 Malachi 3:1-4 Behold, I will send my messenger, and he shall prepare the way before me: and the Lord, whom ye seek, shall suddenly come to his temple, even the messenger of the covenant, whom ye delight in: behold, he shall come, saith the LORD of hosts. But who may abide the day of his coming? and who shall stand when he appeareth? for he is like a refiner's fire, and like fullers' soap: And he shall sit as a refiner and purifier of silver: and he shall purify the sons of Levi, and purge them as gold and silver, that they may offer unto the LORD an offering in righteousness. Then shall the offering of Judah and Jerusalem be pleasant unto the LORD, as in the days of old, and as in former years.

The person who never meditates with delight on the glory of Christ in the Scriptures now will not have any real desire to see that glory in heaven. What sort of faith and love do people have who find time to think about many other things but make no time for meditating on this glorious subject? - John Owen
Romans 7:18-25 For I know that in me (that is, in my flesh,) dwelleth no good thing: for to will is present with me; but how to perform that which is good I find not. For the good that I would I do not: but the evil which I would not, that I do. Now if I do that I would not, it is no more I that do it, but sin that dwelleth in me. I find then a law, that, when I would do good, evil is present with me. For I delight in the law of God after the inward man: But I see another law in my members, warring against the law of my mind, and bringing me into captivity to the law of sin which is in my members. O wretched man that I am! who shall deliver me from the body of this death? I thank God through Jesus Christ our Lord. So then with the mind I myself serve the law of God; but with the flesh the law of sin.
To wait on God is to live a life of desire toward Him, delight in Him, dependence on Him, and devotedness to Him. - Matthew Henry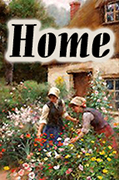 background and graphics by Mary Stephens
vintage graphics: unknown source
posted Oct. 2023, CA