Late
Psalm 127:2 It is vain for you to rise up early, to sit up late,
to eat the bread of sorrows: for so he giveth his beloved sleep.
He That Believeth
He that believeth shall not make haste
In useless hurry his strength to waste;
Who walks with God can afford to wait,
For he can never arrive too late.
He that believeth shall not delay;
Who carries the word of the King on its' way
Keeps pace with Jehovah's marching tune,
And he can never come too soon.
He that believeth shall walk serene,
With ordered steppings and leisured mien,
He dwells in the midst of eternities,
And the timeless ages of God are his.
Annie Johnson Flint
[altered]
Psalm 70:1-5 Make haste, O God, to deliver me; make haste to help me, O LORD. Let them be ashamed and confounded that seek after my soul: let them be turned backward, and put to confusion, that desire my hurt. Let them be turned back for a reward of their shame that say, Aha, aha. Let all those that seek thee rejoice and be glad in thee: and let such as love thy salvation say continually, Let God be magnified. But I am poor and needy: make haste unto me, O God: thou art my help and my deliverer; O LORD, make no tarrying.
Even when it feels like it to us,
God is never running late.
Hebrews 10:35-37 Cast not away therefore your confidence, which hath great recompence of reward. For ye have need of patience, that, after ye have done the will of God, ye might receive the promise. For yet a little while, and he that shall come will come, and will not tarry.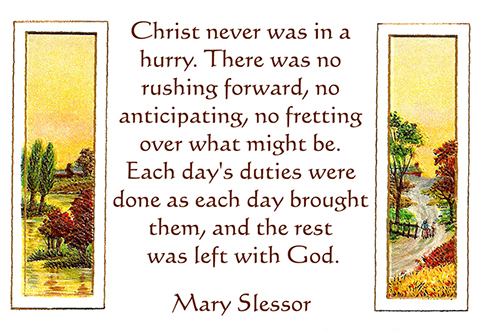 John 11:1-15 Now a certain man was sick, named Lazarus, of Bethany, the town of Mary and her sister Martha. (It was that Mary which anointed the Lord with ointment, and wiped his feet with her hair, whose brother Lazarus was sick.) Therefore his sisters sent unto him, saying, Lord, behold, he whom thou lovest is sick. When Jesus heard that, he said, This sickness is not unto death, but for the glory of God, that the Son of God might be glorified thereby. Now Jesus loved Martha, and her sister, and Lazarus. When he had heard therefore that he was sick, he abode two days still in the same place where he was. Then after that saith he to his disciples, Let us go into Judaea again. His disciples say unto him, Master, the Jews of late sought to stone thee; and goest thou thither again? Jesus answered, Are there not twelve hours in the day? If any man walk in the day, he stumbleth not, because he seeth the light of this world. But if a man walk in the night, he stumbleth, because there is no light in him. These things said he: and after that he saith unto them, Our friend Lazarus sleepeth; but I go, that I may awake him out of sleep. Then said his disciples, Lord, if he sleep, he shall do well. Howbeit Jesus spake of his death: but they thought that he had spoken of taking of rest in sleep. Then said Jesus unto them plainly, Lazarus is dead. And I am glad for your sakes that I was not there, to the intent ye may believe; nevertheless let us go unto him.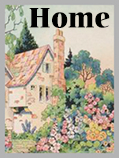 background and graphics by Mary Stephens
vintage graphic: unknown source
2023