Weakness

Part 2
Real true faith is man's weakness leaning on God's strength.
- Dwight L. Moody -
God does not need your strength: he has more than enough of power of his own. He asks your weakness: he has none of that himself, and he is longing, therefore, to take your weakness, and use it as the instrument in his own mighty hand. Will you not yield your weakness to him, and receive his strength? - Charles Spurgeon
1 Corinthians 1:24-31 But unto them which are called, both Jews and Greeks, Christ the power of God, and the wisdom of God. Because the foolishness of God is wiser than men; and the weakness of God is stronger than men. For ye see your calling, brethren, how that not many wise men after the flesh, not many mighty, not many noble, are called: But God hath chosen the foolish things of the world to confound the wise; and God hath chosen the weak things of the world to confound the things which are mighty; And base things of the world, and things which are despised, hath God chosen, yea, and things which are not, to bring to nought things that are: That no flesh should glory in his presence. But of him are ye in Christ Jesus, who of God is made unto us wisdom, and righteousness, and sanctification, and redemption: That, according as it is written, He that glorieth, let him glory in the Lord.
Jesus Christ can afford to be misunderstood; we cannot. Our weakness lies in always wanting to vindicate ourselves. - Oswald Chambers
The moment we recognize our complete weakness and our dependence upon Him will be the very moment that the Spirit of God will exhibit His power.
- Oswald Chambers
1 Corinthians 15:42-44 So also is the resurrection of the dead. It is sown in corruption; it is raised in incorruption: It is sown in dishonour; it is raised in glory: it is sown in weakness; it is raised in power: It is sown a natural body; it is raised a spiritual body. There is a natural body, and there is a spiritual body.
If we have Christ with us, we can do all things. Let us not be thinking how weak we are. Let us lift up our eyes to Him and think of Him as our Elder Brother who has all power given to Him in Heaven and on earth. He says, 'Lo, I am with you alway, even unto the end of the world.' - Dwight L. Moody
God had no children too weak,
but a great many too strong to make use of.
- Dwight L. Moody -
Choose for us, God!
Nor let our weak preferring
Cheat our poor souls
Of good Thou has designed;
Choose for us, God!
Thy wisdom is unerring,
And we are fools and blind.
- William H. Burleigh -
Matthew 26:41 Watch and pray, that ye enter not into temptation: the spirit indeed is willing, but the flesh is weak.

Romans 15:1-3 We then that are strong ought to bear the infirmities of the weak, and not to please ourselves. Let every one of us please his neighbour for his good to edification. For even Christ pleased not himself; but, as it is written, The reproaches of them that reproached thee fell on me.
1 Corinthians 8:10-13 For if any man see thee which hast knowledge sit at meat in the idol's temple, shall not the conscience of him which is weak be emboldened to eat those things which are offered to idols; And through thy knowledge shall the weak brother perish, for whom Christ died? But when ye sin so against the brethren, and wound their weak conscience, ye sin against Christ. Wherefore, if meat make my brother to offend, I will eat no flesh while the world standeth, lest I make my brother to offend.
1 Thessalonians 5:14-15 Now we exhort you, brethren, warn them that are unruly, comfort the feebleminded, support the weak, be patient toward all men. See that none render evil for evil unto any man; but ever follow that which is good, both among yourselves, and to all men.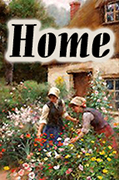 Photos and graphics by Mary Stephens
vintage graphic: unknown source