Hitherto and Henceforth
...Hitherto hath the Lord helped us. 1 Samuel 7:12
Hitherto the Lord hath helped us,
Hitherto His hand hath led,
Hitherto His arm protected,
Hitherto His bounty fed;
Will His love desert us wholly,
Will His heart our need forget,
Will His presence clean forsake us,
Who hath never failed us yet?
Still His constant care surrounds us,
Keeping watch by day and night,
And His faithful promise tells us
We are precious in His sight.
He hath set no bounds, no limits,
To His ceaseless gifts of love;
He hath named no times, no seasons,
When His pledge untrue shall prove.
Let the Past we know assure us
Of the Present's certain aid,
Till the Future's dark forebodings
In the light of faith shall fade;
Still He hears our supplications,
As our days our strength shall be;
And His grace is all-sufficient
For the needs of you and me.
Annie Johnson Flint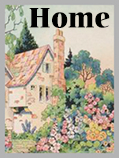 background and graphics by Mary Stephens
vintage graphic: unknown source
and Old Design Shop