"Let Us Go Hence"
"Let us go hence—from out the quiet chamber
Where soul with soul could meet,
From peace and safety, love and deep communion,
From tender counsel sweet:
"Hence"—to what grief, what terror and confusion,
Bewilderment and loss,
To shrieking mobs, to furious reviling,
The lash, the thorns. the cross.
And hast Thou called us, Lord, from peaceful pastures
To turmoil and to care,
To days of toil and nights of weary waking,
To watch with thee in prayer?
Then let us go, be it to shame and scorning,
To suffering and loss;
Even,—if Thou art with us, blessed Master—
- Annie Johnson Flint -
1 Peter 2:21-24 For even hereunto were ye called: because Christ also suffered for us, leaving us an example, that ye should follow his steps: Who did no sin, neither was guile found in his mouth: Who, when he was reviled, reviled not again; when he suffered, he threatened not; but committed himself to him that judgeth righteously: Who his own self bare our sins in his own body on the tree, that we, being dead to sins, should live unto righteousness: by whose stripes ye were healed.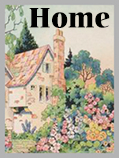 background and graphics by Mary Stephens
vintage graphic: unknown source