The Nameless Seeker
We are not told his name—this "rich young ruler"
Who sought the Lord that day;
We only know that he had great possessions
And that—he went away.
He went away—from joy and peace and power;
From love unguessed, untold;
From that eternal life that he was seeking,
Back to his paltry gold.
Back to the weary discontent that brought him
First to the Saviour's side,
With heart that hungered still and soul that thirsted,
Unblest, unsatisfied;
So deaf he could not hear the call to service
That all the world should bless,
So blind he could not see the great possessions
He bartered for the less.
He went away; he kept his earthly treasures,
But oh, at what a cost!
Afraid to take the cross and lose his riches—
And God and heaven were lost.
So for the tinsel bonds that held and drew him
What honor he let slip—
Comrade of John and Paul, and friend of Jesus—
What glorious fellowship!
For they who left their all to follow Jesus
Have found a deathless fame;
On His immortal scroll of saints and martyrs
God wrote each name.
We should have read his there—the rich young ruler—
If he had stayed that day;
Nameless—though Jesus loved him—ever nameless
Because—he went away.
by Annie Johnson Flint
Mark 10:21-23 Then Jesus beholding him loved him, and said
unto him, One thing thou lackest: go thy way, sell whatsoever
thou hast, and give to the poor, and thou shalt have treasure in
heaven: and come, take up the cross, and follow me. And he
was sad at that saying, and went away grieved: for he had great
possessions. And Jesus looked round about, and saith unto
his disciples, How hardly shall they that have riches enter into
the kingdom of God!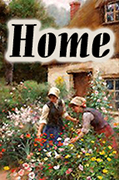 background and graphics by Mary Stephens
vintage graphic: unknown source
CA