Challenge Number Five:
Remember the Poor
Galatians 2:10 Only
they would
that we should remember the poor;
the same which I also was forward to do.

By Mary E. Stephens
If you have not read the first page of this challenge,
you might wish to do so.
1 Peter 2:21 For even hereunto were ye called: because
Christ also suffered for us, leaving us an example,
that ye should follow his steps:
We often hear the claim from parents that they are celebrating Christmas "for the children," that they want their kids to "know we appreciate them," and that watching the kids open their presents on Christmas morning is something that simply can't be sacrificed. No expense that is remotely justifiable is considered too great in the accomplishment of this. What's more, it is usually an event that "must" be kept private - for family members only, with occasionally a close friend.
Have you ever considered how the Lord Jesus Christ would have you "celebrate His birthday"? Be honest. Have you considered what He would do, what He did do when He was on this earth, and the sort of people to whom He delights to minister?
I am going to tell you about the Christmas that I remember the most clearly from my childhood. It was not any of the years that my grandparents or other family members were with us. It was not the year that I got "the most wonderful gift." It was not the year that maybe we were sick. It was not the year that we had the biggest and best meal. I remember select situations from some of those years, but nothing really left a huge impression on me as regards the day itself.
The year that stands out in my mind, the one that is dearest to my heart, is the year that my parents invited 6 other people from our small church fellowship who had no other place to go that day to be with family. There was a small family of three - the father, who was our song leader and his wife, and their son who was recovering from sever alcoholism. There was the elderly gentleman who lived in a tiny house on a little income who was diligent to serve the Lord. There was an elderly lady who lived in a Spartan house with no electricity or running water (this was her choice, though she was fairly poor in this world's goods). Finally, there was an elderly neighbor lady who suffered from some difficult personality problems due in part to the very unhappy life she had had. These people were our guests that Christmas Day, and it made a huge impression on my mind as a child. It broke through the selfishness that usually marked that day for me and left a memory that is worth more than all the Christmas gifts I ever received put together. My parents little realized what an important lesson they were teaching me about the mind of Christ that year, but it was something that they never could have impressed upon me with anything less than actions. Their obedience to the Lord in this still blesses my heart even though our family has long since separated from the tradition of Christmas.
Christian parent, what are you teaching your kids about the Lord Jesus Christ at this time of year? What are they learning from your actions and your sacrifices that reflects the example that Christ left us? Oh sure, you may teach them about His birth, pack some shoe boxes for the poor kids, and make a donation to the "angel tree." These things are good in their way, and perhaps should be done (if the organization is a God honoring one). But, are they seeing YOU living out the mind of Christ, the desire of Christ, the actions of Christ at this time when you claim you are celebrating His birth?
Perhaps you don't have children of your own, or perhaps you are a grandparent. You too can still make a difference in the lives of others in these matters, both as an example to the children you know, and by showing Jesus Christ to those to whom you minister. All of us, both those who celebrate "Christ's birth" at this time of year and those of us who do not, can use this occasion to minister the gospel and the love and compassion of Christ to those who are lost, lonely, poor, hurting, brokenhearted, depressed, homeless, etc. We can do so in a personal manner, not by filling boxes and sending gifts to people we've never seen and never will see, but as the hands and mouth and love of Jesus Christ to specific individuals.
Here are some scriptures to help you consider. Think about what Jesus Christ would do and how He would have His children observe His birth (though He never commanded us to celebrate it). Would it be with unrestrained spending, selfish festivities and such like? Or would it be in a manner totally divorced from this type of thinking?
[Emphasis added in the verses.]
Luke 7:19-23 And John calling unto him two of his disciples sent them to Jesus, saying, Art thou he that should come? or look we for another? When the men were come unto him, they said, John Baptist hath sent us unto thee, saying, Art thou he that should come? or look we for another? And in that same hour he cured many of their infirmities and plagues, and of evil spirits; and unto many that were blind he gave sight. Then Jesus answering said unto them, Go your way, and tell John what things ye have seen and heard; how that the blind see, the lame walk, the lepers are cleansed, the deaf hear, the dead are raised, to the poor the gospel is preached. And blessed is he, whosoever shall not be offended in me.
Luke 14:12-14 Then said he also to him that bade him, When thou makest a dinner or a supper, call not thy friends, nor thy brethren, neither thy kinsmen, nor thy rich neighbours; lest they also bid thee again, and a recompence be made thee. But when thou makest a feast, call the poor, the maimed, the lame, the blind: And thou shalt be blessed; for they cannot recompense thee: for thou shalt be recompensed at the resurrection of the just.
[Note: There is nothing wicked in scripture about having an occasional feast. The early church had "feasts of charity" (Jude 12), though these were feasts in the church family, not private feasts for one's own blood relations. In the Old Testament the Jews had many feasts to the Lord that they kept throughout the year. However, they were reminded to include the fatherless and the widows and the stranger in at least some of these. So, while your feast may not be wrong in and of itself, it is wise to consider your attitude and the manner in which you do it. Is it unthinkable to invite someone from "outside" your accepted group, be that family or close friends? Is your feast a selfish heaping upon yourselves - the gratification of your own lusts? Would you think of making up a plate or basket from your bounty and carrying it to a shut-in or lonely person on that day? (This applies to other feasts that we may observe throughout the year as well.) Would you select some of your gifts to pass on to others? It is something to prayerfully consider.]
John 12:26 If any man serve me, let him follow me; and where I am, there shall also my servant be: if any man serve me, him will my Father honour.
John 13:27-29 And after the sop Satan entered into him. Then said Jesus unto him, That thou doest, do quickly. Now no man at the table knew for what intent he spake this unto him. For some of them thought, because Judas had the bag, that Jesus had said unto him, Buy those things that we have need of against the feast; or, that he should give something to the poor.
Notice that in this last passage the disciples concluded one of two things: that Judas was to obtain the things they needed for the feast, or that he was going to give to the poor. I think it's safe to assume the reason was that Jesus was in the habit of giving to the poor.
Mark 10:21-22 Then Jesus beholding him loved him, and said unto him, One thing thou lackest: go thy way, sell whatsoever thou hast, and give to the poor, and thou shalt have treasure in heaven: and come, take up the cross, and follow me. And he was sad at that saying, and went away grieved: for he had great possessions.
"Christmas" is a time of year when people are very much focused on possessions. Do you not think that the mind of Christ would be focused on something else? One family I know of has purposed in their hearts to take all the money they would normally spend on Christmas gifts next year and give it to the "widows and orphans fund" of a ministry whom they respect and trust. Do you think that this sounds like following Jesus' admonition to this young man? I do.
Ezekiel 16:49-50 Behold, this was the iniquity of thy sister Sodom, pride, fulness of bread, and abundance of idleness was in her and in her daughters, neither did she strengthen the hand of the poor and needy. And they were haughty, and committed abomination before me: therefore I took them away as I saw good.
This passage is something important to consider in our western society that is much given to such things!
Psalms 113:7-9 He raiseth up the poor out of the dust, and lifteth the needy out of the dunghill; That he may set him with princes, even with the princes of his people. He maketh the barren woman to keep house, and to be a joyful mother of children. Praise ye the LORD.
The Lord delights in lifting up the poor and giving them good things. He is well aware of the sorrow of the barren.
Have you ever thought of inviting over that old maid or bachelor to be a part of your "Christmas celebration"? Or what about that couple who doesn't have any children of their own and no Christian family? Then there is the elderly widow who has no children or perhaps no children By the way, one suggestion is to ask the management of the nursing home which residents are least likely to have visitors on that day and then plan to visit them specifically. Make sure you know any special needs they have, especially if you intend to take food items, and make arrangements with the management. If your church fellowship already has a nursing home ministry, this would be a good place to start. that care to make her part of their life. What about the divorced guy who's raising his kids on his own and has no family around who includes them? The problem for many people with this that it would involve getting to know someone whom they may not have any personal interest in. Is that "the Jesus way"? What if He had not taken a personal interest in you when you were "uninteresting"?
Could you and your family visit the nursing home on "Christmas Day" taking small gifts and cards with verses on them? "Oh, no, not on Christmas Day! That's the day we have our family celebration. We'll go another day." Hmmmm. Who do you think will go and visit those folks on that day? Maybe some relatives. Then again, maybe not. It doesn't have to take up your whole day, you know. And, what do you think our Lord would do?
What about those who are stuck in the hospital? My dad knew a doctor who was the administrator of a hospital. This doctor said that at Christmas you could tell the people who were really sick. Everyone who had somewhere to go or someone they really wanted to be with got "well" enough to be discharged. Could you (and yours) go and minister to the folks in the hospital - sing some carols, read some scripture? Call the hospital and find out what their rules might be on this. Then make some plans. Again, you don't have to make it an all day project.
Psalms 34:17-18 The righteous cry, and the LORD heareth, and delivereth them out of all their troubles. The LORD is nigh unto them that are of a broken heart; and saveth such as be of a contrite spirit.
Do you know any Christians who are lonely or hurting this holiday season? What do you think the "man of sorrows" who was "acquainted with grief" (Is. 53:3) would have you to do - wait till a more convenient time to minister to them? Don't you think that they are probably hurting more because it is "this time of year"? What would Jesus Christ do in such a case? Run to His own family and leave that for "later"?
Luke 8:20-21 And it was told him by certain which said, Thy mother and thy brethren stand without, desiring to see thee. And he answered and said unto them, My mother and my brethren are these which hear the word of God, and do it.
Remember that Jesus' mother was a believer, though his brethren were not. Beware where you put your priorities. Consider if your extended family demands your attention at the expense of your family in Christ who may need your comfort and help. (And, include your kids in the ministering and tell them why you are doing what you are doing.)
This year (2011) I know of at least three families through our church family and friends who have lost loved ones just recently. I can't help wondering if some of those folks might like to "spend the holidays" in a different setting than what they are used to. If they don't even wish to celebrate, that is completely understandable, but I hope that someone offered them an alternative.
As a word of caution, ministering to the poor and brokenhearted requires prayer and discernment. There are people who will be so foolish perhaps as to invite some ungodly person into their home as "a ministry", someone whom they ought not to invite there, and then later they will complain when things don't turn out well. Not surprisingly, these type of folks will probably use this as a reason not to extend their hand to the poor again. Seek the Lord's will and the mind of Christ in this matter, and don't force the issue. Remember also that everything is not destined to turn out lovely just because you are obeying the Lord in this. Let the Lord lead you to someone specific to minister to, and then determine in His will how it would be best to minister to that person. Sometimes it is better to give anonymous gifts, or to take the ministering situation to the receiver rather than to bring them to you. Be discerning and wise, but ask the Lord to show you someone to minister to particularly on this holiday for His glory.
As my husband pointed out, there are people who would be embarrassed to ask some homeless or poor family into their home on Christmas Day to observe the gross excess they practice in heaping their kids with stuff. Sadly, they should be embarrassed. If you are such, please, please consider the Lord Jesus Christ in this. ( Luke 9:58 And Jesus said unto him, Foxes have holes, and birds of the air have nests; but the Son of man hath not where to lay his head. ) But, don't let it be an excuse to not reach out to others. If this is a problem to you, you can have your own family time early in the day and include others at a meal later on, or vice versa.
If Jesus Christ were homeless would you invite Him to your home to celebrate His birth? Silly question, right? Or is it?
Matthew 25:34-40 Then shall the King say unto them on his right hand, Come, ye blessed of my Father, inherit the kingdom prepared for you from the foundation of the world: For I was an hungred, and ye gave me meat: I was thirsty, and ye gave me drink: I was a stranger, and ye took me in: Naked, and ye clothed me: I was sick, and ye visited me: I was in prison, and ye came unto me. Then shall the righteous answer him, saying, Lord, when saw we thee an hungred, and fed thee? or thirsty, and gave thee drink? When saw we thee a stranger, and took thee in? or naked, and clothed thee? Or when saw we thee sick, or in prison, and came unto thee? And the King shall answer and say unto them, Verily I say unto you, Inasmuch as ye have done it unto one of the least of these my brethren, ye have done it unto me.
Matthew 25:41-45 Then shall he say also unto them on the left hand, Depart from me, ye cursed, into everlasting fire, prepared for the devil and his angels: For I was an hungred, and ye gave me no meat: I was thirsty, and ye gave me no drink: I was a stranger, and ye took me not in: naked, and ye clothed me not: sick, and in prison, and ye visited me not. Then shall they also answer him, saying, Lord, when saw we thee an hungred, or athirst, or a stranger, or naked, or sick, or in prison, and did not minister unto thee? Then shall he answer them, saying, Verily I say unto you, Inasmuch as ye did it not to one of the least of these, ye did it not to me.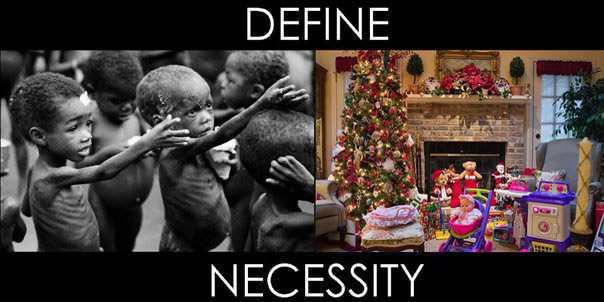 Photos and graphic unknown source.
Consider this picture. While it is not wicked for us to enjoy our lives and the things we have just because there are others suffering in the world, somehow the excess of the Christmas holiday simply cannot glorify Jesus Christ. There are people who spend enough money on "the holidays" to take their entire family to a remote location and hand food to the suffering children themselves. I think the money would be much better spent by taking the kids to see and help real suffering people!
If you really want us to believe that you are celebrating this day "as to the Lord", it would be well if you did things that reflected the mind of Christ to those around you. We are called to be saints, and to follow Christ's example. If you do these things God will bless your efforts to His glory, even if this is not the time of year that His Son was born. It would greatly bless the hearts of some of us who do not celebrate "Christmas" to see more of the Lord's children doing things that He would have His children do in honor of His birth. It would be good for those of us who do not celebrate to participate in this as well. Many people do not understand that this is not "Jesus' birthday", and to them we might have the opportunity of preaching the Gospel of Jesus Christ or lifting a burden, at least for a time, that they find too heavy to bear. Whatever we do, it must be done in the name of the Lord Jesus Christ and to His glory else the effort is vain.
Acts 9:6 And he trembling and astonished said,
Lord, what wilt thou have me to do?...
Colossians 3:17 And whatsoever ye do in word or deed,
do all in the name of the Lord Jesus,
giving thanks to God and the Father by him.
Revelation 4:11 Thou art worthy, O Lord, to receive glory
and honour and power: for thou hast created all things,
and for thy pleasure they are and were created.
Amen and amen.
--------------------
As a footnote to this article, I would like to point out that in the true "spirit of Christ-like giving," we should be doing these things all year. It is a farce and mockery when Christians dump a load of "good will and cheer" on the poor once a year in December and then go merrily on their ways the rest of the year with no thought about helping the needy. The hungry are not only hungry in December, friends.
LINKS
Disclaimer on Bibles other than the Authorized King James
and possibly some content.
Care packages for the homeless with a N.T. or tract included.


graphics and background by Mary E. Stephens
unless otherwise noted
vintage graphics: unknown source
Created Dec. 2011
Updated 2022