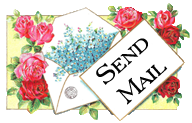 Click here to email the Editor
Thank you for taking the time to send in your questions, comments, recipes or items for consideration.

Please note that emails may be screened by Peter Stephens, my husband. He will delete anything that is in bad taste, purely contentious or spam. He may answer some emails from men.
Please click the "back" button on your browser to return to the page you came from.



Thanks. :-)