by Ernest L. Martin. This book clearly showed from scripture and the science of astronomy that Jesus Christ was not born on December 25th. This again confirmed what we had already believed was true.
My husband did his research on the internet and he stopped celebrating sometime between 2000 and the time we met a few years later. We are blessed that we had one mind on this subject even before we started courting.
Since people sometimes wonder why we don't celebrate Christmas, it seemed like a good plan to post something here about it. Here are the reasons we don't celebrate, not necessarily in their order of importance:
1. As a separate, "Christian" holiday, it is a tradition invented by the Roman Catholic Church.
(Some claim otherwise, but it is still in the context of being started by an apostate church. The faithful early church did not and would not have picked such a date for celebrating Christ's birth.) Catholics and/or a heathen accommodating church apparently liked to have their holidays coincide with pagan ones. The heathen were already in town and/or in a festive mood. December 25th was right after Saturnalia (a Roman festival) and/or coincided with winter solstice traditions in various areas. This gave the alleged "church" an opportunity to "Christianize" the heathen (without actual salvation). This has been a custom of the Roman Catholic church for centuries. (My dad tells a story from Africa about a beer bash that some local tribe in one area had. While they were all roaring drunk, the Catholic priest went in among them and put rosaries over all their heads. When they sobered up they all thought they had converted to Catholicism. Neat way to "build the church!" BAH!)
It is the Mass of Christ according to the Catholic church, and is intended as such to be an observance of the Roman Catholic mass. (If you have seen the high Christmas Mass at the Vatican on T.V. you know how idolatrous this event is in Rome.) Christ's Mass became "Christmas", so even the name is a direct reference to the Roman Catholic mass. According to "orthodox" Roman Catholic doctrine the attending the mass is necessary to obtain salvation and the wine and bread become the actual flesh and blood of Christ when consecrated in the hands of a Catholic priest. This is blasphemous heresy!
2. December 25th is the wrong date.
Matthew 2:11 And when they were come into the house, they saw the young child with Mary his mother, and fell down, and worshipped him: and when they had opened their treasures, they presented unto him gifts; gold, and frankincense, and myrrh.
The star research and biblical calculations show that Jesus Christ could not have been born that day. He was most likely born in September or October during the Feast of Tabernacles (God "tabernacling" in the flesh with man; Emanuel, God with us). Again, why bow to man made traditions? If we really want to observe the birth of Christ, why not in September when it most likely happened? It would be more of a testimony and distinguishing point that way!

[Note: From my understanding some feel the star research indicates that the wise men may have arrived on December 25th to worship the Lord in Bethlehem. Even if this were true, we know that this was long after His birth. Yes, they worshipped Him and presented gifts - to Him, not to each other - but, they would have done this any day they arrived. In my mind, I see God calling them to turn their backs on Babylon and the East (sun worship) on what may have been the most significant festival day of their year - the resurrection of the sun god. They went west, away from Babylon to worship the Son of the one true God! Is God also calling you away from the old Babylonish traditions on Dec. 25th? Listen carefully.]
Charles Spurgeon said, "We venture to assert, that if there be any day in the year, of which we may be pretty sure that it was
not
the day on which the Savior was born, it is the 25th of December...Regarding not the day, let us, nevertheless, give thanks to God for the gift of His dear Son." [Emphasis added.]
3. It is highly commercialized and greediness is expected and promoted.

Christmas has been hyped and turned into a buying and selling extravaganza. Spending for many is out of control. People actually take holiday loans out in order to spend beyond their means on this holiday. This is the manner of the "old man," of the Gentiles. It should not be our manner of living as new creatures in Christ.
Ephesians 4:17-22 This I say therefore, and testify in the Lord, that ye henceforth walk not as other Gentiles walk, in the vanity of their mind, Having the understanding darkened, being alienated from the life of God through the ignorance that is in them, because of the blindness of their heart: 19 Who being past feeling
have given themselves over unto lasciviousness, to work all uncleanness with greediness
.
But ye have not so learned Christ; If so be that ye have heard him, and have been taught by him
, as the truth is in Jesus: That ye put off concerning the former conversation the old man, which is corrupt according to the deceitful lusts;
[Emphasis added.]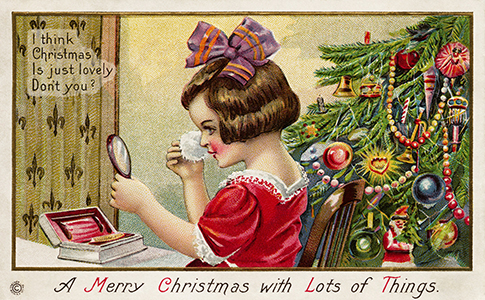 4. Many of the traditions are actually pagan in origin.



True, some other things in life have pagan or superstitious origins, but with many of the "Christmas" traditions the connection is more visible, especially since they are only used or done at this specific and significant time of year. As with eggs at "Easter"; Santa, kissing under the mistletoe, "Christmas" trees, etc. when stripped of their alleged "Christian" meanings seem odd when you really stop and think about them. It doesn't take a genius to realize that the origins of such things are probably dubious at best.





Contrary to what some are saying these days, it is not "OK" for Christians to "reclaim" pagan symbols on the grounds that they are actually Satanic twisting of the truth. God never allowed Israel to do this, and it is never taught in the N.T. as acceptable or wise! I am appalled that professing believers would even suggest such a thing, but apparently there is no end to the madness when once one sets out to justify Christmas traditions at all costs. Where would such logic lead us, I ask you? Shall we then "reclaim" Halloween? Some try to already in some ways. Should we justify the vampire "symbol", human sacrifice, cannibalism? Some would be shocked at that, I'm sure! But, I maintain that it could be "proven" from scripture that those are really just "satanic perversions of the truth." Where do we draw the line when once we start to "reclaim" pagan symbols? Again, I ask, where will this form of logic lead us?

2 Corinthians 6:14 ...what fellowship hath righteousness with unrighteousness? and what communion hath light with darkness?...16 And what agreement hath the temple of God with idols? for ye are the temple of the living God...

5. It is a "holiday" of excesses, gluttony and lasciviousness.



Over-eating, drunkenness, lust, and other unrestrained behavior attend the Christmas holidays and have for centuries. In fact, in the past the lawlessness has often been far, far worse than it is today, amounting to little more than a Mardi Gras atmosphere or worse. This is not to say that everyone does these things, but it is too common, especially the gluttony and excesses of that nature. In fact, the revelry, lasciviousness and gluttony are perhaps the most commonly practiced traditions, dating back thousands of years and seeming to enjoy a continual observance from early times. They were simply sanctioned by the Catholic Church to make the pagans happy and willing "converts" to the state approved "Christianity".





While there is certainly a place for feasting and celebration in scripture, it is obvious that we are not to run to the same excesses as the world does. Whatever feasts we do observe should be with holiness and the righteous fear of God. We read in

1 Peter 4:3, For the time past of our life may suffice us to have wrought the will of the Gentiles, when we walked in lasciviousness, lusts, excess of wine, revellings, banquetings, and abominable idolatries: 4 Wherein they think it strange that ye run not with them to the same excess of riot, speaking evil of you

: How can they see the difference when the believers are doing pretty much all the same excessive things they are doing. (I find it very odd that it is too often our own brothers and sisters in Christ who think it strange that we do not run with them to the same excess of riot and speak evil of us for it. This ought not to be!

)

6. There is mixing of the holy with the profane.

Mixing the birth of Jesus Christ and all kinds of actually good and holy things with all these profane, heathen things is offensive to the purity of Christ, unbiblical and uncalled for.
2 Corinthians 6:14-18 Be ye not unequally yoked together with unbelievers: for what fellowship hath righteousness with unrighteousness? and what communion hath light with darkness? And what concord hath Christ with Belial? or what part hath he that believeth with an infidel? And what agreement hath the temple of God with idols? for ye are the temple of the living God; as God hath said, I will dwell in them, and walk in them; and I will be their God, and they shall be my people. Wherefore come out from among them, and be ye separate, saith the Lord, and touch not the unclean thing; and I will receive you, And will be a Father unto you, and ye shall be my sons and daughters, saith the Lord Almighty.

Jesus is not "the reason for the season." This "holiday" was celebrated in ancient times long before His birth by many idolaters who had a baby god that was born (or reborn) to the goddess on the winter solstice, or shortly thereafter - Sol, Tammuz (Ezekiel 8:14-16), Marduk, Mithra, Bal to name a few. We should not be "putting Christ back in Christmas.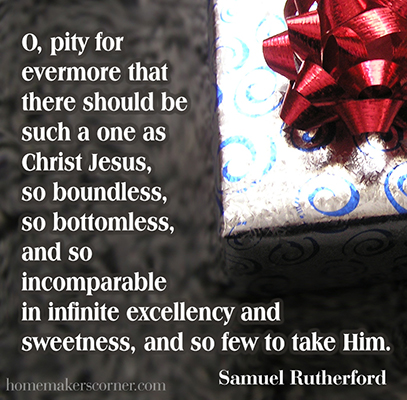 " He never belonged there in the first place.
Let's consider Ezekiel chapter 8 a minute. After showing Ezekiel what abominations the ancients of Israel were doing God showed him even more.
Ezekiel 8:13-18 He said also unto me, Turn thee yet again, and thou shalt see greater abominations that they do. Then he brought me to the door of the gate of the LORD'S house which was toward the north; and, behold, there sat women weeping for Tammuz.
[This would be the summer solstice when the sun god "died" and according to at least some myths, went to hell till he was resurrected or reborn in December - the days got shorter after his "death" till he was resurrected in Dec.]
15 Then said he unto me, Hast thou seen this, O son of man? turn thee yet again, and thou shalt see greater abominations than these. And he brought me into the inner court of the LORD'S house, and, behold, at the door of the temple of the LORD, between the porch and the altar, were about five and twenty men, with their backs toward the temple of the LORD, and their faces toward the east; and they worshipped the sun toward the east.
[This sounds remarkably like an observance of the lengthening winter days - the rebirth of the sun. They were facing east with their backs turned on God's temple (common among false religions) probably watching to see if the sun was staying up longer. And, it's very interesting that there are 25 men in the group. Five is associated with death in the Bible. Not only is 25 the number of death multiplied times itself, it is also the day in December, near to the solstice, which the apostate church chose for the alleged birth of Christ. Coincidence? I think not.]
17 Then he said unto me, Hast thou seen this, O son of man? Is it a light thing to the house of Judah that they commit the abominations which they commit here? for they have filled the land with violence, and have returned to provoke me to anger: and, lo, they put the branch to their nose. Therefore will I also deal in fury: mine eye shall not spare, neither will I have pity: and though they cry in mine ears with a loud voice, yet will I not hear them.
If you want to celebrate the 25th of December you would do better to leave the Lord Jesus Christ out entirely than to mix the holy with the profane as Israel did. God said it was an abomination to Him that these people brought their wicked customs into His temple.
1 Peter 1:15 But as he which hath called you is holy, so be ye holy in all manner of conversation; 16 Because it is written, Be ye holy; for I am holy.
If you want to observe the birth of our Lord, celebrate in September, or at some other time of the year, and make Him the total focus - no glitzy adornments, no giving of gifts to anyone but Him, no gluttony or greed, and most of all no heathen traditions - just Jesus Christ. (What a novel idea.)
Last but not least --
7
. It is not commanded in scripture.

Nowhere are we told to celebrate the birth of Jesus Christ. We are not even given the date specifically. It may be O.K. to celebrate His birth at an appropriate time and in a holy manner, but it is not commanded, nor forbidden.
Many things are said and not said in the New Testament that show God's preparations for the Gentile church that would span all cultures and hundreds of years. There are no doubt times and places where celebrating the birth of the Son of God would have confused the heathen and/or weakened the saints. God did not require it. This shows His kindness and wisdom, and His foreknowledge.
On the other hand, we are commanded to remember Christ's death till He come!
1 Corinthians 11:24-26 And when he had given thanks, he brake it, and said, Take, eat: this is my body, which is broken for you: this do in remembrance of me. After the same manner also he took the cup, when he had supped, saying, This cup is the new testament in my blood: this do ye, as oft as ye drink it, in remembrance of me. For as often as ye eat this bread, and drink this cup, ye do shew
1Thess. 1:9-10 For they themselves shew of us what manner of entering in we had unto you, and how ye turned to God from idols to serve the living and true God; 10 And to wait for his Son from heaven, whom he raised from the dead, even Jesus, which delivered us from the wrath to come.
the Lord's death till he come.
Somehow I get the impression from these verses that our lives should be defined in terms of His death and His coming again (for He is risen from the dead and is alive forever more!). His birth, while very important and dear, does not seem to hold the significance that some imply that we should give it.
In Conclusion -

I find it odd that some Christians will almost imply that you aren't saved if you don't celebrate the birth of Jesus Christ annually, ("How can you say you love the Lord when you don't celebrate His birth?") as if that were some criteria of truly loving Him. I cannot turn around and imply the opposite ("How can you say you love the Lord when you
do
celebrate His birth?") because it is neither commanded nor forbidden in scripture. But, I can ask this, "Why do you want to mix the holy with the profane? Why do you celebrate His birth on a day that has historically been wholly given to idolatry?" If you say that we do the Lord dishonor by not observing His birth, though it is not commanded in scripture, do you not do greater dishonor by mixing that holy event with the idolatry of the ages?
2 Corinthians 6:17 Wherefore come out from among them, and be ye separate, saith the Lord, and touch not the unclean thing