"Fear Not" and
Comfort Verses
1 John 4:4 Ye are of God, little children, and have overcome them: because greater is he that is in you, than he that is in the world.

1 John 4:18 There is no fear in love; but perfect love casteth out fear: because fear hath torment. He that feareth is not made perfect in love.
| | |
| --- | --- |
| | John 14:27 Peace I leave with you, my peace I give unto you: not as the world giveth, give I unto you. Let not your heart be troubled, neither let it be afraid. |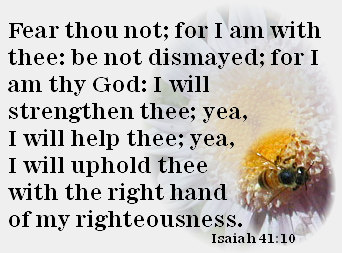 | | |
| --- | --- |
| Luke 12:25 And which of you with taking thought can add to his stature one cubit? 26 If ye then be not able to do that thing which is least, why take ye thought for the rest? 27 Consider the lilies how they grow: they toil not, they spin not; and yet I say unto you, that Solomon in all his glory was not arrayed like one of these. 28 If then God so clothe the grass, which is to day in the field, and to morrow is cast into the oven; how much more will he clothe you, O ye of little faith? | |
2 Choronicles 20:15 And he said, Hearken ye, all Judah, and ye inhabitants of Jerusalem, and thou king Jehoshaphat, Thus saith the LORD unto you, Be not afraid nor dismayed by reason of this great multitude; for the battle is not yours, but God's.

Exodus 14:14 The LORD shall fight for you, and ye shall hold your peace.

1 Corinthians 16:13 Watch ye, stand fast in the faith, quit you like men, be strong.
| | |
| --- | --- |
| Psalm 46:10 Be still, and know that I am God: I will be exalted among the heathen, I will be exalted in the earth. 11 The LORD of hosts is with us; the God of Jacob is our refuge. Selah. | |
| | |
| --- | --- |
| | 2 Timothy 1:7 For God hath not given us the spirit of fear; but of power, and of love, and of a sound mind. |
| | |
| --- | --- |
| Isaiah 8:13 Sanctify the LORD of hosts himself; and let him be your fear, and let him be your dread. 14 And he shall be for a sanctuary... | |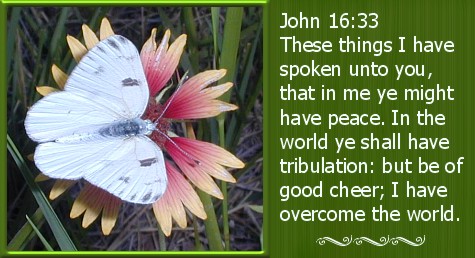 Isaiah 41:13 For I the LORD thy God will hold thy right hand, saying unto thee, Fear not; I will help thee.

Isaiah 46:4 And even to your old age I am he; and even to hoar hairs will I carry you: I have made, and I will bear; even I will carry, and will deliver you.
background & graphics by Mary E. Stephens
photography by Mary E. Stephens
updated 2020