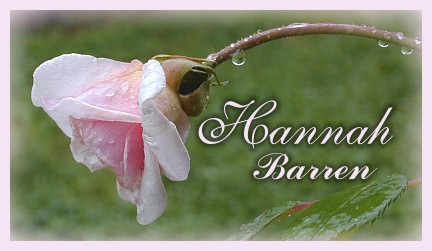 In the story of Hannah we find several different things that can cause depression, anxiety, eating disorders and other things along those lines. As is common, she had several things working against her at once.
1Samuel 1:1-2 Now there was a certain man of Ramathaimzophim, of mount Ephraim, and his name was Elkanah, the son of Jeroham, the son of Elihu, the son of Tohu, the son of Zuph, an Ephrathite: 2 And he had two wives; the name of the one was Hannah, and the name of the other Peninnah: and Peninnah had children, but Hannah had no children.
Note: This is one of the problems of polygamy. It genders strife. We don't know which one was actually his first wife, but Hannah would have been spared much trouble if Elkanah had been content with one wife.
First of all, we see that Hannah had the perennial problem of the "crowded marriage." Her husband had two wives, and as we shall see, it did not work out too well for her.
Many women suffer from a "crowded marriage." "The other woman" may be an adulterous partner, a second wife (in the case of Mormons and Muslims), a meddling mother-in-law, a domineering parent who tries to supervise their offspring's home, another woman who is held up as "perfect," or a homosexaul partner. It could also be the man's career, hobbies, sports, etc.
Sometimes this "crowdedness" can come in later years when an aging parent is taken into the home who requires, or demands, constant care that is beyond the ability of the wife to give. One lady whose husband insisted that his mother live with them told me, "No one ever came between my husband and me before, but she is." Things did not sound good and the wife could not get her husband to see it because he spent so much time "on the road" that he didn't understand what was going on.
In fairness we should also note that some men suffer from "crowded marriages" too. Their wife's "other" may be similar to the ones mentioned above, or it may be her job, her "crafts," or her "buddies" - other women she hangs around with who take preeminence over her husband (her BFFs). A woman's children can also come between her and her husband.
Hannah also had no children. Under the Mosaic covenant this was a great shame because God had promised to reward obedience to His law with fruitfulness. Deuteronomy 7:12 Wherefore it shall come to pass, if ye hearken to these judgments, and keep, and do them, that the LORD thy God shall keep unto thee the covenant and the mercy which he sware unto thy fathers:...14 Thou shalt be blessed above all people: there shall not be male or female barren among you, or among your cattle. Without children, Hannah looked like a failure. Many people would assume she was "not right with God."
This is common today, as well. When people don't get the blessings others assume they should have, the "blessed" will judge the "unblessed" of sin, though they really do not know God's reason. People may think a single person has somehow failed to do the right thing or God would give them a spouse. It may be suggested, either in private or publically, that a barren woman isn't "doing something right" or she would have children. Perhaps they aren't praying hard enough, perhaps they aren't "surrendered," or perhaps they have "sin in their lives." There are other areas as well where these attitudes are exhibited. These attitudes from fellow believers are very discouraging and can aggravate the affliction of depression or anxiety, if not actually bringing it on.
This is not in keeping with God's will for His children. He tells us in Romans 12:9, Let love be without dissimulation... 10 Be kindly affectioned one to another with brotherly love; in honour preferring one another; We ought to be encouraging one another to be ...patient in tribulation; continuing instant in prayer; Romans 12:12
1Samuel 1:3 And this man went up out of his city yearly to worship and to sacrifice unto the LORD of hosts in Shiloh. And the two sons of Eli, Hophni and Phinehas, the priests of the LORD, were there. 4 And when the time was that Elkanah offered, he gave to Peninnah his wife, and to all her sons and her daughters, portions: 5 But unto Hannah he gave a worthy portion; for he loved Hannah: but the LORD had shut up her womb.
Hannah had a good husband. He loved her, and tried to keep her from feeling deficient because of her affliction. The Lord had shut Hannah's womb for His own reason. Elkanah did not know what the reason was, but he still wanted Hannah to be happy and feel worthy. He loved her for who she was.
Notice that the Lord does not tell us in this passage why He shut Hannah's womb. Because Peninnah had children by Elkanah, it was obvious that Hannah was the one with infertility, but the Lord does not tell us why. There is an important lesson in this. It is a perilous thing to start speculating as to why certain things happen to people the way they do. Why do some people stay single? Why are some barren? Why does a woman have a miscarriage? Why do people lose children in death? Why do some lose their spouse? And so many, many more questions.
Ultimately, it is God's decision. Elkanah did not despise his wife because of God's choice for her, and it behooves us as the children of God to practice this toward our fellow saints. We ought to desire for them to be content in their lot in life. We should not be judging them nor trying to "help" them figure out what is "wrong."
1Peter 3:8 Finally, be ye all of one mind, having compassion one of another, love as brethren, be pitiful, be courteous: 9 Not rendering evil for evil, or railing for railing: but contrariwise blessing; knowing that ye are thereunto called, that ye should inherit a blessing.
We should have compassion one of another. We should show love for, Love worketh no ill to his neighbour: therefore love is the fulfilling of the law. Romans 13:10 We should be pitiful - that is to say, full of pity. We should be courteous. As a friend of ours pointed out recently, "We're supposed to speak the truth in love, but sometimes the truth isn't loving." In that case we should hold our tongues - not say anything.
I have seen cases of bareness where a mother or mother-in-law was absolutely convinced that the barren young wife in question would have a baby. Rather than encouraging her to accept GOD'S WILL, she may be constantly telling her, "Oh, you're going to have babies! Don't give up! I'm praying for you to have children!" Perhaps she even offers suggestions of various natural and medical treatments that might "cure" the problem. Ironically, you will sometimes hear these same people say, "It is God that opens and closes the womb." My questions to them are, "If you believe that, why do you insist so vehemently that a barren woman you know WILL and MUST have children? If God closed the womb, why are you insisting that He open it to satisfy your demands?" Hello?
The problem probably goes back to the misinterpretation of Psalm 127:3 Lo, children are an heritage of the LORD: and the fruit of the womb is his reward. This verse was written in light of the Deuteronomy 7:12-14 (quoted above) and was under the Mosaic covenant. It is the promise of fruitfulness to Israel as Israel, not to the New Testament church. Sadly, many people feel obligated to drag this verse up into the church era and apply it haphazardly to one and all. If they really believed that God opens and closes the womb, they would not be nagging and offering false hope to these poor young ladies who are barren. They would instead be encouraging them to rest in the Lord and His wisdom for their lives. The would be building them up in the faith of the Son of God instead of the faith that they will have children.
Ultimately they are being very discourteous to the barren woman by claiming things for her that God has not promised. Some would probably jump right back with the answer, "Well, I have the faith that God will answer my prayers for her!" To which we should reply, Hast thou faith? have it to thyself before God. Happy is he that condemneth not himself in that thing which he alloweth. Romans 14:22 Has it ever crossed your mind, ma'am, that you are keeping the poor woman in a state of discontent and misery? Why don't you try supporting her in her sorrows by encouraging her to be content in the state she is in (Philp. 4:11), which is childless? Why don't you stop insisting that she believe you when you say "You will have children"? Are you God? Can you open her womb? What if the Lord has a purpose for keeping her barren for His glory or for the good of her and her husband? Do you really believe Romans 8:28? Hmmmm.
1Peter 3:9 Not rendering evil for evil, or railing for railing: but contrariwise blessing; knowing that ye are thereunto called, that ye should inherit a blessing.
On the other side of the issue though, it is important for those who are treated thus not to "return in kind." Because your mother or some other woman is nagging you and refuses to accept that you are barren, that does not mean you should become ornery with them. In spite of their attitude, you should bless them. Our rewards are spiritual in the church era. You will inherit a blessing, whether you have children or not, if you follow the Lord's will in this verse. He has promised you that, though He has not promised you children.
1Samuel 1:6 And her adversary also provoked her sore, for to make her fret, because the LORD had shut up her womb. 7 And as he did so year by year, when she went up to the house of the LORD, so she provoked her; therefore she wept, and did not eat.
Peninnah provoked Hannah because she was childless. The world, the flesh and devil will provoke us over things that the Lord withholds from us. They will try to make us fret on purpose! They may even throw it in our faces that it is the Lord who did this to us. The temptation will then be to turn against the Lord and blame Him.
Notice that the time that should have been the most spiritual blessing to Hannah was apparently when her adversary attacked the most viciously. Peninnah was determined to destroy her joy in the Lord and her appreciation for the kindness of her husband. There are many ugly motivations that could have been behind this, but the point is the results - it destroyed Hannah's joy.
So it will be with us. 1Peter 5:8 Be sober, be vigilant; because your adversary the devil, as a roaring lion, walketh about, seeking whom he may devour: 9 Whom resist stedfast in the faith, knowing that the same afflictions are accomplished in your brethren that are in the world. Our adversaries, will do all they can to make us miserable at a time when we should be the most joyful. When they know that we are susceptible to depression or anxiety (or any mental/emotional difficulty), that will be the target for which they aim. Peninnah wanted Hannah to fret and be miserable. This is not always true of those who provoke us, but in some cases it surely is.
The devil will use your kids, family, spouse, and much more to destroy your joy and increase your depression, or to cause it just when you should be rejoicing or receiving a blessing. Thou therefore endure hardness, as a good soldier of Jesus Christ. 2Timothy 2:3
One of the things I and others have found very helpful at such times is to deliberately take the whole armour of God every morning, and even again every evening if necessary. Simply go down through the list and "put on" each item. Ephesians 6:13 Wherefore take unto you the whole armour of God, that ye may be able to withstand in the evil day, and having done all, to stand. 14 Stand therefore, having your loins girt about with truth, and having on the breastplate of righteousness; 15 And your feet shod with the preparation of the gospel of peace; 16 Above all, taking the shield of faith, wherewith ye shall be able to quench all the fiery darts of the wicked. 17 And take the helmet of salvation, and the sword of the Spirit, which is the word of God: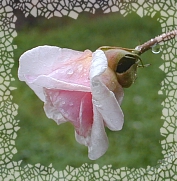 Physical Distress
Notice the three "symptoms" that come up here. Hannah fretted, she wept and she would not eat. These are all things that go with depression, anxiety, eating disorders, and other such like. Physical symptoms are very much a part of life when one is afflicted with depression or anxiety.
Notice also here that Hannah apparently did not render evil for evil. As mentioned already, this is so important when we are not understood the way God has made us or allowed us to be (regardless of the type of affliction). We cannot allow ourselves to respond with malice because someone does not see that a Christian can "have that kind of problem." Not only is it necessary to be in obedience to God's word that we might inherit a blessing, but also it is good for our conscience. Those who have suffered from real depression and anxiety will know what I mean when I say that. The guilt factor is often one of the overwhelming problems for the Christian struggling with these difficulties. By following God's word, and Hannah's example, we may avoid further guilt and misery by refraining ourselves from wrath when Christians say brutal and unkind things. They do not understand. Our best example in this, of course, is Christ Jesus Himself, Who opened not his mouth before His shearers (Isaiah 53:7 He was oppressed, and he was afflicted, yet he opened not his mouth...), and who prayed from the very cross, ...Father, forgive them; for they know not what they do... Luke 23:34
1Samuel 1:8 Then said Elkanah her husband to her, Hannah, why weepest thou? and why eatest thou not? and why is thy heart grieved? am not I better to thee than ten sons?
Elkanah was distressed at Hannah's depression. He could not understand why he could not make her happy. He tried to encourage her, but he did not understand why she was not content with just him, though he was so very good to her.
This can be a common problem in loving families when one member is suffering from depression. It disrupts marriage and family relationships. It can strain people's feelings and make them question the sufferer as well as themselves.
If you have a family member who is afflicted by depression, anxiety, etc.; please try to be patient and kind with them. A quiet, supportive attitude can be so much more helpful than a nagging "get over it" attitude. Nagging them to "stop worrying" and "snap out of it" is not going to solve the problem. I don't care what you think. Until a person has suffered from themselves, or been very close to someone who has, it is hard to imagine how it can so completely engulf and overwhelm a life. Proverbs 14:10 The heart knoweth his own bitterness... I have read comments on the internet that are so totally unfeeling and unsympathetic that it is amazing and it hurts my heart. Obviously these people have no clue.
Sadly, we find this attitude among Christians, though it is not biblical, as we saw in 1 Peter 3:8-9. Christian friend, when you display this attitude you may be tempting the suffering person to turn inward and hide their struggle. This is far more dangerous than you can imagine. There was an evangelist who committed suicide not many years ago. One lady I know, who has also suffered from depressio, said, "I think a lot of well-meaning Christians put the gun to his head." Be ware. More important - be like your Master, who is full of compassion and tender mercies.
Proverbs 30 tells us, 15 ...There are three things that are never satisfied, yea, four things say not, It is enough: 16 The grave; and the barren womb; the earth that is not filled with water; and the fire that saith not, It is enough.
Hannah probably felt like a failure because she couldn't produce any children for this good husband of hers. Guilt plays a major role in these problems. Too often there is a real or imagined guilt or insufficiency that causes the afflicted to condemn themselves or torment themselves. Where there has been sin, God is able to forgive. But, too often it is an artificial, man-made guilt that has nothing to do with reality as God sees it.
Please note that Hannah did not argue with Elkanah when he said he was better to her than ten sons. He had been good to her and she knew it. But, in her unhappiness and discontent as a barren woman, he was not as good to her as ten sons. Nothing could ever satisfy that in the flesh.
But, as Christians we have the indwelling of the Holy Spirit of God, and Jesus Christ should be so much more to us than ten sons! We can learn like Paul did to be content in whatever state God wants us in through the strength of Christ. Philippians 4:11-13 Not that I speak in respect of want: for I have learned, in whatsoever state I am, therewith to be content. I know both how to be abased, and I know how to abound: every where and in all things I am instructed both to be full and to be hungry, both to abound and to suffer need. I can do all things through Christ which strengtheneth me.
1Samuel 1:9 So Hannah rose up after they had eaten in Shiloh, and after they had drunk. Now Eli the priest sat upon a seat by a post of the temple of the LORD.
This does not specifically say that Hannah ate, but at least she made an effort to participate in what was undoubtedly the most important family event of the year. This must have been a tremendously difficult thing for her to face each year.
One small lesson here is that those who suffer from the afflictions of the mind should make an effort to do things that please their loved ones. It may not always be easy, and we may not be able to always appear to enjoy things, but at least make an effort. It's a place to start toward recovery.
I know a pastor's wife who suffered from depression for years. Her husband would never allow her to miss a church meeting unless she was really sick. If she was "just" overcome with the emotions of the depression, he would make her go. I think once he had to literally drag her to the meeting. This was not heartless domineering as some might mistake it. He knew that she was very prone to guilt and that if she missed church for that reason she would be extremely guilty and miserable over it later. She eventually came to be very thankful that he had dealt thus with her. Yet even so, she understands that there are times when some people just cannot make it to church meetings because of their depression or anxiety or such like. She understands that for her that was an important thing because of her huge guilt, whereas for others sometimes it is just not possible. This may apply to other events and areas of life as well.
One thing to ask yourself: If I don't do this, or don't participate in this, will I be worse off later because of the guilt?" If the answer is "yes" you better try to make an effort to do the thing or participate. Also, know that doing something to please someone you love will bring its reward and element of comfort.
1Samuel 1:10 And she was in bitterness of soul, and prayed unto the LORD, and wept sore. 11 And she vowed a vow, and said, O LORD of hosts, if thou wilt indeed look on the affliction of thine handmaid, and remember me, and not forget thine handmaid, but wilt give unto thine handmaid a man child, then I will give him unto the LORD all the days of his life, and there shall no razor come upon his head.
Hannah decided to do something drastic about her problem. Apparently she had not done this before. She entreated the Lord and make a vow to Him. (This is an Old Testament, Jewish practice which is not in use during the church era.)
...by sorrow of the heart the spirit is broken. Prv. 15:13
Notice in v. 10 that she was in bitterness of soul. But, what did she do? She prayed unto the Lord and wept sore to Him. These are sacrifices God will not despise. Psalm 51:17 The sacrifices of God are a broken spirit: a broken and a contrite heart, O God, thou wilt not despise. Though the Lord may not answer us right away, He does hear and He will answer in His time and way. Remember that Hannah had been suffering under this burden for years, though we are not told exactly how long.
I think for many who have suffered from anxiety or depression, and other mental or emotional difficulties, there comes a turning point or crisis when we realize something has to be done about it. This may come after a "breaking point" when we totally succumb to the affliction, or it may come at some personal crisis like Hannah's. Some are not actually able to do anything about this themselves and will need the help of others to begin the recovery. Others, like Hannah, find sufficient help from seeking the Lord. (I say this because, contrary to what some Christians believe, Some people need medication or some other external source to aid them in recovery. Some do not. The need of the situation has to be judged according to the depth of the individual case.)
1Samuel 1:12 And it came to pass, as she continued praying before the LORD, that Eli marked her mouth. 13 Now Hannah, she spake in her heart; only her lips moved, but her voice was not heard: therefore Eli thought she had been drunken. 14 And Eli said unto her, How long wilt thou be drunken? put away thy wine from thee.
Eli, the high priest, totally misjudged Hannah here. His immediate supposition is that she was wicked and needed to repent. Without seeking further knowledge of the situation he rebuked her rather forcefully.
Someone is going to misunderstand each one of us at some point too. More often than not, it will probably be the "spiritual" people in our lives - the pastor or his wife, parents, siblings or spouses, a leader in the assembly or someone who thinks they are very "spiritual" and wise. It may be that the very ones who should be ministering to us will misjudge and make false accusations. They will assume we are "not right with God" and have "something to take care of" which we are hiding from others. (We will discuss those who suffer depression and like afflictions due to sin elsewhere on the depression page.)
1Samuel 1:15 And Hannah answered and said, No, my lord, I am a woman of a sorrowful spirit: I have drunk neither wine nor strong drink, but have poured out my soul before the LORD. 16 Count not thine handmaid for a daughter of Belial: for out of the abundance of my complaint and grief have I spoken hitherto.
Hannah did not accept the accusation. She was not rude, but she explained the condition of her sorrowful spirit, though she didn't go into detail or tell exactly why. (Some will understand why you are sorrowful about the thing that bothers you and some will not.) There is a time to reject accusations, even the accusations of our own hearts - 1John 3:20 For if our heart condemn us, God is greater than our heart, and knoweth all things. 21 Beloved, if our heart condemn us not, then have we confidence toward God. 22 And whatsoever we ask, we receive of him, because we keep his commandments, and do those things that are pleasing in his sight. This because sometimes our own treacherous hearts will condemn us even when we are striving to do those things that are pleasing to God.
Hannah had poured out her her soul before the Lord and spoken to Him out of the abundance of her complaint. and grief. This is a description of a soul in deep distress. Those of us who have suffered these things will easily recognize that feeling. There is a time to pour out your complaint before the Lord. The title of Psalm 102 says, A Prayer of the afflicted, when he is overwhelmed, and poureth out his complaint before the LORD. And David cries out in Psalm 142, 1 I cried unto the LORD with my voice; with my voice unto the LORD did I make my supplication. 2 I poured out my complaint before him; I shewed before him my trouble. 3 When my spirit was overwhelmed within me, then thou knewest my path... People make much sometimes about not complaining, and certainly it is not a desirable habit of life. However, the Lord accepts the complaint of the overwhelmed and miserable spirit. And, after all, perhaps we are safer laying them there than anywhere else, for He understands the true depth or our suffering and is full of compassion and mercy! Psalm 86:15 But thou, O Lord, art a God full of compassion, and gracious, longsuffering, and plenteous in mercy and truth. And remember, He is greater than our heart.
1Samuel 1:17 Then Eli answered and said, Go in peace: and the God of Israel grant thee thy petition that thou hast asked of him. 18 And she said, Let thine handmaid find grace in thy sight. So the woman went her way, and did eat, and her countenance was no more sad.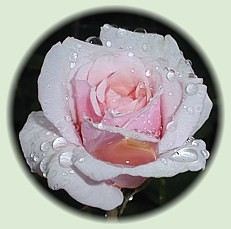 Not everyone will be as quick to sympathize and accept the explanation as Eli was. Sorry to say, there are believers who apply the N.T. admonitions to rejoice, and so forth, with an almost brutal attitude. People have suffered from depression, anxiety and similar afflictions for long centuries (Job is a very ancient book). At times, the "treatments" of such troubles were revolting and cruel, but sometimes I wonder if the less extreme situations were accepted more as a matter of course than they are now. In other words, perhaps in the past some Christians accepted the fact that some people were afflicted by mental and emotional agony, rather than viewing it as a great spiritual deficiency. Perhaps melancholy personalities were accepted as normal to some extent, though not understood. Of course, extreme cases have always been frightening and therefore "taboo." In our "don't worry, be happy" modern day culture sorrow, weeping, a broken spirit, real depression (not just "blue days"), anxiety and like things are viewed as weakness. Some of these are weakness - but no more than heart disease or diabetes, a bad back or chronic headaches. It is all the result of Adam's sin and the consequent degeneration of the human race. Who despises someone for having allergies? Only an idiot. And yet, too many believers despise their brothers and sisters in Christ for suffering from the mental/emotional afflictions. This ought not be.
Eli may not have even known that he was speaking a prophecy here, but he was nevertheless. As the high priest, God reserved the right to use him thus (John 11:51). Hannah believed him and acted upon it. she showed her confidence that God would answer according as she was told. She ate again and her countenance was no more sad. What a sweet testimony to her faith in the Lord. She knew she had her answer, and she took it by faith (Heb. 11:1).
God answered her prayer - probably one of many prayers. However, she waited long and sorrowed much before she got her original desire. For a barren woman even a few years is a long wait, partly because she is reminded every month of her inability to conceive. The Lord blessed her not only with Samuel, but also by giving her other children as well (1Sam. 2:21), thus doing exceeding abundantly above what she asked of thought, Eph. 3:20.
While we do not get revelations like Hannah's now that we have the completed scripture, Jesus Christ has promised that He will never leave us nor forsake us, Heb. 13:5. 1John 5:14 And this is the confidence that we have in him, that, if we ask any thing according to his will, he heareth us: 15 And if we know that he hear us, whatsoever we ask, we know that we have the petitions that we desired of him. Yes, there are times He says "No" or "Wait", but we know that he hears anything we ask according to his will. And anything His will allows or refuses, He will give us strength to bear, for all power is given unto Him, Matt. 28:18.
1Samuel 1:27 For this child I prayed; and the LORD hath given me my petition which I asked of him: 28 Therefore also I have lent him to the LORD; as long as he liveth he shall be lent to the LORD. And he worshipped the LORD there.
Hannah recognized the Lord as the One who answered her request and enabled her to have a son. In the next chapter she glorified the Lord and gave him the glory due unto His name (Ps. 96:8-9). She also kept her vow. She gave Samuel to the Lord. She gave his entire life, not just part of it.
When the Lord has mercy on us and delivers us from some affliction or answers some heartfelt petition, we ought to praise Him and give Him the glory. We ought also to give Him the fruit that follows. If you are granted a child, as Hannah was, or healed of cancer or some other illness; if you are granted a request, a family member's life or health is spared, the Lord gives you a husband, you former spouse dies so you are free to marry again, you are delivered from a family obligation that was destroying your life, you are permitted to be a stay-at-home wife/mom - whatever it is - give the fruit to the Lord. Whether it is strength, health, life, home, time, family, or something else, give it to God to use for His glory. Anyone who has been through a long or recurring depression (like Hannah's or worse) knows what a blessing the deliverance finally is. Because of her great love for the Lord, her thankfulness and honor, she was able to take the object that was the answer to her prayers and give him wholly to God! What a tremendous example this is to us of a living sacrifice. Romans 12:1 I beseech you therefore, brethren, by the mercies of God, that ye present your bodies a living sacrifice, holy, acceptable unto God, which is your reasonable service.
1Samuel 2:20 And Eli blessed Elkanah and his wife, and said, The LORD give thee seed of this woman for the loan which is lent to the LORD. And they went unto their own home. 21 And the LORD visited Hannah, so that she conceived, and bare three sons and two daughters. And the child Samuel grew before the LORD.
Interestingly, it appears that the other children did not come until after Elkanah and Hannah left Samuel at Shiloh (which would make sense because of when she weaned him). Hannah did not know if she would have any more children. Some women only have one. But, she knew she could trust the Lord. He had removed her reproach delivering her from her adversary and the source of her depression. And, she rejoiced in time to come, Prv. 31:25, for God raised up Samuel to be a great prophet and faithful priest. He was one of the most righteous men that ever lived according to Ezekiel 14:14, 16 and 18.
In Conclusion
Romans 8:33 Who shall lay any thing to the charge of God's elect? It is God that justifieth. 34 Who is he that condemneth? It is Christ that died, yea rather, that is risen again, who is even at the right hand of God, who also maketh intercession for us. 35 Who shall separate us from the love of Christ? shall tribulation, or distress, or persecution, or famine, or nakedness, or peril, or sword? 36 As it is written, For thy sake we are killed all the day long; we are accounted as sheep for the slaughter. 37 Nay, in all these things we are more than conquerors through him that loved us. 38 For I am persuaded, that neither death, nor life, nor angels, nor principalities, nor powers, nor things present, nor things to come, 39 Nor height, nor depth, nor any other creature, shall be able to separate us from the love of God, which is in Christ Jesus our Lord.
Regardless of how we feel, regardless of what others say, regardless of how long we wait - we are more than conquerors through Christ. And, NOTHING - not tribulation (depression, etc.), distress, things present, things to come, depth, nor any creature (human or devil) - can separate us from the love of God, which is in Christ Jesus our Lord! Whether we find our peace and deliverance in this life or in the life to come, as children of God we will be delivered. Romans 8:18 For I reckon that the sufferings of this present time are not worthy to be compared with the glory which shall be revealed in us.
2Corinthaisns 4:15 For all things are for your sakes, that the abundant grace might through the thanksgiving of many redound to the glory of God. 16 For which cause we faint not; but though our outward man perish, yet the inward man is renewed day by day. 17 For our light affliction, which is but for a moment, worketh for us a far more exceeding and eternal weight of glory; 18 While we look not at the things which are seen, but at the things which are not seen: for the things which are seen are temporal; but the things which are not seen are eternal.
Revelation 22:20 He which testifieth these things saith, Surely I come quickly.
Amen. Even so, come, Lord Jesus.