What About Vaccines
?

by Mary E. Stephens
August 2023


Romans 14:19 Let us therefore follow
after the things which make for peace,
and things wherewith one may edify another.

A tremendous amount of tension and drama has surrounded the subject of vaccinations for years now, but recently it has reached a fever pitch. It is a very polarizing subject, causing splits in friendships, family relationships, Christian fellowship, and the public arena of life. It is hard to overstate the situation.

Making decisions about this issue is very complicated and not a matter to be taken lightly for many people. I've read, heard, and seen enough to know that there are points of legitimate contention on both sides. Yes, I did just take a moderate position. Sadly, there are people who won't have the mental fortitude to continue reading because they are so polarized on this issue that they can't even tolerate hearing a slightly different point of view than their own. Yes, I did just call you a wimp if you get all mad and leave without finishing reading this, but I mean it in the nicest possible sense. <

smile>

Frankly, I'm more than a little tired and put out with the controversy that some Christians feel is appropriate on this issue - controversy and sinful anger in defiance of God's word and Christian charity. And, I'm saying that to both sides, so please don't assume I mean one or the other. I've seen the people who support informed choice on this issue get mostly ignored because they were moderate instead of supporting one extreme position or the other. I've also seen people who believed in informed choice take extreme positions on the "right" to choose, to the point of ignoring what the Bible actually teaches. I know that there are people on all sides of this issue who will automatically be disgusted with me before they even hear me out just because I am not "smart enough" to take their own position. This doesn't remind me much of 1 Corinthians 13.

1 Corinthians 13:1-4 Though I speak with the tongues of men and of angels, and have not charity, I am become as sounding brass, or a tinkling cymbal. And though I have the gift of prophecy, and understand all mysteries, and all knowledge; and though I have all faith, so that I could remove mountains, and have not charity, I am nothing. And though I bestow all my goods to feed the poor, and though I give my body to be burned, and have not charity, it profiteth me nothing. Charity suffereth long, and is kind

...

As Christians, what should our position be? This is a tough question and one to which many people think they have an absolute answer. Most of them, however, are basing that answer on what they believe are "the facts" surrounding the issue of vaccinations rather than Biblical principles. Some also believe they are following biblical principles but they are only taking into account what supports their own presuppositions.

Worst of all, some people actually base their position on nothing more than a political ideology or the say-so of their favorite "big cheese" (president, politician, doctor, pastor, movie star, sports hero, you name it.)

Let's consider a couple questions relating to the issue, questions that might not be exactly the ones generally asked.
How will your position on vaccines affect your Christian testimony?
2 Corinthians 8:21 Providing for honest things, not only in the sight of the Lord, but also in the sight of men.
1 Thessalonians 4:11-12 And that ye study to be quiet, and to do your own business, and to work with your own hands, as we commanded you; That ye may walk honestly toward them that are without, and that ye may have lack of nothing.
Colossians 4:5-6 Walk in wisdom toward them that are without, redeeming the time. Let your speech be alway with grace, seasoned with salt, that ye may know how ye ought to answer every man.
In 2 Cor. 8:21, Paul is speaking of handling money that was entrusted to him and those with him. He wanted to provide for honest things both before the Lord and before men. In 1 Thess. 4:11-12 he is speaking of working to provide you own needs in order to live honestly towards those who are outside of Christ - the lost. In Colossians 4:5-6 it seems that he is speaking of walking in wisdom in life generally, speaking with grace always in answering every man, saved and lost. He specifically mentions redeeming the time, because we only have a limited amount of time in this life to do the work God has given us. Wasting our walk and our talk on things that don't count is unwise and lacking in grace and salt.
It is easy to say you're in the right and that because of this or that you are "doing the right thing." Should the government make laws about vaccinations? The answer will differ depending on your position. Those who are frightened of vaccinations will say no, and those who are frightened of potential epidemics will say yes. In the big picture of living as Christians in a fallen world, it doesn't really matter one way or the other. True, the consequences can be terrible depending on who is "right" in this case, but in our day-to-day dealing with life, we have to realize that our choices will affect our ability to interact with the world and hence to be a testimony to others.
Various people who are adamantly against all vaccines will try to diverge into the problem of what is in them. This may vary from place to place and time to time. If it is an ethical situation - for example, actual cells from aborted babies - then it is necessary to refuse in order to provide for honest things and to be seasoned with salt in this present evil world. But, we need to remember the graceful speech that is to be always part of our testimony.
Romans 13:1-2 Let every soul be subject unto the higher powers. For there is no power but of God: the powers that be are ordained of God. Whosoever therefore resisteth the power, resisteth the ordinance of God: and they that resist shall receive to themselves damnation.
In some places children are not allowed to attend school without vaccinations. In some places children are not allowed to play in public areas without vaccinations. If your children are not vaccinated, how will this affect your testimony in your local community? Is it a hindrance to you even preaching the gospel by cutting you completely off from society?
In some places and for some jobs vaccines may be required in order to work. How are you going to study to be quiet and work with your own hands to provide your needs honestly before the unsaved if you refuse to be vaccinated?
Are your reasons good enough to justify rebelling against the powers that are ordained of God? Do your reasons biblically justify refusing to work; and if you believe so, how can that be reconciled with the command to work with your own hands for your needs? How can it be reconciled with the command to go into all the world and preach the gospel? (Mark 16:15) It better be something that is a direct command from God's word if you are going to disobey the powers that are ordained by Him.
Acts 5:28-29 Saying, Did not we straitly command you that ye should not teach in this name [Jesus]? and, behold, ye have filled Jerusalem with your doctrine, and intend to bring this man's blood upon us. Then Peter and the other apostles answered and said, We ought to obey God rather than men.
Yes, I know. There is a huge debate over whether or not the government has the "right" to mandate vaccinations in certain or all situations. The point is not your "rights" as a citizen of the country you live in. The point is, are you disobeying the word of God in order to demand your "basic human rights" and autonomy?
Did you know that the New Testament addresses servants who were slaves and commands them to obey their masters according to the flesh?
Ephesians 6:5-8 Servants, be obedient to them that are your masters according to the flesh, with fear and trembling, in singleness of your heart, as unto Christ; Not with eyeservice, as menpleasers; but as the servants of Christ, doing the will of God from the heart; With good will doing service, as to the Lord, and not to men: Knowing that whatsoever good thing any man doeth, the same shall he receive of the Lord, whether he be bond or free.
Yes, that says bond - as in slaves. They did not have control over their own bodies in some of the most basic ways. They did not have "basic human rights" and yet the Holy Spirit commanded them through Paul to obey their masters! And they didn't get to choose only to obey the good masters. 1 Peter 2:18 Servants, be subject to your masters with all fear; not only to the good and gentle, but also to the froward. [Froward - difficult to deal with, contrary.]
Ah, but we are "free," aren't we? Are we? 1 Corinthians 7:21-23 Art thou called being a servant? care not for it: but if thou mayest be made free, use it rather. For he that is called in the Lord, being a servant, is the Lord's freeman: likewise also he that is called, being free, is Christ's servant. Ye are bought with a price; be not ye the servants of men.
Actually, we are the servants of Christ. American Christian, do you know where your freedom comes from? [Hint: It isn't the American soldier or the Constitution.] It comes from Jesus Christ and Him only. John 8:36 If the Son therefore shall make you free, ye shall be free indeed. The laws and rights granted to you by man are secondary and sometimes not even biblical. Many places gives all kinds of rights these days to be and do things that are direct disobedience to the commands of Almighty God. You don't have a right to do those things just because humans say you do. Nor do you have a right to disobey the commands of the government just because some human said you do or you think you do. If we disobey the laws, mandates or directives of those ordained powers of government, it had better be for the word of God and the testimony of Jesus. And, sadly, I must add, the clear teaching of the word of God, because there are those who wrest the scriptures and make it say what they want it to say to justify their actions even when they are wrong.
Revelation 1:9 I John, who also am your brother, and companion in tribulation, and in the kingdom and patience of Jesus Christ, was in the isle that is called Patmos, for the word of God, and for the testimony of Jesus Christ.
Our persecuted brethren of the past (and sometimes in the present) were forced into hiding and sometimes lived running from place to place, meeting in secret, and risking their lives to give the gospel. You will find the true believers doing this for these reasons - the word of God and the testimony of Jesus. There are those who have chosen to suffer for some lesser cause such as patriotism or civil rights, but there is no reason to assume that they will receive a reward from God for that if it is not clear New Testament teaching.
Now, I know that some folks will say that it is their responsibility to suffer for the sake of their children. I understand the motivation behind that. However, if you're going to choose to become an outlaw in refusing to be vaccinated, you better do so for something that is clearly provable in scripture.
Rejecting vaccines is not in a lot of cases - not all.
Some people believe that doing everything they can to preserve their health is a Christian duty because of the verses about keeping the temple of the Holy Ghost and so forth. Sometimes this may be interpreted as accepting a vaccine that is ethically wrong - such as those with actual cells in them from other humans who did not die willingly. I think the issues with that are rather self-evident. Other times people will reject vaccines entirely as a health risk they need to protect themselves and their children from. In some situations where chronic health conditions or genetic disorders are concerned, this might be necessary. But, in plenty of cases is simply isn't.
Here's a question to help clarify that outside the "I've got my freedoms" box. What if God wants you or your child to be a missionary in a foreign country where it is required to have vaccinations in order to even go there? Can you trust Him to protect you or them in that situation? That seems like a silly question, and yet some people would struggle to answer it.
My grandparents were missionaries in East Africa. They had no choice about vaccinations for themselves and their children if they wanted to serve the Lord there. My parents and my brother and I had to be vaccinated as well when my parents went as missionaries to Ethiopia. Had any of them refused vaccines, they would not have been able to work in those countries, period, full stop.
In my own family's case, Ethiopia had a cholera epidemic going on when we first arrived in the country. We simply would not have been welcome if my parents had refused the vaccine.
If vaccinations are "wicked" and irresponsible in every situation, then there are places where missionaries simply wouldn't be allowed to go. That can't be right when we are commanded to go into all the world and preach the gospel. So, obviously there are times to put your faith in the Lord and accept the vaccinations in order that you might do His will and obey His command.
Those times may not always be only in relation to going to other countries, either. They may sometimes be necessary for your testimony in whatever place you call home.
As I said before, there
may be times when a vaccine is unethical and it may be necessary to refuse it and suffer the consequences in order to obey God's word and have a good testimony of Jesus Christ before others. But, by and large, the
issue of preaching the gospel mostly affects the anti-vaxxers. There are other things that affect both sides.
One story that came to my attention during the 2020 pandemic was written by a Christian who works in South Korea, teaching English I think. He wrote about a couple churches who, in their pride and determination to establish their "freedoms," refused to close during the lock downs in their country for Covid. These two churches, by continuing to meet, created "hot spots" of the virus in their neighborhoods. That means that they were spreading it, and spreading it at a higher rate than areas where everyone obeyed the directives of the government during that time. As the church members spread the virus people around them became ill and some apparently died.
As the American Christian pointed out, those churches will never have a good testitimony in their neighborhoods again. These people, who preached Christ and claimed to be His followers, did not show Christ-like care for their neighborhoods during that tragic time. Someone whose child or parent or neigbor died because of those church member's rebellion against the powers that be (which are ordained of God), will likely never listen to the gospel from anyone in those churches. They have given place to the devil by forfeiting their testimony on the altar of their "human rights" and "democratic freedoms." I don't think they got a fair trade. Do you?
How does this compare to your position on taking vaccines? Are you so determined to avoid them, that you are willing to risk the lives of other people in order to establish your "right to choose" and to enforce your "basic human rights?" Are you so focused on your "freedom" that you can't see that in some situations you may endager the lives of others as you go about this? How is that helping your testimony?
Or, are you so determined that everyone be forced to take vaccines that you don't care if it kills them or makes them seriously ill in the process? There are people in this world whose health conditions won't tolerate vaccines. There are people who struggle just to keep themselves going without messing with their fragile immune system. Do you care about their very real dilema in this?
Which
ever side you fall on, think carefully. The price of error on this is high. Too high, really.
Go read 2 Samuel 12, Romans 2:23-24, and 2 Peter 2:1-2. God doesn't take it lightly when His people give the world cause to blaspheme His name.
How does your position affect your Christian fellowship and ability to minister to others?

Galatians 5:13-15 For, brethren, ye have been called unto liberty; only use not liberty for an occasion to the flesh, but by love serve one another. For all the law is fulfilled in one word, even in this; Thou shalt love thy neighbour as thyself. But if ye bite and devour one another, take heed that ye be not consumed one of another.
Philippians 2:3 Let nothing be done through strife or vainglory; but in lowliness of mind let each esteem other better than themselves.
1 Thessalonians 5:14-15 Now we exhort you, brethren, warn them that are unruly, comfort the feebleminded, support the weak, be patient toward all men. See that none render evil for evil unto any man; but ever follow that which is good, both among yourselves, and to all men.
There are people who will actually cut off fellowship over the vaccination issue. This is a problem. I don't know if there is a clear-cut answer to it. However, I do know that we are commanded to not forsake the assembling of ourselves together. There are Christians who will do this over the issue of vaccinations. Serving one another by love is not a one-sided thing. It is a two-way street.
It is something that everyone needs to work towards.
Is the question of vaccinations a big enough issue to break fellowship? In most situations, I'd say no. There may be some that would qualify - for example, if there is presently a known epidemic there may be just cause for concern. I say this having grown up hearing and reading stories about cholera and small pox and measles (which left thousand of children dead or blind in East Africa in the past). I know the claims that these things "were already on the decline" before vaccinations ever came about. Stories on the ground from missionaries and native Christians leave me unconvinced on that point. Also, the ignorance of the history of when immunizations actually started leaves me doubtful that these people know what they are talking about. Furthermore, the fact that most of the statistics are collected by white people in recent times who have little reason to be concerned about Africa doesn't help with credibility, in my opinion.
It's easy to make claims while sitting in your tidy, Western neighborhood, 5-15 minutes from the nearest hospital. Just sayin'...
In
the 2020 pandemic there were Christians who refused to be vaccinated or to even take the illness seriously. For some members of the body of Christ this presented a serious problem. People with health conditions that put them at much greater risk, should they get sick (especially in the early days), were in an uncomfortable position. The churches, the people who profess to be followers of Jesus Christ, whose Bible tells them to esteem others better than themselves, were too often mocking and refusing to take appropriate precautions to make things safe for those people to attend services.
It was difficult to determine a right course of action in the face of such disregard for the health of others, and I say this a person who experienced it first hand, both for myself and for my dad. When healthy people insist that the sick or weak ones should be taking the greatest risks while they give themselves permission to be comfortable and exercise their "rights," something is seriously wrong in the church. This does not remind me of the Lord Jesus Christ. It does not remind me of supporting the weak or being patient toward all men.
————
Final Thoughts
John 12:24-26 Verily, verily, I say unto you, Except a corn of wheat fall into the ground and die, it abideth alone: but if it die, it bringeth forth much fruit. He that loveth his life shall lose it; and he that hateth his life in this world shall keep it unto life eternal. If any man serve me, let him follow me; and where I am, there shall also my servant be: if any man serve me, him will my Father honour.
Matthew 10:37-39 He that loveth father or mother more than me is not worthy of me: and he that loveth son or daughter more than me is not worthy of me. And he that taketh not his cross, and followeth after me, is not worthy of me. He that findeth his life shall lose it: and he that loseth his life for my sake shall find it.
Did I say it was easy to make these choices? No. It isn't. It never has been. That is why Jesus Himself told us that if we love our life or the lives of those nearest and dearest to us more than we love Him we are not worthy of the Kingdom of heaven!
One problem is that many of us have lost sight of what real sacrifice means. People see someone giving up the American dream to go do mission work in some other place, they see someone giving up the comforts of industrialized countries and think they are making a great sacrifice. While I admit there is some sacrifice in these things, it is nothing compared to the things people suffered in the past, and what some few suffer today. The cost is usually not nearly as high now as it has been at other times.
Some parents may be angry that anyone would even suggest that they risk their child's health for the sake of preaching the gospel or Christian fellowship and ministry. Yet, people did this in the past, knowing full well the risks they were taking. If we were exused from obeying the command to take the gospel into all the world if our children's lives were imperiled by it, don't you think God would have said so? But, that doesn't even make sense when you stop and think about it. Furthermore, a whole lot of people would not be Christians today if those in the past had lived in this kind of selfishness. Yes, selfishness. Because putting the safety of yourself or your children above obedience to the word of God is ultimately selfish. In some cases it smacks more of idolatry than anything else - the idolatry that says that "me and my spouse and children are the most important things on earth and anything I do that puts any of us in danger is unacceptable, even if it's clearly commanded in scripture."
The truth according to God's word is that you are in more peril making that selfish choice than in obeing His clear commands.
If, when you have a baby in your arms, you look back and say, "God, the price to obey You is too high. I cannot pay it," you are not worthy of the kingdom of heaven, you are not worthy of the name of Jesus Christ.
That is scary place to put both you and your child!
The good news is that 1 John 1:9-10 give you a way to be worthy again. Through confession and forgiveness, you can start over with this issue. But, you will need to be willing to do God's will in this matter. If you don't believe you can be willing, are you willing to be made willing? My grandfather used to ask this sometimes, and it has stuck with me over the years. Sometimes we realize that something is right, but we're not willing to do it. But, if we're willing to let God make us willing, He will do so. It might not be pleasant and it might be hard, but if we truly desire to obey His will, even in the face of our own unwillingness, He can make that happen for us.
1 Peter 2:21-23 For even hereunto were ye called: because Christ also suffered for us, leaving us an example, that ye should follow his steps: Who did no sin, neither was guile found in his mouth: Who, when he was reviled, reviled not again; when he suffered, he threatened not; but committed himself to him that judgeth righteously:
We live in a day and age preoccupied with "rights." Too many Christians, especially in America, confuse their civil rights with their Christian rights or even duties. If we will truly follow the steps of Jesus Christ, we must give up our rights in order to do the will of the Father. This is what our Savior did for us. It will probably make some people angry that I would even suggest putting themselves and their family "at risk" - that it is something they should even consider. And yet, many of our fellow believers over the past centuries have done so over and over again in order to obey the word of God. Why do we think we are not called to these choices and necessities in our present day? Mostly, I'm afraid, because Christianity in the larger sense has become very self-focused and selfish for the individual.
I remember reading a comment on social media where a person was talking about how "they" woke up one Sunday morning with a cold "starting." The person went to church and then went home and went to bed. Another situation I heard about involved a young mother leaving her baby in the nursery on Sunday morning when she knew full well the child had hand, foot, and mouth disease. The person who had been in charge of the nursery ministry in that large church concluded that she just didn't want to be inconvenienced by having to stay home from her social interaction at church. Really?! The lack of care for others is appalling at the very least. I speak from personal experience, as my husband and I were both sick on our honeymoon because of parents who chose to bring their sick child to church. She behaved very well, but coughed all over the backs of our heads through the service. One young man who was only a little sick decided to attend a party where a boy with significant disabilities was also present. The young man had Covid. The handicapped boy got it from him - and died. This is the thing - your precious choice that you are so eager to defend at all costs - it may cost someone else besides you. It may even cost them their life. Let that sink in.
Romans 14:7 For none of us liveth to himself, and no man dieth to himself.
Moses' parents chose to disobey the king's command because their son would have been killed if they had obeyed - not might have been - would have been. There is a time to disobey governments when they give a command that is in direct contradiction with the word of God. Then we ought to obey God rather than man [Acts 5:29].
But, when these things are only possibilities, higher risks of unknown consequences, and things like that, we can't presume to know the outcome and make decisions on the "what ifs." We must come to a point where we determine to trust God, and trust Him fully, with ourselves and with the lives of those we love. No one ever said it was going to be easy or that it would always work out well by our estimation in the end.
Long ago, one man took his wife and five children to Africa to be missionaries. They had been there awhile and made little to no progress in the area where they were working when the wife died from one of the tropical diseases common to those parts. By the measure that many people use to judge the issue of vaccinations (on both sides), this man would have been counted a failure and wrong for risking his wife's life like this. But, it was the will of God for both her and them. How can I say that? Because of the fruit. The Africans were watching them and when they saw this man lose his wife, they knew the struggle and pain that he was dealing with. They understood because it was a common problem for them as well. In this they realized that this man was willing to suffer with them in order to bring them the message that he had and this moved them to not only help him in his trouble, but also to listen to what he had to say. There are people in heaven today because one man loved his Lord more than his wife and children, more than he loved himself; and because one woman was willing to risk her very life to obey the Lord's command to go into all the world and preach the gospel. Even more, at least one of her children went on to serve the Lord for many years in a very difficult and dark country in South America, risking her own life and those of her children as well, to preach the gospel and minister to the saints.
That one lady's life - her "corn of wheat" - fell into the earth and died, but it brought forth much fruit, and continues to do so to this day.
And you, sitting there in your comparatively sanitary life - you're not willing to risk whooping cough or chicken pox to witness to your neighbor or edify the saints? You're not willing to take the risk of having even the more important vaccinations in order to preach the gospel or help Christ build His church? Why should we be appalled at the behavior of the world when even those who claim Christ are not willing to "die to dear desire, self-will resign"?
So send I you to leave your life's ambition,
To die to dear desire, self-will resign,
To labor long, and love where men revile you -
So send I you to lose your life in Mine.
So send I you to hearts made hard by hatred,
To eyes made blind because they will not see,
To spend, tho' it be blood, to spend and spare not -
So send I you to taste of Calvary.
- Margret Clarkson, excerpt from "So Send I You".
What is the risk to your children versus the risk of disobeying the word of God? Should you become a criminal for something like this? Only if your child is at serious risk. Should you exercise prudence if you are able? Yes. However, are you going to waste your energies for a cause that is less than eternal? Too many Christians are already giving their energies and time for lesser causes. No wonder the church is weak and full of debate.
Are these hard choices? Absolutely. But, in the face of eternity, in the face of God's clear commands, in the face of the souls of both the children and the others who will be affected, you have to make them. May God grant that you do so with both understanding and with obedience to Him, and if you are not willing, may you choose to be made willing.
The Shadow of the Cross
O Christ! who once has seen Thy visioned beauty -
He counts all gain but loss,
And other things are naught if he may win Thee
And share with Thee Thy Cross
And he on whom its shadow once has fallen,
Walks quietly and apart;
He holds the master-key of joy and sorrow
That opens every heart.
The burdened souls that pass him on the highway
Turn back to take his hand,
And murmur low, with tear-wet eyes of anguish,
"You know - you understand."
And yet no other can his heart interpret,
His life is hidden, lone;
A holy seal is set upon his forehead,
And he is not his own.
O Cross of Christ! on me thy shade is resting,
Thy sacred marks I bear;
Earth holds for me no more of grief or gladness,
No anxious thought nor care;
Only henceforth, the bliss and pain commingled
Of sharing woes divine,
Of knowing I am called to eat His portion,
To drink His bitter wine.
Keep me forever, Lord, beneath that shadow,
Lest, haply, I should lose
My life for something less then Thy sweet service,
Or one dear pang refuse.
by Annie Johnson Flint
2 Corinthians 5:18-20 And all things are of God, who hath reconciled us to himself by Jesus Christ, and hath given to us the ministry of reconciliation; To wit, that God was in Christ, reconciling the world unto himself, not imputing their trespasses unto them; and hath committed unto us the word of reconciliation. Now then we are ambassadors for Christ, as though God did beseech you by us: we pray you in Christ's stead, be ye reconciled to God.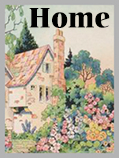 background and graphics by Mary Stephens
vintage graphic: unknown source