Joy and Rejoicing In the Face of Adversity
by Mary E. Stephens
April 2022

A cousin on my mom's side of the family who sometimes reads my things sent me this message recently:

Hi Mary, I thought I would send you what I was thinking about...the other day. I was remembering the verses at the end of chapter 3 in the book of Habakkuk. I realized if it was in the vernacular, I would be saying "Even though we have come through two wearying years of Covid and the price of gas has almost tripled and inflation has affected every purchase I make, and though the media pours out negativity and misinformation and we hear of wars and rumors of wars and although the moral fabric of our nation seems to be in shreds, YET WILL I REJOICE IN THE LORD. I WILL JOY IN THE GOD OF MY SALVATION!"

The passage she is referring to is:

Habakkuk 3:17-18 Although the fig tree shall not blossom, neither shall fruit be in the vines; the labour of the olive shall fail, and the fields shall yield no meat; the flock shall be cut off from the fold, and there shall be no herd in the stalls: Yet I will rejoice in the LORD, I will joy in the God of my salvation.

In the trying times we're living in, this is something so important to remember, and so hard to actually do. The bigger world picture is so depressing at the moment and many of us are facing more localized problems as well - drought and wildfires, flooding and landslides, personal loss, sickness, war and chaos, crime rising, etc. The list could go on and on.

Yet...

If we stay in the troubles and trials verse, we will miss the rejoicing part.

Yet will I rejoice in the LORD... Stop. Did you know that the LORD, all by Himself, is enough to cause our rejoicing? He so embodies all things worthy of praise that He is enough. He is love, John 4:8. He is good, Mark 10:18. He is our rock and fortress and deliverer and strength, Psalm 18:2. He is our shepherd; Ps. 23, 1 Peter 2:15. He is all powerful, Matt. 28:18. He is merciful and longsuffering and able to do the impossible, and so much more that the list would grow too long for this short page. But, He is enough to command our praise just for who and what He is.

The English geek i

n

me loves that "joy" is used as a verb here. :-)

But, Habakkuk went on to say, "

I will joy in the God of my salvation.

"

You know when things are tough and it's hard to see the blessings through the fogs of sorrow and streaming rain of tragedy, there is always, always this one thing which should give us joy. That is our salvation in Jesus Christ our Lord. That God would become flesh and suffer the death of the cross for us is truly beyond our ability to praise or rejoice enough. Habakkuk looked for his salvation in God long before Christ came. Now that we understand how God intended to secure the salvation of all who come to Him in faith through the death, burial, and resurrection of His Son, we can joy from a position of more knowledge as to the price it cost Him.

Peter talks a great deal about this in 1 Peter chapter 1, and I recommend that you go read the whole chapter. For our purposes here I'll quote 1 Peter 1:6-9: Wherein ye greatly rejoice, though now for a season, if need be, ye are in heaviness through manifold temptations: That the trial of your faith, being much more precious than of gold that perisheth, though it be tried with fire, might be found unto praise and honour and glory at the appearing of Jesus Christ: Whom having not seen, ye love; in whom, though now ye see him not, yet believing, ye rejoice with joy unspeakable and full of glory: Receiving the end of your faith, even the salvation of your souls.

One would think that Peter had been reading Habakkuk. :-)

A lot could be said about this because it is loaded with so much good spiritual food for thought. I'll just pick out a few things to draw your attention to:

greatly rejoice

for a season - this life has seasons and they don't last forever.

if need be - sometimes we need to be in trouble to remind us where our true joy and rejoicing should be.

heaviness...manifold temptations - God knows that some seasons of life, some things in life are heavy and that we are tempted to make bad choices or respond badly.

trial of your faith - some things even try our faith and bring us into places where we are tempted to doubt and fear.

though it be tried with fire - some trials are fiery (1 Pt. 4:12-13), which is necessary to remove dross from us.

might be found - there is a purpose.

praise...honour...glory at the appearing of Jesus Christ - what do you think? Will that be worth it?

having not seen, ye love...yet believing...rejoice with joy unspeakable and full of glory

the end of your faith...salvation of your souls.

Ah, weary Christian, there is an object to the hardships, temptations, and trials of this life. It isn't what saves us, but it isn't for nothing either. It is so that we might have that unspeakable joy when we arrive at our expected end (Jer. 29:11). But, the choices we make each day about how we respond and what we do in the midst of these things will meet us again someday in heaven. Have you and I chosen to rejoice in the face of adversity? Have you and I chosen to respond in a way that will bring praise, glory, and honor to Jesus Christ at His appearing? I know we do sometimes, but, oh how often we fail. At least, I know I do, and I expect others will acknowledge the same weakness.

I'm also reminded of a poem by my favorite poet, Annie Johnson Flint.

When I Think of Thee

When I think of just myself and my little cares,
Looming large and crowding close, hindering my prayers,
Of my weakness and my sins, I am sore depressed;
Weary, weary grows my thought; I can find no rest.
When I think upon the world and its many woes -
Hunger, misery and crime - how the long list grows!
Greed and hatred and unrest, strifes that never cease,
Weary, weary grows my thought; I can find no peace.

When I meditate on Thee and Thy works, O Lord,
On Thy strength and majesty, on Thy changeless word;
On Thy Steadfast faithfulness, reaching to the sky;
On Thy patient, watchful care over such as I;
On Thine everlasting love, high and strong and deep;
On Thy wisdom and Thy truth and Thy power to keep;
When I think of what Thou art and what Thy power has done;
When I number all the gifts given in Thy Son --
I forget the things that pass in the things that bide,
And my soul can rest in peace, fed and satisfied.

Let's try to focus more on the things that last forever instead of the very temporary things of this short life. It makes it so much easier to rejoice in the LORD and to joy in the God of our salvation.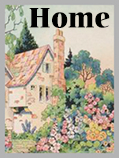 background and graphics by Mary Stephens
vintage graphic: unknown source