You Are A Keeper to God
M. E. Stephens
January 2023
In this life some things are "keepers" and some things are not. We run across things all the time that are not worth keeping in this cluttered world. But to the Lord, all those who are born again into His family are keepers. Every one. No exceptions. If you are His child by faith in Jesus Christ, He will no more disinherit you than he would the Lord Jesus Himself.
It's too easy to forget that our whole, our entire, our finished, our complete salvation is all in and through and because of Jesus Christ. If He can't lose His relationship to God the Father - silly thought, right? - then we can't either.
Colossians 2:9-15 For in him dwelleth all the fulness of the Godhead bodily. And ye are complete in him, which is the head of all principality and power: In whom also ye are circumcised with the circumcision made without hands, in putting off the body of the sins of the flesh by the circumcision of Christ: Buried with him in baptism, wherein also ye are risen with him through the faith of the operation of God, who hath raised him from the dead. And you, being dead in your sins and the uncircumcision of your flesh, hath he quickened together with him, having forgiven you all trespasses; Blotting out the handwriting of ordinances that was against us, which was contrary to us, and took it out of the way, nailing it to his cross; And having spoiled principalities and powers, he made a shew of them openly, triumphing over them in it.
If Jesus could stop being God (He can't) you could stop being saved. So, rest assured. He intends to keep you.
1 Peter 1:3-5 Blessed be the God and Father of our Lord Jesus Christ, which according to his abundant mercy hath begotten us again unto a lively hope by the resurrection of Jesus Christ from the dead, To an inheritance incorruptible, and undefiled, and that fadeth not away, reserved in heaven for you, Who are kept by the power of God through faith unto salvation ready to be revealed in the last time.
The Double Clasp
The Saviour's hand - how close its hold,
That none can loosen, none can break.
No powers of heaven or earth or hell
That loving clasp can ever shake.

And over Jesus' wounded hand
The Father's hand of strength is laid,
Omnipotent to save and keep;
Thus is our surety surer made.

So, one beneath and one above,
Father and Son their hands unite.
How safe, how safe the ransomed are
Within that clasp of tender might!
Annie Johnson Flint
John 10:27-30 My sheep hear my voice, and I know them, and they follow me: And I give unto them eternal life; and they shall never perish, neither shall any man pluck them out of my hand. My Father, which gave them me, is greater than all; and no man is able to pluck them out of my Father's hand. I and my Father are one.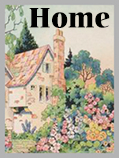 background and graphics by Mary Stephens
vintage graphic: unknown source; CA