"Sit Still, My Daughter"
Ruth 3:18 Then said she, Sit still, my daughter, until thou know
how the matter will fall: for the man will not be in rest,
until he have finished the thing this day.
"Sit still, my daughter!" Just sit calmly still!
Nor deem these days - These waiting days as ill.
The One Who loves thee best, Who plans thy way,
Hath not forgotten thy need today;
And, if He waits, 'tis sure He waits to prove
To thee, His tender child, His heart's love.
"Sit still, my daughter." Just sit calmly still,
Nor move one step, not even one until
His way hath opened. Then, ah, then how swift thy feet
Thy inner being, ah, then how strong.
And waiting days not counted too long.
"Sit still, my daughter." Just sit calmly still,
Thou longest much to know thy dear Lord's will
While anxious thoughts would almost steal their way
Carrodingly within, because of His delay-
Persuade thyself in simple faith to rest
That He, Who knows and loves will do the best.
"Sit still, my daughter." Just sit calmly still.
What higher service couldst thou for Him fill?
'Tis hard! Ah yes! But choicest things must cost.
For lack of loosing all how much is lost!
'Tis hard, 'tis true! But then - He giveth grace
To count the hardest spot the sweetest place.
J.D. Smith

Contentment by J. O. Fraser
Brother Fraser was single for many years
before marrying. He did not have a long
marriage because of this, but I think it's
safe to say that he was thankful he waited!
----------------------------------------
Ephesians 3:20 Now unto him that is able to do exceeding
abundantly above all that we ask or think,
according to the power that worketh in us,
21 Unto him be glory in the church by Christ Jesus
throughout all ages, world without end. Amen.









A True Story of God's Love and Care
Proverbs 19:14 ...a prudent wife is from the LORD.
[Here is a story as printed in tract form by the Witters of Shippensburg, Pennsylvania. This is their true story that was written by William Jelley and printed in the May, 1975 issue of Interest magazine. The story begins...]
It was November 21st, 1970. Joanne Witter had just delivered her sixth child. The last five of them had been boys. Jean, the first-born was only eleven.
Jim Witter, the father of the clan, was only 34, a hard working, Pennsylvania farmer. He had recently purchased his farm after renting it for ten years. Things were hard, but hard work was paying off, and the Witters appeared to be a close-knit family with a bright future before them.
In addition to carrying the work-load of the farm, Jim was also active in the local Christian Business Men's Committee and superintendent of the Sunday School at Greenwood Hills Gospel Chapel. He had participated in the Literature Crusades' tract distribution at the Olympic Games in Mexico City. He sold a cow to finance the trip. He was a happy man, thankful for the many blessings God was bestowing.
On December 12th Joanne died unexpectedly. Baby Mark was only three weeks old. Suddenly Jim's world had seemingly crashed about him...
Left with the care of an infant, a family of small children, and a large dairy herd, Jim was hard-put to maintain his customary, ever-present grin. He found himself much cast upon the Lord.
One of his sisters took over the care of the baby. The others took turns coming to the house to prepare meals for the family and help with the necessary cleaning and washing. Friends from the chapel came frequently to lend a hand. Even so, Jim had to work night and day to hold things together. [Thankfully], field work on the farm was minimal during the winter months.
As the weeks stretched into months, Jim's sisters found it increasingly difficult to care for both Jim's children and their own families. Spring was approaching. Jim must soon be out-of-doors, plowing and planting several hundred acres. The situation was becoming increasingly desperate.
From the first Jim had determined to hold his family together, if at all possible. During the winter months he had been advertising for a housekeeper. Ads had been placed in the local papers, as well as several magazines, including Interest, but there was seemingly no one willing and able to take on the care of a large, young family and a busy farm house.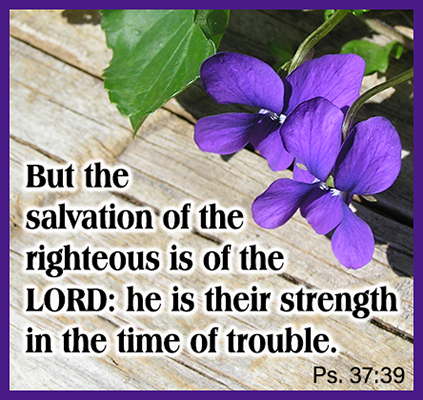 Around the first of April, 1971, some of the brethren at the chapel suggested that, in view of Jim's circumstances, and because there was apparently no hope of hiring a housekeeper, he think in terms of remarrying. Until this time, Jim had been rejecting the idea, deeming it inappropriate so soon after Joanne's death and out of respect for the feelings of her family.
During the spring plowing there were many hours, spent on the seat of the tractor, to consider the situation. Jim often stopped the tractor in the fields and, getting down to pray, fervently asked God to give help and guidance. He found himself telling God, "If you want me to have a wife, you will have to send her to me, for you know that I'm much too busy to go looking for one."
It was about this time that Jack Hamaker entered the story. At a conference in York, Pennsylvania, he asked some of the Greenwood Hills brethren about Jim's situation. They told him they had counseled Jim to consider remarriage.
The following Wednesday brother Hamaker mentioned the matter for prayer at his home assembly in Baltimore. Sitting near Jack that night was a school teacher, Miriam Glock, who had recently come into fellowship from another Baltimore assembly. Miriam's schedule as a Junior High School, social studies teacher usually prevented her attending the midweek meeting, but this week school was closed for spring vacation. After the meeting Jack asked if there was a possibility she might fit into the situation. She expressed a willingness to meet Jim Witter.
Jack Hamaker went home to make a phone call. It was a late hour to call a farmer. Jack told Jim about Miriam, and suggested that he contact her if he was interested in pursuing the matter. Being a much better farmer than a letter writer, and not knowing quite what to say, or if he should write at all, Jim put off the matter and went about his plowing the next morning. However, for one of the few times that Jim can ever remember, he didn't feel well enough to work, and had to return to the house and lie down. Later that afternoon still not up to strenuous field work, he decided to try and write.
The letter was mailed that evening (Thursday). On Saturday morning when Miriam was trying to compose a suitable response, Jack Hamaker moved into the picture again. He and Mrs. Hamaker offered to take Miriam to their summer home in Greenwood Hills so that Miriam and Jim could meet. Miriam had already decided that she wanted to meet Jim away from the family and farm. A meaningful relationship with him as an individual, was basic to everything else.
The meeting took place on April 24th, one week later. Miriam was impressed. They talked for several hours, with many questions asked and answered. Before the afternoon was over she had decided that she wanted to meet the children and see the farm.
Back in Baltimore the next day, there were many questions from Miriam's family and from her friends at the Brooklyn Gospel Chapel. She told them all about Jim. By Sunday evening she found herself telling people she might "marry a farmer with six children."
At school on Monday the questions and encouragement continued. Miriam suddenly became aware she was telling her friends she was seriously considering marriage, but that she hadn't told Jim. She phoned that evening. When she told Jim what she was thinking, he replied, "That's O.K."
On Tuesday it was Jim's turn to realize that he had been remiss, for he had never gotten around to a proposal. A phone call took care of that.
Regular visits were arranged. In a short time Miriam began to realize that she missed Jim terribly between visits. She decided that she was "really in love," that marriage to Jim was what she really wanted, and that she had the assurance that it was God's will.
To assume the role of mother and homemaker for a farm family of six children would be no mean task for a self-styled "old maid." Miriam had had some excellent preparation. One of six daughters of missionary parents, she had been raised in Africa. She knew something of the "make-do" living in a large family. During her second year at Emmaus Bible School, she had been a student cook. Here she had learned the preparation of economical meals in large quantities. As a Sunday School and Junior High School teacher, her classes had been largely made up of boys, an excellent preparation for her new responsibilities.
On June 5th, 1971, six weeks to the day from their first meeting, Miriam and Jim were married in Baltimore. Miriam's missionary sister, home on furlough, was her maid of honor. All six Witter children were in attendance. This was but the first of many blessed and happy days.
Since that time, Miriam and Jim have built a beautiful life together. The children have prospered and grown. Jean is a lovely and talented young lady. The older boys are strong and industrious, now able to assist on the farm. Mark, the baby, is now an energetic four-year-old, the delight of family and friends.
The Lord has continued to prosper the farm....Jim's grin is as wide as ever.


graphics and background by Mary Stephens
updated 2020