Weakness

Part 1
Psalm 6:2 Have mercy upon me, O LORD; for I am weak: O LORD, heal me; for my bones are vexed.
2 Corinthians 12:7-10 And lest I should be exalted above measure through the abundance of the revelations, there was given to me a thorn in the flesh, the messenger of Satan to buffet me, lest I should be exalted above measure. For this thing I besought the Lord thrice, that it might depart from me. And he said unto me, My grace is sufficient for thee: for my strength is made perfect in weakness. Most gladly therefore will I rather glory in my infirmities, that the power of Christ may rest upon me. Therefore I take pleasure in infirmities, in reproaches, in necessities, in persecutions, in distresses for Christ's sake: for when I am weak, then am I strong.
'Tis what I know of Thee, my Lord and God,
That fills my soul with peace, my lips with song:
Thou art my health, my joy, my staff and rod;
Leaning on Thee, in weakness I am strong.
- Horatius Bonar -

~~~~~

Poor, weak, and worthless though I am,
I have a rich almighty friend;
Jesus, the Saviour, is His name,
He freely loves, and without end.
- John Newton -
2 Corinthians 13:4 For though he was crucified through weakness,
yet he liveth by the power of God. For we also are weak in him,
but we shall live with him by the power of God toward you.
"We go" in faith, our own great weakness feeling,
And needing more each day Thy grace to know:
Yet from our hearts a song of triumph pealing,
"We rest on thee, and in thy name we go."
- Edith Cherry -
2 Chronicles 14:11 And Asa cried unto the LORD his God, and said,
LORD, it is nothing with thee to help, whether with many,
or with them that have no power: help us, O LORD our God;
for we rest on thee, and in thy name we go against this multitude.
O LORD, thou art our God; let not man prevail against thee.

He Giveth More Grace

He giveth more grace when the burdens grow greater,
He sendeth more strength when the labors increase;
To added affliction He addeth His mercy;
To multiplied trials, His multiplied peace.

When we have exhausted our store of endurance,
When our strength has failed ere the day is half done,
When we reach the end of our hoarded resources,
Our Father's full giving is only begun.

Fear not that thy need shall exceed His provision,
Our God ever yearns His resources to share;
Lean hard on the arm everlasting, availing;
The Father both thee and thy load will upbear.

His love has no limit; His grace has no measure.
His pow'r has no boundary known unto men;
For out of His infinite riches in Jesus,
He giveth, and giveth, and giveth again!

- Annie Johnson Flint -

Hebrews 11:32-34 And what shall I more say? for the time would fail me to tell of Gedeon, and of Barak, and of Samson, and of Jephthae; of David also, and Samuel, and of the prophets: Who through faith subdued kingdoms, wrought righteousness, obtained promises, stopped the mouths of lions, Quenched the violence of fire, escaped the edge of the sword, out of weakness were made strong, waxed valiant in fight, turned to flight the armies of the aliens.


Related Posts: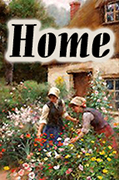 photos and graphics by Mary E. Stephens
vintage art: unknown source