Are You A Friend of God?
by Mary E. Stephens
July 2014
James 2:23 And the scripture was fulfilled which saith, Abraham believed God, and it was imputed unto him for righteousness: and he was called the Friend of God.
Abraham was "the Friend of God". We are Abraham's children through faith in Christ.
Galatians 3:6-14 Even as Abraham believed God, and it was accounted to him for righteousness. Know ye therefore that they which are of faith, the same are the children of Abraham. And the scripture, foreseeing that God would justify the heathen through faith, preached before the gospel unto Abraham, saying, In thee shall all nations be blessed. So then they which be of faith are blessed with faithful Abraham. For as many as are of the works of the law are under the curse: for it is written, Cursed is every one that continueth not in all things which are written in the book of the law to do them. But that no man is justified by the law in the sight of God, it is evident: for, The just shall live by faith. And the law is not of faith: but, The man that doeth them shall live in them. Christ hath redeemed us from the curse of the law, being made a curse for us: for it is written, Cursed is every one that hangeth on a tree: That the blessing of Abraham might come on the Gentiles through Jesus Christ; that we might receive the promise of the Spirit through faith.
Abraham lived by faith, not the Law (Rom. 4:12). He didn't even have the Law in his day, though he did know right from wrong since the law is written in every heart (Rom. 2:14-15). But, a friend likes to please his friend. Abraham obviously desired to please God, and he believed God. God knew that Abraham desired to please Him and He honored that.
Genesis 18:17-19 And the LORD said, Shall I hide from Abraham that thing which I do; Seeing that Abraham shall surely become a great and mighty nation, and all the nations of the earth shall be blessed in him? For I know him, that he will command his children and his household after him, and they shall keep the way of the LORD, to do justice and judgment; that the LORD may bring upon Abraham that which he hath spoken of him.
God then told Abraham that He was going to destroy Sodom and Gomorrah because of their exceeding wickedness. But, Abraham had a nephew, Lot, who lived there. Abraham knew those places were wicked and deserved judgment, but he also knew that it was not like God to destroy the righteous with the wicked. Because Lot was there and was also his friend, he pled with his Friend not to destroy the place for 50, 45, 40 down to 10 righteous - if there happened to be that many in those places. Though he feared the Lord, he was also bold to humbly plead with Him as a Friend for his friend.
Jesus didn't come to fulfill the Law and then die for us so that we could keep the Law. His goal was to lay down His life for His sheep, for His friends. John 10:11 I am the good shepherd: the good shepherd giveth his life for the sheep.
John 15:13-17 Greater love hath no man than this, that a man lay down his life for his friends. Ye are my friends, if ye do whatsoever I command you. Henceforth I call you not servants; for the servant knoweth not what his lord doeth: but I have called you friends; for all things that I have heard of my Father I have made known unto you. Ye have not chosen me, but I have chosen you, and ordained you, that ye should go and bring forth fruit, and that your fruit should remain: that whatsoever ye shall ask of the Father in my name, he may give it you. These things I command you, that ye love one another.
God created man to be His friends, but man (meaning both Adam and Eve) chose to betray that friendship by disobeying God. They didn't value His friendship highly enough to obey the two simple commands they were given. (To eat of all the fruit of the garden and to not eat of the fruit of the knowledge of good and evil.) God, in His foreknowledge, knew that this would happen, and Jesus Christ agreed before hand (Acts 2:22-23, Rev. 13:8) to come and die for us so that the friendship could be restored.
Like Abraham, we are also called to live by faith and are the children of Abraham by faith. We can once again be the friends of God rather than being students under a schoolmaster - the Law. Galatians 3:24-26 Wherefore the law was our schoolmaster to bring us unto Christ, that we might be justified by faith. But after that faith is come, we are no longer under a schoolmaster. For ye are all the children of God by faith in Christ Jesus.
The Lord Jesus calls us His friends in John 15, rather than servants now. We show that we are His friends by doing what He commanded - to love one another. To do this we must believe on the Son of God, walk in faith and walk after the Spirit rather than after the flesh. Romans 8:1 There is therefore now no condemnation to them which are in Christ Jesus, who walk not after the flesh, but after the Spirit.
Are you a friend of God? Have you believed on Him whom He sent - that is, Jesus Christ?
John 6:29 Jesus answered and said unto them, This is the work of God, that ye believe on him whom he hath sent.
If you are already saved, is the Lord your friend, or is He your one way ticket to Heaven that you like to keep handy, but don't think about too much? God wants to commune with you, to walk with you, to talk with you. He sent His only begotten Son to die and rise from the dead so that He could have your friendship restored, so that He could be friends with YOU. He also gauges your friendship to Him by whether or not you love other Christians. He is that friend that sticketh closer than a brother and He wants us to love our brothers and sisters in Christ as our proof of friendship with Him.
Proverbs 18:24 A man that hath friends must shew himself friendly: and there is a friend that sticketh closer than a brother.
Are you a friend to Him?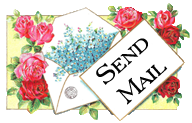 background & graphics by Mary Stephens
updated 2022