These days it seems that no matter what country or part of the world one comes from or lives in violence, trouble, and turmoil are either present or near at hand. It can become quite easy to have a very limited view, seeing just our own troubles and the fearfulness of the time in which we are living. Christians today are often sadly lacking in a historical view of our spiritual ancestors despite talk about "our historical faith," "historic positions", "Baptist History," and so forth .
The third verse of the old hymn "Onward Christian Soldiers" is a potent reminder, however:
"Crowns and thrones may perish,
Kingdoms rise and wane,
But the Church of Jesus
Constant will remain;
Gates of hell can never
'Gainst that Church prevail;
We have Christ's own promise,
And that cannot fail."
Matthew 16:18 And I say also unto thee, That thou art Peter, and upon this rock I will build my church; and the gates of hell shall not prevail against it.
As many concerns for the future mount, from war to lawlessness to the threat of plagues and diseases, it could be easy to lose sight of where we came from and where we are going. While "endless genealogies" (1 Tim. 1:4) are not useful, where our faith came from historically is very important as illustrated by Hebrews chapter 11.
Can God take care of us in the perilous times we are facing? Why, we would not even be here today if He had not taken care of all those that went before us! And think of what they faced!
There were the early Christians who had both times of freedom and times of great persecution. Some of them found it necessary to flee the place they lived in order to survive. We can hardly fathom what it must have been like to face the Roman Coliseum for Christ. They were literally torn in pieces by lions and gladiators because they would not deny Jesus Christ.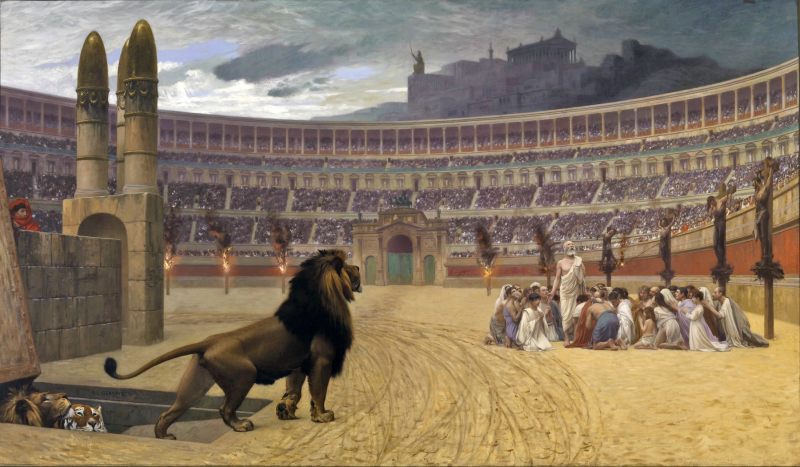 Romans 8:17
And if children,
then heirs; heirs of God, and
joint-heirs with Christ; if so be
that we suffer with
him
, that we
may be also glorified together.
18 For I reckon that the
sufferings of this present time
are
not worthy
to be compared
with the glory which shall
be revealed in us.
Think of what it must have been like to be a true Christian in the Dark Ages - the disease, the war and violence, the brutality, the Inquisition and persecutions. Yet in all that, the Christians married, had families, met as churches when and where they could, and led other souls to Jesus Christ. There may have been times when they did refrain from marrying and having children for the "present distress" (1 Cor. 7:26), but this did not continue indefinitely. They ate, they slept, and had their causes for rejoicing as well as their sorrows. If God had not preserved His church at that time it surely would have died.
Then the Reformation came and brought with it some light, but this almost immediately turned into persecution again under John Calvin and Ulrich Zwingli. What things the Anabaptists and others like them went through at that time when they watched with hope as these men separated from the Roman Church only to find some of these same Reformers to be equal or worse enemies to them than the Catholics had been! And yet it was the same, they continued to preach the gospel, to marry and raise families, to meet with the brethren as churches and find ways to feed themselves and others also.
Imagine what it must have been like to live in England, Scotland, and Wales during the Reformation era. A change in the monarchy could mean a change in the state religion too. A Protestant monarch would mean more freedom, but even then there was a good chance of persecution for Separatists and Non-conformists (those not in the Church of England). On the other hand, if a Catholic were to come to power, they would sweep all non-Catholics into the fires of the stake. Life was very uncertain.
Skipping to the New World, we find that the Baptists underwent brutal persecution in the Colonies as well. Baptists in Virginia were subjected to such horrible treatment by the Anglicans that Thomas Jefferson and James Madison were thoroughly disgusted with the situation. The persecution of the Baptists in the Colonies is what inspired men like them to seek religious, as well as political, freedom from England. Imagine being run out into the wilderness and put to the mercies of the Indians like Roger Williams was. And yet again, we find God provided these people with the means and help they needed to go on and live their lives and lead others to the Lord.
What thoughts of fear must have gripped the minds of the Christian blacks in the South of the U.S. when the abolitionists began to stir things up and the Southern slave owners retaliated by making the slaves' lives so much worse! Then as war approached and passed and they found themselves free, those that loved the Lord must have turned to Him constantly for the help to face the new responsibilities that came with freedom.
Many Christians were in Europe during W.W. I and W.W. II. Imagine living for God in Nazi Germany! How many of our brothers and sisters faced the gas chambers in the strength of Christ we will only know in heaven. We cannot know how many Christians were left in Japan at the time of the war, but in the late 1880s some missionaries were hoping to turn the church completely over to the Japanese Christians by 1900. Surely there must have been some Christians left forty-some years later. Italy, no doubt, had true Christians as well.
How about the Christians who were in Russia, China, Ethiopia, and other places when the Communists took over? Some of the Russian Mennonites fled overland in sleds to China when the Bolsheviks and eventually Communists rose up. They gave up tremendous farms and fled for the lives of their families and freedom to worship their Lord.
Even to this very time we have the example of the Christian persecution in Pakistan, Malaysia, Sudan, Iran and other places.
Can God take care of us? More correctly, would God help and strengthen them then and not help us now?! Absolutely not! He is the same God that took care of all these, and He can help us too.
Luke 12:7 But even the very hairs of your head are all numbered. Fear not therefore: ye are of more value than many sparrows.
I remember hearing a Mexican pastor once on tape. He was telling how he and his wife had had the opportunity to visit Spain. While there he was able to visit a one of the Coliseums. I suppose that it would be impossible to imagine the feelings that might run through a Christian when visiting a place like that unless you have actually done so. It must be rather overwhelming to realize that this was the very spot where our brothers and sisters walked as they went to die for Christ, people Of whom the world was not worthy... Hebrews 11:38. The Mexican pastor climbed up to a high place in that Coliseum and as he was thinking there about all this he called out,
"Romans?.......ROMANS!?......
"ROMANS, WHERE ARE YOU? ALL YOU NEROS AND ROMANS!?
"HERE'S ANOTHER CHRISTIAN!!!!!!"
GLORY TO GOD! What a tremendous thought! The Romans are gone -- Christians are still here! The popes and Roman Catholic monarchs of the Inquisition are gone -- Christians are still here! Calvin and Zwingli (who persecuted and killed true believers) are gone and the power of their churches broken -- true Bible believers are still here and worshipping in spirit and in truth! The Anglican church is dead on its feet -- true Christians are still alive and well! Communism has lost its greatest powers and its "best" leaders are dead -- the true saints in those countries are still thriving!
Romans 8:35 Who shall separate us from the love of Christ? shall tribulation, or distress, or persecution, or famine, or nakedness, or peril, or sword? 36 As it is written, For thy sake we are killed all the day long; we are accounted as sheep for the slaughter. 37 Nay, in all these things we are more than conquerors through him that loved us. 38 For I am persuaded, that neither death, nor life, nor angels, nor principalities, nor powers, nor things present, nor things to come, 39 Nor height, nor depth, nor any other creature, shall be able to separate us from the love of God, which is in Christ Jesus our Lord.
Dear Christian, think of this; By the grace of God we are going to make it through whatever is facing us wherever we live, and if not, then we will die and go to heaven; but, there will still be Christians left! If there isn't it will only be because the Church has been called home and Jacob's Trouble has begun! We look ...for a city which hath foundations, whose builder and maker is God. Hebrews 11:10 Christians have lived through famine and war, pestilence and disaster, economic and governmental collapse, and still gone on in this hope.
Whatever happens here, this is not the end for us. It is only the beginning; the beginning of our eternal life.
1Timothy 6:12 Fight the good fight of faith, lay hold on eternal life, whereunto thou art also called, and hast professed a good profession before many witnesses.
We have a thousand years yet to live on this earth no matter when this present life may end for us.
Revelation 20:6 Blessed and holy is he that hath part in the first resurrection: on such the second death hath no power, but they shall be priests of God and of Christ, and shall reign with him a thousand years.
Think of what it will be like to live in an earth ruled by the Lord Jesus Christ! Think what a pleasure it will be to see Jerusalem purified and established as the worship place of the whole world. What delight there will be in seeing the desert bloom as a rose. And then, even more than that, we have the new heaven and new earth to look forward to as well! What joys and glories await us! We are going to be there!
Suddenly the troubles that are threatening us seem so small!
Whatever nationality we may be on this earth, it is not our home. We are strangers and pilgrims here. 1 Peter 2:11 Dearly beloved, I beseech you as strangers and pilgrims, abstain from fleshly lusts, which war against the soul; Our King is ...on the right hand of the Majesty on high; Hebrews 1:3! We are only ambassadors here, 2 Corinthians 5:20 Now then we are ambassadors for Christ... Ambassadors may find it very difficult to live in the countries they are assigned to, but they are to represent their government until they are called home. The beauty of our ambassadorship is that our King never makes a mistake. He will call His ambassadors home when He sees fit, whether by death or in the catching away of the church.
...We may trust Him fully-- All for us to do;
They who trust Him wholly Find Him wholly true.
Stayed upon Jehovah Hearts are fully blest,
Finding, as He promised, Perfect peace and rest.
John 14:27 Peace I leave with you, my peace I give unto you: not as the world giveth, give I unto you. Let not your heart be troubled, neither let it be afraid.
Our today may be unpleasant, even horrible, but this is "for a limited time only." We are part of the church that our Lord Jesus Christ established which cannot be destroyed from the earth. This age ends only when we, or those that follow us, are called home by Him to the marriage supper of the Lamb, and the time of Jacob's Trouble begins here on earth. This life is just the beginning for us. We have a future!
1 Peter 1:3 Blessed be the God and Father of our Lord Jesus Christ, which according to his abundant mercy hath begotten us again unto a lively hope by the resurrection of Jesus Christ from the dead, 4 To an inheritance incorruptible, and undefiled, and that fadeth not away, reserved in heaven for you, 5 Who are kept by the power of God through faith unto salvation ready to be revealed in the last time. 6 Wherein ye greatly rejoice, though now for a season, if need be, ye are in heaviness through manifold temptations: 7 That the trial of your faith, being much more precious than of gold that perisheth, though it be tried with fire, might be found unto praise and honour and glory at the appearing of Jesus Christ: 8 Whom having not seen, ye love; in whom, though now ye see him not, yet believing, ye rejoice with joy unspeakable and full of glory: 9 Receiving the end of your faith, even the salvation of your souls.
Let's remember these things when we feel inclined to wonder what horrible things the future may hold for us and our families. Let's remember where we came from as the church of the living God, why we are here as ambassadors of Christ our King, and where we are headed when this brief life is over.
Romans 13:11 And that, knowing the time, that now it is high time to awake out of sleep: for now is our salvation nearer than when we believed.

Hebrews 12:1 Wherefore seeing we also are compassed about with so great a cloud of witnesses, let us lay aside every weight, and the sin which doth so easily beset us, and let us run with patience the race that is set before us, 2 Looking unto Jesus the author and finisher of our faith; who for the joy that was set before him endured the cross, despising the shame, and is set down at the right hand of the throne of God. 3 For consider him that endured such contradiction of sinners against himself, lest ye be wearied and faint in your minds.
There is "a great cloud of witnesses" who testify to us that God IS faithful. There is joy set before us too, and Jesus is "at the right hand of the throne of God." Consider Him!