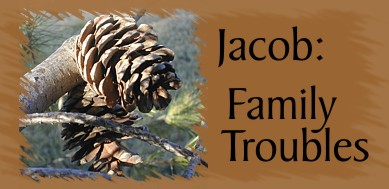 by Mary Stephens (updated Aug. 2017)
This article is part of the series on Bible people who suffered from depression or anxiety.
Family troubles can be so discouraging and painful, triggering depression and anxiety. They can also cause eating disorders.
Jacob had family troubles from the day of his first wedding when Laban tricked him into marrying Leah instead of Rachel. He eventually was the head of a large family that caused him much trouble at various times. Leah and Rachel fought among themselves to gain his attention - and more children. His daughter, Dinah, went out "to see the daughters of the land" (Gen. 34) and ended up in fornication or raped (depending on your interpretation). Two of his sons used the occasion to kill a whole city of men, thus causing Jacob to fear for his family's safety. Jacob's sons were also less than shining examples of godliness in other incidents.
Joseph, his favorite wife's first son, was Jacob's favorite and Jacob did not hide it. Because of this and several things that had happened, Joseph's brothers had become bitterly jealous of him. Genesis 37:4 And when his brethren saw that their father loved him more than all his brethren, they hated him, and could not speak peaceably unto him.
Jacob's sons were herdsmen by trade. At one time when they were keeping his flocks in a place away from the central home, Jacob decided to send Joseph out to check on their welfare. Genesis 37:14 And he said to him, Go, I pray thee, see whether it be well with thy brethren, and well with the flocks; and bring me word again. So he sent him out of the vale of Hebron, and he came to Shechem.
Joseph finally located them, but as he was approaching them, they recognized him. Their hatred for him was so intense that before he got near some of them conspired to kill him. Now Reuben, being the oldest and no doubt feeling his sense of responsibility to his father, interceded for him and suggested they throw him into a pit instead of murdering him outright. His intention was to rescue Joseph later and restore him to his father.
What happened to Reuben after this is hard to determine. It seems he was not present when Judah suggested selling Joseph to the Ishmeelites. It is possible that Joseph had been in the pit for awhile and Reuben was attending to other business. At any rate, the brothers sold Joseph and sent him on his way to slavery in Egypt with apparently no pity, even for their aged father. Possibly they didn't consider how Jacob would feel. Jealousy and envy are merciless. Proverbs 27:4 Wrath is cruel, and anger is outrageous; but who is able to stand before envy?
We will pick up the narrative here:
Genesis 37:29 And Reuben returned unto the pit; and, behold, Joseph was not in the pit; and he rent his clothes. 30 And he returned unto his brethren, and said, The child is not; and I, whither shall I go? 31 And they took Joseph's coat, and killed a kid of the goats, and dipped the coat in the blood; 32 And they sent the coat of many colours, and they brought it to their father; and said, This have we found: know now whether it be thy son's coat or no. 33 And he knew it, and said, It is my son's coat; an evil beast hath devoured him; Joseph is without doubt rent in pieces. 34 And Jacob rent his clothes, and put sackcloth upon his loins, and mourned for his son many days. 35 And all his sons and all his daughters rose up to comfort him; but he refused to be comforted; and he said, For I will go down into the grave unto my son mourning. Thus his father wept for him.
Reuben was apparently the only one who realized the enormity of what had happened. Perhaps he had a better understanding of how this would affect his father. At any rate, he was stricken when he found Joseph gone and he took the responsibility upon himself. This is to his credit. However, it did not alleviate his father's grief.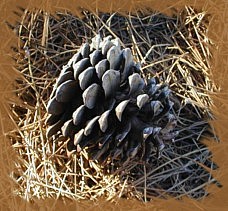 So it is with life still today. All the sorrow, all the pity that can be shown cannot protect the person who will be most hurt by a loss like this. Reuben no doubt foresaw great sorrow and trouble for his father in what happened, but he could not fix it. His brothers were uncontrollable and did not honor their father.
Ironically, in this case, had his brothers really been remorseful, they might have had opportunity to send someone after the caravan to retrieve Joseph before he arrived in Egypt. Whether no one thought of this, or whether Reuben was not told what had actually happened to Joseph is hard to tell. At any rate, they decided to deceive their father into to thinking that Joseph had been killed. When Jacob saw the bloodied coat he knew it immediately and assumed exactly what they wanted him to assume - Joseph was dead. This was a bad choice on their part. No doubt about it.
All the evidence they presented Jacob pointed to loss, and yet we know this was not true. The devil will try to deceive us this way as well, whether through humans or through the power of suggestion. He will present "evidence" that all is lost. He will try to make us believe that something terrible has happened (or is about to happen) that can never be changed or corrected - that our lives have been unalterably ruined or scarred by some sorrow from which there is no turning away.
Unlike Jacob's sons, the devil does this to on purpose to hurt us and cause us to despair or become depressed. He wants us to be miserable. He wants us anxious. All this is primarily in hopes that we will turn away from God, or even curse Him (see Job 1-2). It is one of his means to destroy us now, since he cannot have the souls or spirits of those who are born again.
Jacob went into deep mourning for Joseph. His intention was to mourn him the rest of his life. His grief was unbearable.
Only those who have lost a dearly beloved know the depths of Jacob's pain. It is a deep and abiding thing. Even though time allows adjustment, you never "get used to it." The hurt may be less agonizing, but it still aches and aches. This kind of trouble can and does send people into depression. I have seen it happen.
Now Jacob's family, as with other families, rose up to try to comfort him. But, Jacob refused to be comforted. Though he should have known that Joseph was safe in paradise, yet his sense of loss was so tremendous that he refused to accept the comfort his family offered. He had the covenant promise of a nation that would come from him and now the son he loved so well would have no part in that, he thought.
Here is an important thing. While a certain amount of mourning is expected upon the death of a loved one, it is not wise or useful to refuse to be comforted by those you love. Jacob still had many sons and decedents there with him. His loss was horrible (as it appeared), but still he should have made some effort to accept their comfort.
It is even worse when a believer refuses the comfort of the Lord. God has promised to comfort His children in all our tribulations. 2 Corinthians 1:3 Blessed be God, even the Father of our Lord Jesus Christ, the Father of mercies, and the God of all comfort; 4 Who comforteth us in all our tribulation, that we may be able to comfort them which are in any trouble, by the comfort wherewith we ourselves are comforted of God. This includes the grievous loss of a loved one, whether it be by death or some other trouble.
For those who die in the Lord, we have the comfort and hope of seeing them again. We are told to comfort one another in 1 Thessalonians 4:18 with the hope of Christ's coming for His saints. This is a great hope. We knew a brother once who one of his sons in an unexpected accident. He grieved deeply for him for a long time. I don't know if he ever "fully recovered." Of all the man's children, that particular son was the most like his father in zeal for the Lord. The stories that we heard after his death showed that he "went about doing good" in the steps of his Lord. His father was very blessed by this and the Lord used it to give the father much comfort, though I know he hurt very deeply.
Where an unsaved loved one dies these comforts will not apply. However, God will still comfort you. Psalm 55:22 Cast thy burden upon the LORD, and he shall sustain thee: he shall never suffer the righteous to be moved.
In the case of apparent losses it is good to remember Jacob and how this story ended for him. Not all things that seem like "the end" really are. Jacob's story had a happy ending, though he had to wait years for it. God was in the process of doing something very important for Jacob's family that would later result in the survival of them all!
To you who are burdened under some seemingly hopeless situation, know this - God may be doing something that will result in great blessing to you or those in your family (spiritual or physical) at a later time. If you love God, you have His unchangeable promise to work all things together for good. Romans 8:26 Likewise the Spirit also helpeth our infirmities: for we know not what we should pray for as we ought: but the Spirit itself maketh intercession for us with groanings which cannot be uttered. 27 And he that searcheth the hearts knoweth what is the mind of the Spirit, because he maketh intercession for the saints according to the will of God. 28 And we know that all things work together for good to them that love God, to them who are the called according to his purpose. Even when we are so overwhelmed that we don't know what to pray for He understands. How wonderful! What a comforting promise!
If Annie Johnson Flint had not been crippled by arthritis at an early age she could have gone on teaching to support herself. She probably would have spent much effort playing the piano and possibly writing music. But God took her strength and the mobility of her fingers. He put her in a bed. He took her parents, her adoptive parents and her only sibling - her sister. All this happened to her early in life. Many would break under such burdens. But God had a purpose! Through Miss Flint's suffering a wealth of comfort was poured forth to salve many wounded hearts both in her life time and through the years since. In losing her music she found she could write poems. In losing her ability to support herself in teaching she found that she must write poems. In her suffering - both emotional and physical - she found a deep sympathy and understanding of human suffering to express in her poems. Through her Lord and Saviour she found the only answer and balm for that suffering, and by God's grace, He allowed her to pass much of the comfort He gave her on to us. (Read Annie's poems.)
There are many, many examples from church history of saints who have suffered greatly that good things might come later, either to them or to other saints.
But some do not responded so to their losses. Some rebel and become bitter. Some collapse and are destroyed by them. Some are propelled into depression and emotional distresses from which they never recover. As the children of Almighty God, we have a choice - we may allow Him to comfort us and use these things for good, or we may refuse to be comforted and thus prolong our own sorrow and the misery of those closest to us.
Proverbs 24:10 If thou faint in the day of adversity, thy strength is small.
Psalm 73:26 My flesh and my heart faileth: but God is the strength of my heart, and my portion for ever.
Back to Jacob -
Many years passed. Changes have taken place in the family. There is a famine in the land. Jacob's sons have been to Egypt once already to buy food. The ruler there, next to Pharaoh, was hard on them. He called them spies and kept Simeon as a hostage. To prove they were true men, he demanded they bring their younger brother, Benjamin, when they came again. They did not figure out that this apparently hard ruler was their own brother Joseph.
At the end of Genesis 42 the brothers have arrived back from their first trip. Jacob is upset because they told "the lord of the country" that they had a brother at home still. They are also disconcerted to find all their money in their sacks.
We read, 36 And Jacob their father said unto them, Me have ye bereaved of my children: Joseph is not, and Simeon is not, and ye will take Benjamin away: all these things are against me. 37 And Reuben spake unto his father, saying, Slay my two sons, if I bring him not to thee: deliver him into my hand, and I will bring him to thee again. 38 And he said, My son shall not go down with you; for his brother is dead, and he is left alone: if mischief befall him by the way in the which ye go, then shall ye bring down my gray hairs with sorrow to the grave.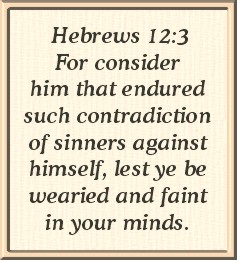 Though Jacob's sons apparently never admitted to their father what they had done, somehow it appears that he had figured out that there was some kind of foul play. In a family that large and with that many tongues, this is not surprising. Jacob alludes to this in verse 36, though he did not know the whole truth of the matter. Somehow he seemed to guess that something was wrong.
In chapter 43 Judah convinces his father to let them take Benjamin and go seek more food in Egypt. Notice how the roles are shifting here. Reuben offers his sons to be slain if they don't bring back Benjamin, as we see in the end of 42, but it is Judah who convinces his father. Judah, the one who suggested they sell Joseph, is now taking on a different role for Benjamin. He offers himself as surety. Genesis 43:9 I will be surety for him; of my hand shalt thou require him: if I bring him not unto thee, and set him before thee, then let me bear the blame for ever:
Jacob accepts Judah's offer because they are desperate for food. But, he also accepts the troubles he has had and the ones he foresees. After suggesting a gift and returning the money that was in their sacks the first time he says, Genesis 43:13 Take also your brother, and arise, go again unto the man: 14 And God Almighty give you mercy before the man, that he may send away your other brother, and Benjamin. If I be bereaved of my children, I am bereaved.
There is almost an attitude of being resigned to suffer in Jacob here. Perhaps that is how he felt. There are people like this still today. In fact, we easily get into this way of thinking when things seem to continually go wrong. But, God was not through with Jacob, and this was not His plan for him. Remember - this was Jacob's view of things! He could not see the end, nor the joy that was in store for him, and we cannot either.
Romans 8:17-18 And if children, then heirs; heirs of God, and joint-heirs with Christ; if so be that we suffer with him, that we may be also glorified together. For I reckon that the sufferings of this present time are not worthy to be compared with the glory which shall be revealed in us.
Jacob's sons have an interesting time in Egypt. They actually get Simeon back and head for home, probably thinking everything is working out really well. But, Joseph tricks them. By having his silver cup placed in Benjamin's bag, he forces them to come back to him, and that in shame and terrible fear.
Judah acts as spokesman. Genesis 44:16 And Judah said, What shall we say unto my lord? what shall we speak? or how shall we clear ourselves? God hath found out the iniquity of thy servants: behold, we are my lord's servants, both we, and he also with whom the cup is found. 17 And he said, God forbid that I should do so: but the man in whose hand the cup is found, he shall be my servant; and as for you, get you up in peace unto your father.
What exactly Joseph expected next we don't know. What actually happened was more emotional strain than he could stand, for it totally broke down whatever thought he may have had of continuing the deception.
Judah, the very one who had proposed they sell Joseph into slavery, takes Joseph aside and launches upon a long explanation. There is no doubt but that Judah feels he is paying for his sin. He is taking it like a man, and in the end he shows more honor for his father in this than even Reuben did in hoping to save Joseph from murder.
(This is one of my favorite passages of scripture! Hence I'll include the whole thing.)
Genesis 44:18 Then Judah came near unto him, and said, Oh my lord, let thy servant, I pray thee, speak a word in my lord's ears, and let not thine anger burn against thy servant: for thou art even as Pharaoh. 19 My lord asked his servants, saying, Have ye a father, or a brother? 20 And we said unto my lord, We have a father, an old man, and a child of his old age, a little one; and his brother is dead, and he alone is left of his mother, and his father loveth him. 21 And thou saidst unto thy servants, Bring him down unto me, that I may set mine eyes upon him. 22 And we said unto my lord, The lad cannot leave his father: for if he should leave his father, his father would die. 23 And thou saidst unto thy servants, Except your youngest brother come down with you, ye shall see my face no more. 24 And it came to pass when we came up unto thy servant my father, we told him the words of my lord. 25 And our father said, Go again, and buy us a little food. 26 And we said, We cannot go down: if our youngest brother be with us, then will we go down: for we may not see the man's face, except our youngest brother be with us. 27 And thy servant my father said unto us, Ye know that my wife bare me two sons: 28 And the one went out from me, and I said, Surely he is torn in pieces; and I saw him not since: 29 And if ye take this also from me, and mischief befall him, ye shall bring down my gray hairs with sorrow to the grave. 30 Now therefore when I come to thy servant my father, and the lad be not with us; seeing that his life is bound up in the lad's life; 31 It shall come to pass, when he seeth that the lad is not with us, that he will die: and thy servants shall bring down the gray hairs of thy servant our father with sorrow to the grave. 32 For thy servant became surety for the lad unto my father, saying, If I bring him not unto thee, then I shall bear the blame to my father for ever. 33 Now therefore, I pray thee, let thy servant abide instead of the lad a bondman to my lord; and let the lad go up with his brethren. 34 For how shall I go up to my father, and the lad be not with me? lest peradventure I see the evil that shall come on my father.
The change we see here in Judah is absolutely amazing. He is no longer the hard hearted, hasty man who sold his brother for a few pieces of silver. His tender care and concern for his father is both poignant and highly admirable. Not only this, but he offers himself, actually pleads, to stay instead of Benjamin in order to shield his father from further grief! He is offering himself willingly, for no gain to himself, for the exact same position that he sold Joseph into - that of a slave. It is impossible to even imagine the thoughts that were going through Joseph's mind at this point. All the satisfaction he was perhaps getting out of the fulfillment of the dreams he had years ago is suddenly forgotten in the face of his brother's great sacrifice and willingness to become a slave in Benjamin's stead.
Genesis 45:1 Then Joseph could not refrain himself before all them that stood by him; and he cried, Cause every man to go out from me. And there stood no man with him, while Joseph made himself known unto his brethren. 2 And he wept aloud: and the Egyptians and the house of Pharaoh heard. 3 And Joseph said unto his brethren, I am Joseph; doth my father yet live?...
You see, deep sorrow, depression, emotional suffering and terrible loss change people. Of course, it changed Jacob. But, it also changed Judah. This man, after seeing his father's great suffering, and perhaps through the "discovery" of his own unrighteousness (Gen. 38:26), has become a compassionate brother and son with a determination to spare his father more grief.
Families can actually be strengthened through this kind of trial. They can learn to love each other more. They can learn to trust each other more (Jacob trusted Judah to keep is word). They can learn to draw closer and support one another more carefully. I know. God has showed me this through my own experiences with anxiety and depression, though it was nothing compared to Jacob's sorrows.
Those in the family of a suffering loved one, be it physical family or the body of Christ, ought to think in these terms. That is, we ought to realize the need to support the weak one more carefully. Hebrews 12:12 Wherefore lift up the hands which hang down, and the feeble knees; 13 And make straight paths for your feet, lest that which is lame be turned out of the way; but let it rather be healed. We ought to bear ...one another's burdens, and so fulfil the law of Christ. Galatians 6:2. We ought be draw even closer. 1 Corinthians 12:26 And whether one member suffer, all the members suffer with it; or one member be honoured, all the members rejoice with it.
It grieves me very much how often this is not the case. How can it please our comforting God when those who profess to love Him mock the weak and nag the afflicted? Jesus Christ was a man ...despised and rejected of men; a man of sorrows, and acquainted with grief: and we hid as it were our faces from him; he was despised, and we esteemed him not. 4 Surely he hath borne our griefs, and carried our sorrows: yet we did esteem him stricken, smitten of God, and afflicted. Isaiah 53:3- 4. How is it that those who claim to honor Him despise those who are sorrowful, afflicted, and grieved? This ought not to be! As with Judah, our hearts should be stirred with compassion upon our fellow saints, and indeed our fellow humans, when we see them struggling in affliction whether it be physical, emotional or mental. Paul said of the Galatians, And my temptation which was in my flesh ye despised not, nor rejected; but received me as an angel of God, even as Christ Jesus. Galatians 4:14
May God grant His church more sympathetic and compassionate hearts to help and strengthen the weak, the grieved and the afflicted, and those suffering from depression and its kin!
Jacob's Happy Ending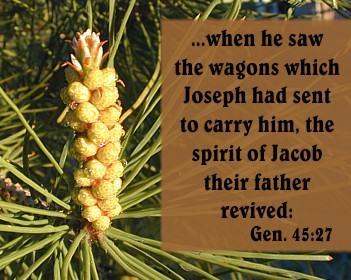 As you probably know, Jacob got his sons back. Pharaoh found out about Joseph's brothers, and he liked Joseph so well he instructed him to move his whole family to Egypt. He promised them real-estate and told him to send wagons to carry them down. (This was kind of like having limousines sent to move you somewhere today!) He even told them not to worry about stuff because there would be plenty available to them in Egypt. Genesis 45:20 Also regard not your stuff; for the good of all the land of Egypt is yours. Joseph did this and also included clothing for his brothers and food and donkeys for the trip.
Genesis 45:25 And they went up out of Egypt, and came into the land of Canaan unto Jacob their father, 26 And told him, saying, Joseph is yet alive, and he is governor over all the land of Egypt. And Jacob's heart fainted, for he believed them not. 27 And they told him all the words of Joseph, which he had said unto them: and when he saw the wagons which Joseph had sent to carry him, the spirit of Jacob their father revived: 28 And Israel said, It is enough; Joseph my son is yet alive: I will go and see him before I die.
It is impossible to imagine Jacob's feelings as this entourage approached his tents. There was a famine. It was probably from drought. The dust cloud that a group this large would make would be seen for miles. A million things must have been running through his mind. Probably many of them were fearful. Certainly he never guessed the truth. When they told him he did not believe them.
Apparently some must have ridden on ahead to tell their father the wonderful news. We can assume this because when he saw the wagons sent to carry him he believed them and revived. Certainly Egyptian wagons would not show up at his door unless something miraculous was going on!
Jacob's answer is beautiful - "It is enough..." Somehow I don't think he was referring to the provisions or the wagons being enough for the trip. I think it was enough to convince him. It was enough that Joseph was still alive. It was an appropriate ending to his life and his grief. He would go. He would see Joseph before he died.
And he did.


Conclusion
Dear Christian friend, Jesus will not leave you comfortless. He has not. John 14:18 I will not leave you comfortless: I will come to you. Have you accepted His comfort?
He will also send something to revive you in the midst of your sorrows and troubles. 2 Corinthians 7:5 For, when we were come into Macedonia, our flesh had no rest, but we were troubled on every side; without were fightings, within were fears. 6 Nevertheless God, that comforteth those that are cast down, comforted us by the coming of Titus; 7 And not by his coming only, but by the consolation wherewith he was comforted in you, when he told us your earnest desire, your mourning, your fervent mind toward me; so that I rejoiced the more. Ask Him to do this for you, or your loved one.
God will work things together for good. Romans 8:28 And we know that all things work together for good to them that love God, to them who are the called according to his purpose.
That situation that you think is insolvable may turn out much better than you think. That unfulfilled desire that hurts your heart so, may yet be fulfilled. Perhaps not in the way you expect, but yet in God's way and for His glory - and it will be enough. That death over which you mourn will not always hurt you as it does now. Oh, yes, it may not be fully comforted until you pass over into the presence of our wonderful Lord, but the tears will be wiped away in the end! Revelation 21:4 And God shall wipe away all tears from their eyes; and there shall be no more death, neither sorrow, nor crying, neither shall there be any more pain: for the former things are passed away. 5 And he that sat upon the throne said, Behold, I make all things new. And he said unto me, Write: for these words are true and faithful.
Have you suffered a terrible injustice? Jesus knows and He will right all wrongs, whether it is in this life or that which is to come, 2 Thess. 1:5-10. This goes for fellow believers who have wronged you too. Romans 14:12 So then every one of us shall give account of himself to God.
The Good Shepherd does not allow His sheep to suffer needlessly, nor does He allow them to suffer alone. Ask Him to send you a revival - a Biblical revival like Jacob's - that will encourage you to take hope and go on. Know that it will be "enough" to convince you there is good in store for you!
And remember this, the suffering of both Joseph and Jacob was necessary in God's plan so that Jacob, his family and all their flocks might be preserved alive. Think on that.
Whatever it is that is grieving you, it will not be wasted in God's hands.
When clouds are darkest round me,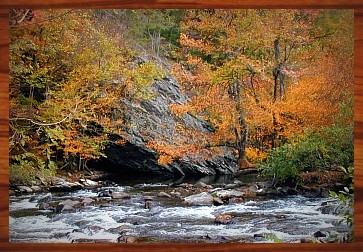 Thou, Lord, art then most dear,
My drooping faith to quicken,
My weary soul to cheer.
Safe nestling in Thy bosom,
I gaze upon Thy face;
In vain my foes would drive me
From Thee, my hiding-place.
'Tis Thou hast made me happy,
'Tis Thou hast set me free;
To whom shall I give glory
For ever, but to Thee?
Of earthly love and blessing
Should every stream run dry,
Thy grace shall still be with me,
Thy grace, to live and die!
By Theodore Monod, from On Thee My Heart Is Resting
John 16:20 Verily, verily, I say unto you, That ye shall weep and lament, but the world shall rejoice: and ye shall be sorrowful, but your sorrow shall be turned into joy. 21 A woman when she is in travail hath sorrow, because her hour is come: but as soon as she is delivered of the child, she remembereth no more the anguish, for joy that a man is born into the world. 22 And ye now therefore have sorrow: but I will see you again, and your heart shall rejoice, and your joy no man taketh from you.
Psalm 30:10 Hear, O LORD, and have mercy upon me: LORD, be thou my helper. 11 Thou hast turned for me my mourning into dancing: thou hast put off my sackcloth, and girded me with gladness; 12 To the end that my glory may sing praise to thee, and not be silent. O LORD my God, I will give thanks unto thee for ever.