His Mother's Sorrow
by Stephen Van Nattan
and Mary E. Stephens
Romans 12:15 Rejoice with them that do rejoice,
and weep with them that weep.
Writing Challenge #5 recently went up on my blog. I was blessed and honored to have my own dad decide to take on the challenge and write something. He posted it in the comments there, but I felt like it was important that this get shared in a place where it wouldn't be so easily missed.
As some of you may remember, I have had a burden this year for some young mothers who had their children go straight to heaven from their wombs through miscarriage. As Mother's Day approached this year I've been wondering what I should post. I'm often burdened at this holiday for the women who are outside of the "happy mother" category. When I read this true story from the life of my grandparents written by my dad, I felt that the Lord had given me something that needed to be passed on.
My grandparents were missionaries in Tanzania at the time this takes place. My dad had been attending a missionary boarding school in Kenya. My grandpa told me some of their end of the story years ago. My grandma had been with child, but she got sick - I think it was malaria. My grandpa, who had been a medic, knew the grave risk to the baby due to fever, so when her temperature got too high he bundled her into their car and took her to the hospital at the Kola Ndoto mission station. I'll let my dad tell you the rest.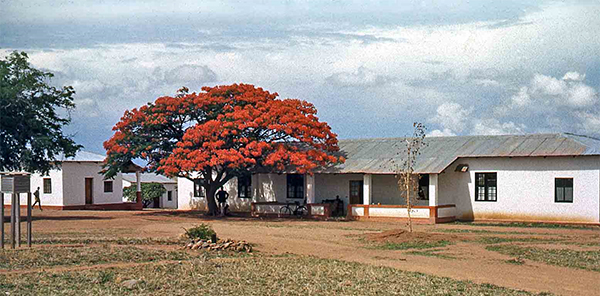 Kola Ndoto Hospital, Tanzania, late 1940s
I went home for vacation from boarding school in Kenya, and like the other missionary kids, I was looking forward to spending a month with my parents, my dog, and riding my bike around the farm country of Tanzania. But, I was met at the dock when the lake steamer arrived in Mwanza by Doctor Bill. He told me Dad and Mom could not be there to meet me, and he was taking me to Kola Ndoto Hospital station. That shook me up of course. I was about thirteen years old, but I was smart enough to know that Mom was sick.
Doctor Bill was a real gentleman and tried to soften the fear I had by telling me Mom would be OK. He did not tell me how she was sick though. We stopped halfway to Kola Ndoto, and Dr. Bill bought me an orange soda pop which was a rare thing in Tanzania in those days. When we arrived at the hospital, Dad took me to see Mom.
I had decided in Mwanza that I would take a present to Mom since she was sick. I had no experience buying gifts for sick people, and I stood in Nurmohammed's General Store and tried to think of something I could buy with my few shillings. I ended up buying a tube of Colgate's toothpaste. Later, when I went in to to see Mom in the hospital, I felt really stupid taking her a tube of toothpaste. But, she fussed over it and thanked me. She probably knew very well that I was all thumbs at gift buying. I had always had Dad or Mom to give me ideas what to buy for gifts.
Dad took me aside, and he told me that I had a new brother. His name was Jonathan, but I would not meet him until I went to Heaven to be with him. Jonathan had died when Mom miscarried. Dad told me Mom was having a very hard time getting over the sorrow of losing Jonathan. And, I hurt inside intensely because I realized Mom had to go on living without the baby she was looking forward to.
That was possibly the first time I felt deep sorrow for my Mom. Life had always been good, and Dad and Mom were the ones who felt sorrow for my brother and I. My Mom never talked about losing Jonathan from then on, but Dad did a few times. He would remind me I had another brother in Heaven. My other brother, Tim, chose the life of sodomy, so years later I felt like I lost him also. Dad and Mom are now with Jonathan, and Tim also if his childhood profession of faith was genuine.
I think Mom always felt somehow she was partly to blame for the loss of Jonathan. She was not, of course, but a mother is the one God chose to make babies, and mothers feel responsible for a new life in a way we men do not. The greatest blessing of going to be with Christ may be that all these emotions and sorrows of motherhood will be taken away from our Moms.

Editor again: I remember my dad speaking of Jonathan to us when I was a child myself. He wanted the memory of his youngest brother's existence to continue in the family, and rightly so. These children that are never known on this earth are just as real as if they had lived out a long life here. This is hard for us to comprehend, being bound by time and space as we are.
There are many mothers who have miscarried babies, had still births, and had babies die. For the most part it seems that Mother's Day is about the living children. The mothers who only have children in heaven, or who have some here and some there, are not particularly noted. The pain is still real for them, and as Christians we are supposed to notice those things. Part of showing the love of Jesus Christ is to notice the people and the situations that others overlook. Think how many times He did that in His life on this earth. Think how much He does that to this day in His dealings with people still.
Mark 10:48-50 And many charged him that he should hold his peace: but he cried the more a great deal, Thou Son of David, have mercy on me. And Jesus stood still, and commanded him to be called. And they call the blind man, saying unto him, Be of good comfort, rise; he calleth thee. And he, casting away his garment, rose, and came to Jesus.
When the "awards" for all the different mothering accomplishments or "records" are handed out in many churches come Mother's Day, there often won't be any for the women whose babies are in heaven. It won't matter if they had the most births (there are women who have had many miscarriages and still births), or if they are the oldest mother present or the youngest mother present; because the children are not there present with them or pictured somewhere on a wall or in a scrapbook, no one will take note. This ought not to be, especially when their children are alive and well in the presence of Jesus Christ.
I love the thought my dad ended with. Truly one of the great blessings of heaven will be all the mother hearts that are healed from the pain and sorrow that accompany motherhood whether your children live awhile on this earth or not.
Let's be attentive to the mothers who have "lost" babies to heaven - especially around Mother's Day and other significant days. How can you extend the comfort and love of God to someone you know who has a child in heaven?
1 Thessalonians 4:16-18 For the Lord himself shall descend from heaven with a shout, with the voice of the archangel, and with the trump of God: and the dead in Christ shall rise first: Then we which are alive and remain shall be caught up together with them in the clouds, to meet the Lord in the air: and so shall we ever be with the Lord. Wherefore comfort one another with these words.
2 Corinthians 1:3-6 Blessed be God, even the Father of our Lord Jesus Christ, the Father of mercies, and the God of all comfort; Who comforteth us in all our tribulation, that we may be able to comfort them which are in any trouble, by the comfort wherewith we ourselves are comforted of God. For as the sufferings of Christ abound in us, so our consolation also aboundeth by Christ. And whether we be afflicted, it is for your consolation and salvation, which is effectual in the enduring of the same sufferings which we also suffer: or whether we be comforted, it is for your consolation and salvation.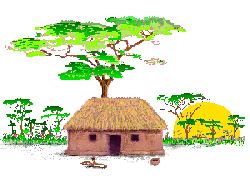 Some graphics by Mary Stephens.
African hut and background - unknown.
Special thanks to my uncle, Jim Hoover, for
the photo of the hospital in Tanzania.