Truth or fact?
by Dan Van Nattan
April 2020
Are these two things mutual? Immutable in their connectivity? From a humanistic perspective, we would ascertain that they are indeed always linked. From that humanist perspective we therefore tend to stray quickly into the realm of unbelief.
Here is an example of Truth not being equitable to "fact" which I would like you to ponder on.
At the start of the seventh great miracle bearing proof to His Lordship and Deity, the Lord Jesus was not found anywhere near the place human logic would have placed Him. Instead, the one who needed Him was far away in Bethany, dying, and in fact, was dead before the Lord even started the journey to Bethany.
John 11:15 tells us that Jesus made it clear to His followers that this was done so they might BELIEVE. What do we believe? Fact? Or truth? The fact was Lazarus was dead. Was there Truth beyond that?
In John 11:25-26, Jesus Christ tells Martha, "I am the resurrection, and the life: he that believeth in Me, though he were dead, yet shall he live: And whosoever liveth and believeth in Me shall never die. Believest thou this?". Again, the battle against the FACT of death was faith and belief in Truth.
In John 11:40-42 Jesus raised the reward of belief in Truth over the facts of life (or death) by stating, "... if thou wouldest believe, thou shouldest see the glory of God?". The glory of God, revealed through faithful belief in Truth!
The rest of the true account tells how He raised Lazarus from the grave, restored to complete vitality and soundness of body. All through this account the emphasis was starkly placed on Truth opposing the apparent facts.
The Truth of that moment was, "I am the resurrection, and the life…".
What is the Truth that the Lord Jesus would have YOU believe that opposes the apparent facts of your circumstances? No matter what that may be, He is still the same God, the same Friend Who will weep beside you, walk with you to your place of greatest struggle, and for one ounce of faithful belief, He will shatter the facts with His Truth!
------------
Editor's note: Dan is my brother.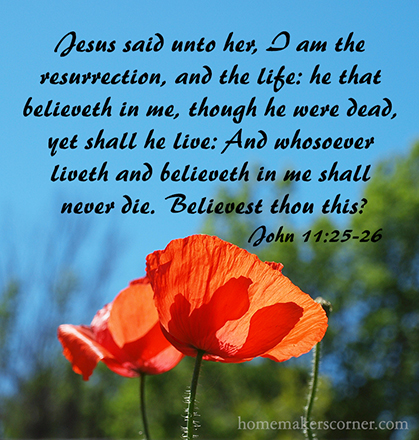 background and graphics by Mary Stephens
CA