Genesis 2:8 And the LORD God planted a garden eastward in Eden;
and there he put the man whom he had formed.
Nature is a wonderful place to learn lessons from the Lord. He has taught me many things while I was gardening and through plants and tree life. I want to share some of these things with you here. Some of the items here are posted over at my blog, others are articles here at the HMC.
Fat, Fruitful, and Flourishing
My Neighbor's Roses - A Poem and A Lesson
Related posts and Christian poems:
In A Garden by Martha Snell Nicholson
Much Fruit by Annie Johnson Flint
The Gardener by Annie Johnson Flint
Other Poems about gardens:
April by Naomi Loomis
The Indefatigable Gardener by Martha Snell Nicholson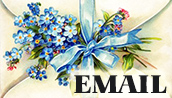 photos and graphics by Mary Stephens
vintage graphic source - unknown
updated 2023