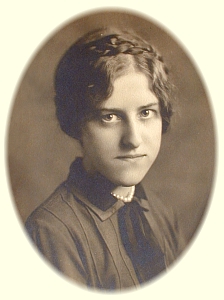 Charlotte Marie Hoover
I love the sweet, pensive look on her face in this old picture.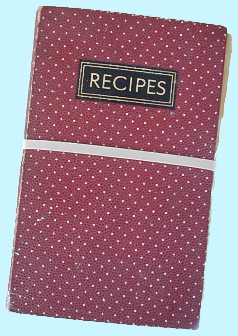 This is the old "write in" cook book. I left the rubber band on because rubber bands were one of Gramma's "trademarks." :-) You'd often find her carrying one of two around somewhere about her person.

By Mary Stephens

Some years ago I was given a cook book called The Pioneer Ladies' Hearty Winter Cook Book. It was an interesting mix of old recipes and fond recollections of the author and her family. When I came into possession of Gramma Hoover's old "write in" cook book I was inspired to compile this collection of her recipes along with some of my memories of her. I hope that her family and former Sunday School pupils will enjoy this, along with all the other readers who happen across it. It is my tribute to Gramma, and I assure you that any comments or memories that seem less than flattering are not intended to be taken that way. Gramma was a special lady and I consider my memories of her among my prized possessions! I still consider her one of my best friends, even though she has been in Heaven for some years now.

I have tried to make the graphics here reflect what I knew of Gramma's tastes as well. She had a considerable influence upon my own tastes.

Where possible I have included the name of the person from whom she received her recipe, though some have been abbreviated where I thought that they might like more privacy.

Enjoy!
Cookies -
Grandma Gallup's Oatmeal Cookies




graphics and background by mary vannattan