Best viewed at 1024 x 768
Seriously, anything less will be a mess!
QUIET WHIPPED PREACHERS-- DON'T GIVE UP


Pull up a chair.... been there, done that :-)
Preacher, I cannot help you if you got into trouble being a jerk, chasing whores or little boys, violating the law of the land, peeking at porn, teaching error, or bashing sheep. If you have fallen into sin, you simply need to repent and confess it to those who know about it.
But, if you have been faithful and served the Great Shepherd, feeding his sheep, teaching the King James Bible without adding Greek lessons and snob wisdom, visiting the sick and shut in, and generally living an open godly life, stick around. I know what your problem is. Paul told you it was coming:
1 Corinthians 4:9 For I think that God hath set forth us the apostles last, as it were appointed to death: for we are made a spectacle unto the world, and to angels, and to men.
10 We are fools for Christ's sake, but ye are wise in Christ; we are weak, but ye are strong; ye are honourable, but we are despised.
11 Even unto this present hour we both hunger, and thirst, and are naked, and are buffeted, and have no certain dwellingplace;
12 And labour, working with our own hands: being reviled, we bless; being persecuted, we suffer it:
13 Being defamed, we intreat: we are made as the filth of the world, and are the offscouring of all things unto this day.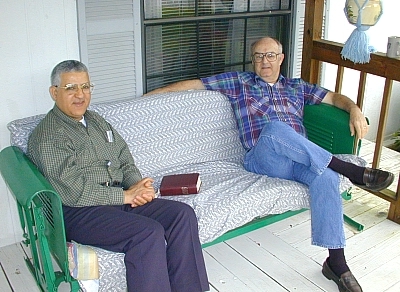 What a blessing to have a visit from brother Barrouk. Perhaps you would like to hold down the other end of the porch glider for me and have a cup of coffee. Stop by brother.
Did you think the sheep would all love you? Surprise, surprise!!
Some sheep are rebels and will run the opposite direction of your voice every time. There are Judas sheep. There are wolves in sheep's clothing. You thought you really knew how to catch a wolf in sheep's clothing didn't you? Well, these wolves are clever, and they sometimes sneak up on preachers. Did you sin by not catching them right away? No. Even Jesus did nothing about Judas until the very end, and Jesus KNEW what was in Judas' heart. You will NOT catch these wolves and hireling preacher friends right away. They are masters at fooling the best of men for a season. It is clear from the Gospels that all of the disciples had full confidence in Judas until he betrayed Jesus.
So, stop dissecting yourself. If you are in God's will, keep on at the work he has given you. If you are voted out, go start a fellowship and learn a lesson-- democracy is Laodicean, "rule of the people." Don't waste time defending yourself. DO defend sheep who are being unjustly attacked. DO defend widows and orphans. Above all else, WATCH. Satan is a destroyer of faith. He attacked Eve's faith in the Word of God. He did the same with Job and Jesus. Even Paul was allowed to have a thorn in the flesh from Satan by God's permission.
2 Corinthians 12:7 And lest I should be exalted above measure through
the abundance of the revelations, there was given to me a thorn in the
flesh, the messenger of Satan to buffet me, lest I should be exalted above
measure. 8 For this thing I besought the Lord thrice, that it might depart
from me. 9 And he said unto me, My grace is sufficient for thee: for my
strength is made perfect in weakness. Most gladly therefore will I rather
glory in my infirmities, that the power of Christ may rest upon me.
10 Therefore I take pleasure in infirmities, in reproaches, in necessities,
in persecutions, in distresses for Christ's sake: for when I am weak, then
am I strong.
Satan will attack your faith. He wants you to STOP believing you are saved. Satan wants you to STOP believing you are given to the Lord's Church as a pastor and teacher. You are NOT "called to preach." Check it out. That expression has no basis in the King James Bible. You are called to be a servant and faithful-- nothing else matters. Satan wants you to STOP believing your are called to serve God where you are RIGHT NOW. Paul accepted the thorn because he knew that God wanted to humble him. He knew things from the third heaven that made him a flaming expert on things no one on earth had ever seen. God wanted Paul to stay humble. Maybe you are a lot more special than you imagined, and God just wants your present thorn in the flesh to be there so you will stay broken and useful. What a blessing to be hurt under the close loving supervision of the God you love.
Don't give me any pious baloney about how strong your faith is. Examine your armor daily. Is the shield shining from use? Are there any burn marks from those fiery darts of Satan? There better be. Is every other piece of armor in place? When it is, wade into the battle. You cannot lose.
Romans 8:36 As it is written, For thy sake we are killed all the day long; we are accounted as sheep for the slaughter. 37 Nay, in all these things we are more than conquerors through him that loved us.
Wicked men and Satan KNOW they can defeat you. They BELIEVE in themselves. But, when your faith is strong, they always turn out to be wrong. You always win when you are walking in your God-given armor.
Preacher, we are surrounded. On all sides are the forces of Satan. They are supported by evil men who hate you-- Freemasons, Catholic priests, Mormons, sloppy Charismatic pigs, TBN, godless law enforcement, politicians, lawyers, Pharisees, backslidden Fundamentalists, and neighborhood criminals.
Preacher, we have them right where we want them. Don't let one of them get away.
1 Corinthians 16:13 Watch ye, stand fast in the faith, quit you like men, be strong.
14 Let all your things be done with charity.
One last word of caution-- CHARITY. In your zeal, remember why you fight these battles-- You are called of Jesus Christ to feed and heal sheep. Do not fall into this tough guy image with these ones Jesus loves. We have far too much of this sheep bashing in Fundamentalism.
Now, back to the battle. "Someone is sinking today...."
As of August 1, 2005 any preacher who visited that page will receive
the CD of the Journal, with all the research and controversy articles
not found online, for $ 5.00, including shipping.
CALL: 800-338-8863 to order with a VISA or MasterCard online.
You must mention that you found this offer on this page please.
MORE QUIET PLACES
3. QUIET OTHER PLACES IN THIS JOURNAL

4. A LITTLE QUIET TALK WITH UNCLE STEVE

6. QUIET WHIPPED PREACHERS-- DON'T GIVE UP

8. QUIET WITH JOY HARDIN ON THE PIANO

10. QUIETNESS WITH WHOLE SCREEN PICTURES OF GOD'S CREATION-- Long Load-- Graphic intensive.

11. QUIETNESS IN BLACK AND WHITE

15. DELIVERANCE FROM GUILT AND GUILT MONGERS

16. QUIET REST

17. HEAVEN

18. THE GOOD SHEPHERD-- Very Special Page by Mary Van Nattan

19. LOOKING BACK-- This is a time when it is OK

21. A QUIET PLACE TO EXALT THE LORD JESUS CHRIST

22. THE SHIPS THAT WON'T GO DOWN- By Henry Lawson

23. THE SOP OR THE SAVIOR OF THE SOP?

24. NO GREATER LOVE

25. QUIET DIVERSION NEW
IN JESUS - PEACE, REST, JOY --- A poem by Annie Johnson Flint

I am getting very little mail from this section of our journal.
I would dearly love to hear from anyone who stops here and
is blessed and helped. You need to believe that there is NO
section more important to me, in this journal, than the Quiet Place.